Zerto Backup for SaaS, Powered by Keepit 
Recover your cloud services data with the most secure, robust, and scalable backup and recovery solution
Simple, Easy, and Hassle-free SaaS Backup 
Get up and running and protect your SaaS data in just a few quick steps
Isolated, Tamperproof Backup for SaaS Data
Despite basic out-of-the-box protection from your SaaS vendor, your data residing in SaaS applications is your responsibility, not the vendor's. This data is exposed to potential risks like outages, accidental deletion, and ransomware attacks that can lead to loss or downtime. You need a solid solution for keeping it protected. Thankfully, you can now cover all your bases and prevent business disruption with Zerto Backup for SaaS, powered by Keepit. This robust, scalable offering allows for the backup and recovery of SaaS data in seconds—and it's easy to set up, simple to use, and backed by Zerto's industry-proven protection standards.  
The SaaS Data Backup Disconnect 
When it comes to protecting your SaaS data and applications, do you know who is responsible? Hint: It's not your SaaS vendor.  When using SaaS applications, the protection for your SaaS data falls on you, the customer.  Moving to the cloud does not remove your ultimate data responsibility. Instead, SaaS solutions use a shared responsibility model. 
Protect SaaS Data with Zerto 
Adding an isolated and tamperproof second copy is the only right move for any organization using SaaS. 
Why Zerto Backup for SaaS ?
Recover business-critical data in seconds with Zerto's fully automated backup and recovery solution for Microsoft 365, Salesforce, Google Workspace, and Microsoft Dynamics 365. With this offering, Zerto delivers simple, scalable data protection for virtualized, containerized, and SaaS applications.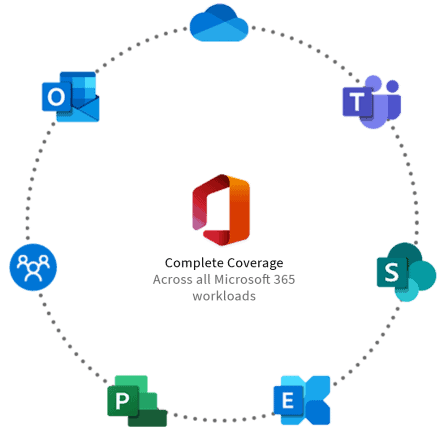 Zerto Backup for Microsoft 365 
Get protection for:   
Exchange Online 

Emails & Contacts 

Calendar & Tasks 

Shared mailbox In-place Archive 

OneDrive files & folders 

Groups & Teams 

SharePoint & Project Online 

Public folder 
Zerto Backup for Salesforce 
Get protection for:
Accounts

Leads

Campaign Members

Cases

Custom Objects

Opportunities

Activities

Notes

Contacts

Files/Attachments

Additional Metadata
Zerto Backup for Google Workspace 
Get protection for:   
Gmail

Google Calendars

Google Tasks

Team Drive files & folders 

All Google Sites
Zerto Backup
for Microsoft Dynamics 365 
Get protection for 500+ data objects including: 
Sales

Customer Service

Field Service

Project Service Automation

Marketing
World-class Coverage and Support for Your Favorite SaaS Solutions 
Have a question about our product or capabilities? Contact us, we are here to help!
Take a tour of our platform to learn about Zerto's features and benefits for yourself.
Want to give Zerto a try? Get a free 14-day license or access to our on-demand labs.
ESG: The Evolution of Data Protection Cloud Strategies
In this Zerto sponsored ESG research, get an understanding of why and how to effectively protect your SaaS application data.
Zerto Gets Highest Marks Among Competitors
See how Zerto achieved the highest composite score (8.8/10) in Software Reviews/Info-Tech Research Group review of 55 Backup and Availability Software suppliers. 
A Comparison: Zerto Versus Traditional Backup
Zerto Backup for SaaS – Demo
To exit, click outside the image