Zerto Continuous Data Protection
Continuous data protection (CDP) offers the most effective protection for your business applications and data—for a variety of use cases
The Future of Data Protection is Continuous
Gone are the days of periodic backups and hours of data loss. Continuous data protection offers an unmatched level of security and a continuous stream of recovery checkpoints to which you can rewind anything from files to entire datacenters.
Zerto delivers a true CDP solution that delivers the best RTOs and RPOs in the industry.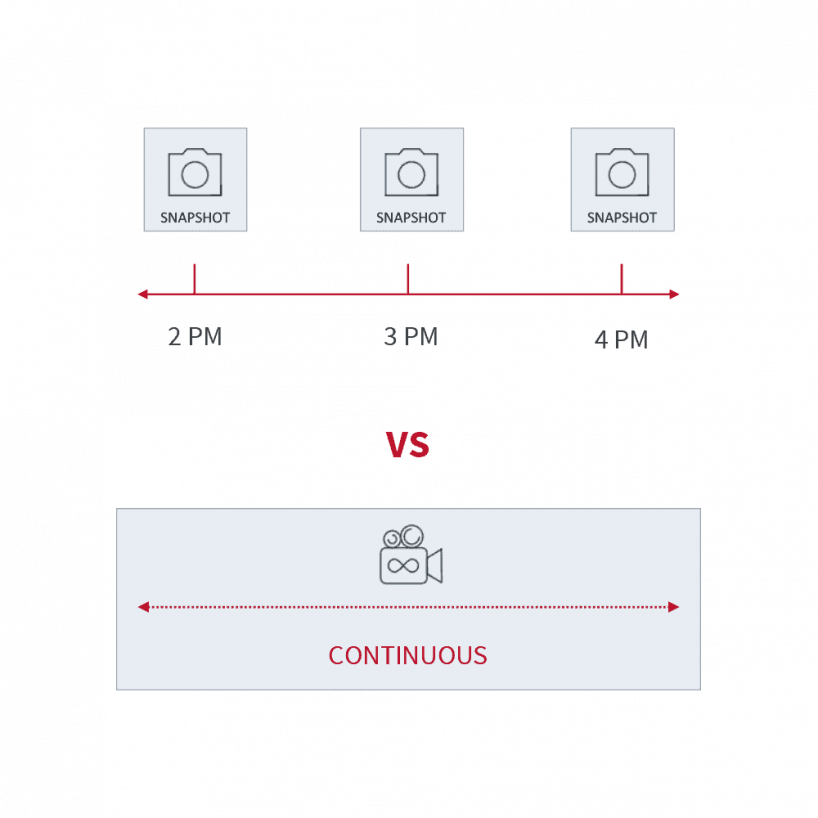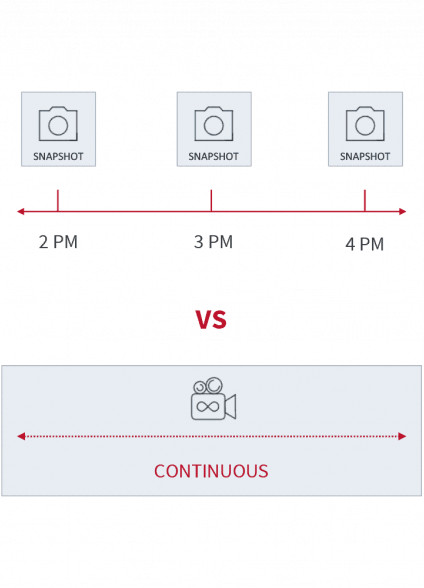 No More Periodic Protection
Legacy protection solutions rely on snapshots. Snapshots work like a still camera in that they only take a picture of your environment at a specific time. This type of legacy backup technology offers RPOs measured in hours, resulting in the following downsides:
Negative impact on production performance
Complex scheduling to minimize impact on production
Significant overhead management on the storage arrays
Continuous Data Protection
Continuous protection using always-on replication ensures protection of every change to your applications as they occur. Unlike the snapshot approach, it more closely resembles a video camera continuously recording changes in your environment. This means RPOs measured in seconds and benefits such as:
Zero impact on production environment
Storage savings as no snapshots are created
RECOVER FROM SECONDS TO YEARS
Recover anything to any point in time—with a granularity of seconds—thanks to Zerto's unique journaling technology.
Application Consistency Grouping
Easily protect complex, multi-VM application stacks or Kubernetes-based microservice applications and their data consistently and recover everything to the exact same point in time.
Integrated long-term retention capabilities copy data to cost-effective storage targets—whether they're on-premises, in the cloud, or spread across multiple sites in your hybrid datacenter.
"Zerto's replication is superior to anyone else's out there. It's faster, simpler, and effective. I don't think I could get as low an RTO and RPO with any other solution other than Zerto."
Daniel Hereford, Chief Information Officer
SmartBank
"With Zerto's powerful journaling enabling point-in-time recovery, one user can now service all recovery requests with speed and ease."
Data Centre Manager
Services Industry
"We like that fact that we have one platform that provides our compliance needs as well as our backup and retention policies. Long term retention has been a game changer for our organization."
Check out these short videos to see what Zerto can do for you.
Want to give Zerto a try? Get a free 14-day license or access to our on-demand labs.
What is Continuous Data Protection (CDP)?
Zerto Continuous Data Protection: Learn what True CDP Really Is
Learn what components make a true CDP solution that delivers the best RTOs and RPOs in the industry.