Discover how Zerto is blazing new paths forward for disaster recovery, ransomware resilience, and multi-cloud mobility
Best-in-class continuous data protection (CDP) powers Zerto to deliver a software-only solution that's fundamentally different from anything else on the market. Discover what Zerto can do for you.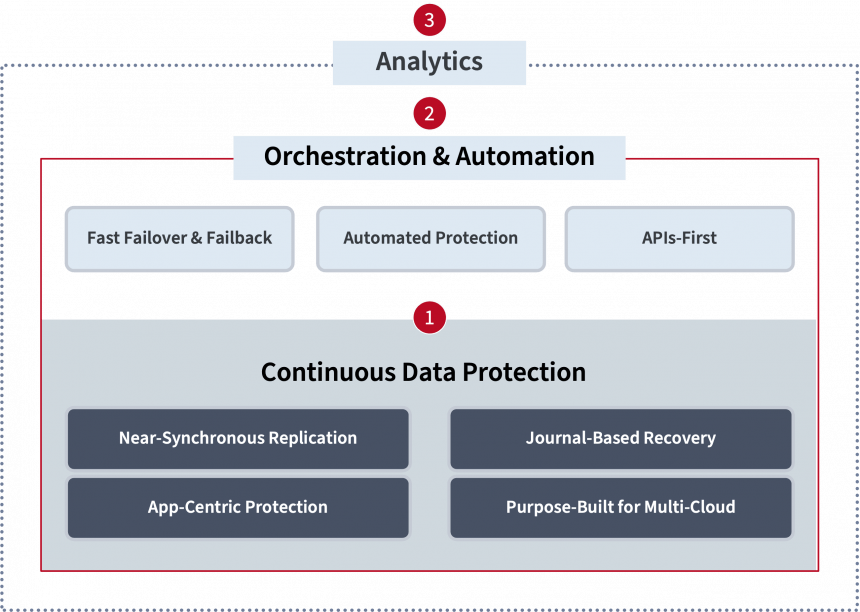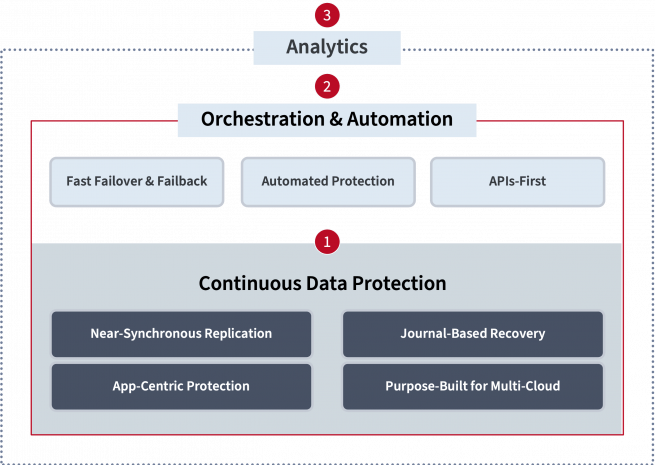 Continuous Data Protection
CDP protects everything from small environments to complex multi-cloud environments with VM counts in the five digits. No matter the size of your environment, you can enjoy RPOs of seconds and RTOs of minutes with fully orchestrated disaster recovery running on the infrastructure of your choice.
Near-Synchronous Replication
Software-Only and Agentless
Local or Remote
No Impact on Production
Point-in-Time recovery
Granularity of Seconds
Site, Application, VM, File-Level
Consistent Application Protection
Logical Consistency Groups
Multi-VM Application Recovery
Purpose-Built for Multi-Cloud
One-to-Many Protection & Replication
To, from, and within clouds
Azure, AWS, IBM Cloud and more
Orchestration and Automation
One simple, scalable solution saves you time and resources while making it easier and faster to manage workloads at scale
Fast Failover and Failback
Perform failovers instantly with non-disruptive failover testing and live workflows that don't impact production.
Automatically protect VMs to ensure complete, flexible data protection across your environment, even when new VMs get added or replication loads need auto-rebalancing.
Integrate with other solutions, customize protection and streamline operations with rich set of Swagger-based RESTful APIs and PowerShell cmdlets.
Complete visibility and insights across multi-site and multi-cloud environments, plus predictive modeling—all at no additional cost.
ZVM: Zerto Virtual Manager
ZVM manages everything needed for replication between the production and recovery sites, except for the actual replication of data.
VRA: Virtual Replication Manager
This appliance manages data replication from protected entities to its local and/or remote target where it stores the data in the journal.
VPGs: Virtual Protection Groups
VPGs enable consistent recovery of an entire multi-VM application, and all its dependencies, to the exact same point in time, even if the VMs reside on disparate datastores or hosts.
The journal stores all changes for a user-defined period, from one hour up to 30 days. It allows you to recover to any point in time within that journal using recovery points that are only separated by 5-10 seconds.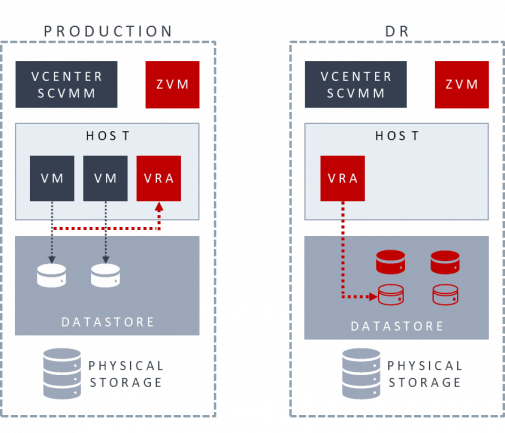 Zerto Components in a DR architecture within a virtualized environment
Example: Disaster Recovery
The disaster recovery reference architecture on the right demonstrates proven practices for setting Zerto with a single remote target used as the recovery site.
In a single remote target architecture, protected VMs are organized in protection groups with VM-level consistency. A remote journal is configured on the remote target side and used for short-term recovery scenarios where recovery granularity of just seconds can be achieved. The recommended journal history period for this journal is eight days as this will cover most recovery scenarios, including ransomware. All changes on the protected VMs are then kept for eight days before promotion to the remote replica disk(s).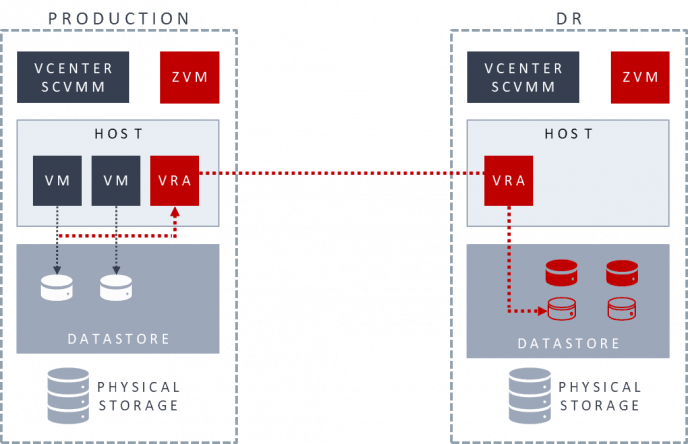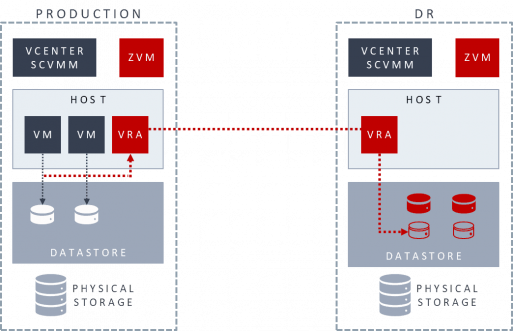 Example 2: Local Continuous Backup and Disaster Recovery
The disaster reference architecture depicted in the figure on the right, takes the previous "disaster recovery" architecture and adds a local journal as well as a long-term retention repository.
The local journal provides a continuous backup capability, allowing the recovery of files, VMs or applications locally.
The long-term retention repository helps to store the data beyond the journal history for compliance needs.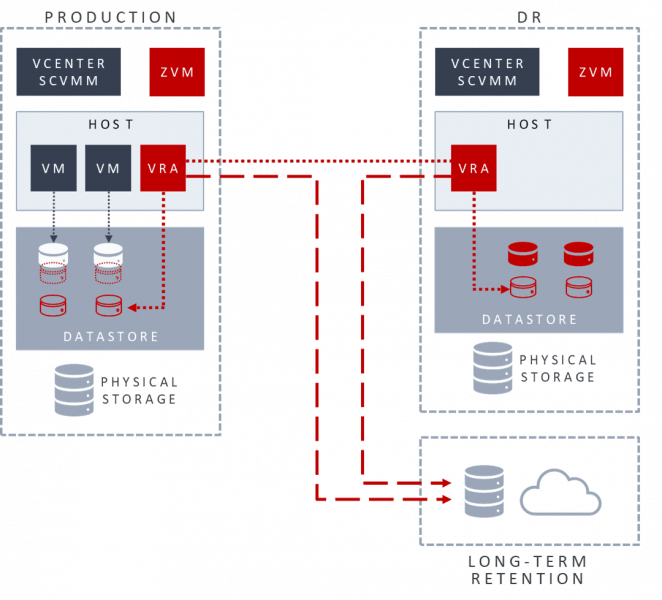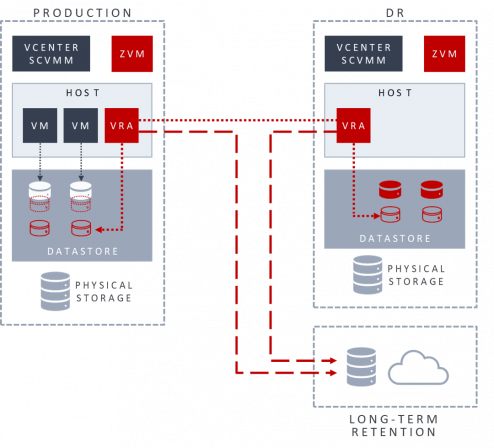 Fill out a quick form and discuss your goals with our specialists.