Software-only Protection at Any Scale
Simple, scalable data protection with an easy-to-deploy, low footprint, software-only architecture
Architecture Guide for Zerto
Zerto brings together disaster recovery, ransomware resilience and multi-cloud mobility into a single, scalable, software-only solution delivered across on-premises, hybrid, and multi-cloud environments.
Zerto combines resilience, mobility and protection into a single, scalable, software-only solution.
Zerto consists of five main components that allow you to easily protect, recover, detect, recover and move applications at any scale.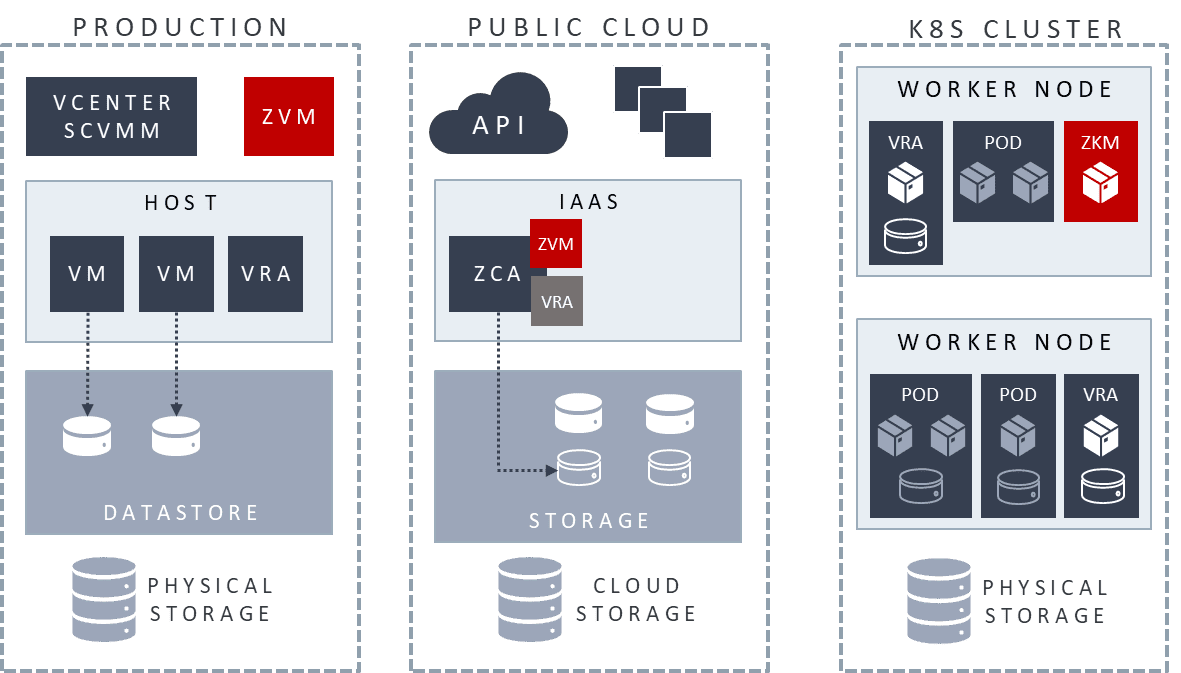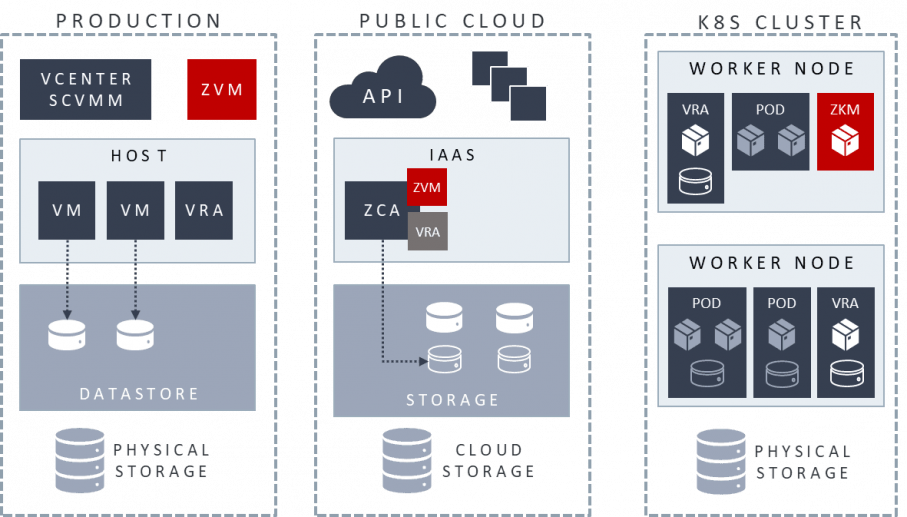 Zerto Manager in different environments
from left to right: virtualized (ZVM), cloud (ZCA), containerized (ZKM)
Click outside of the image to exit the popup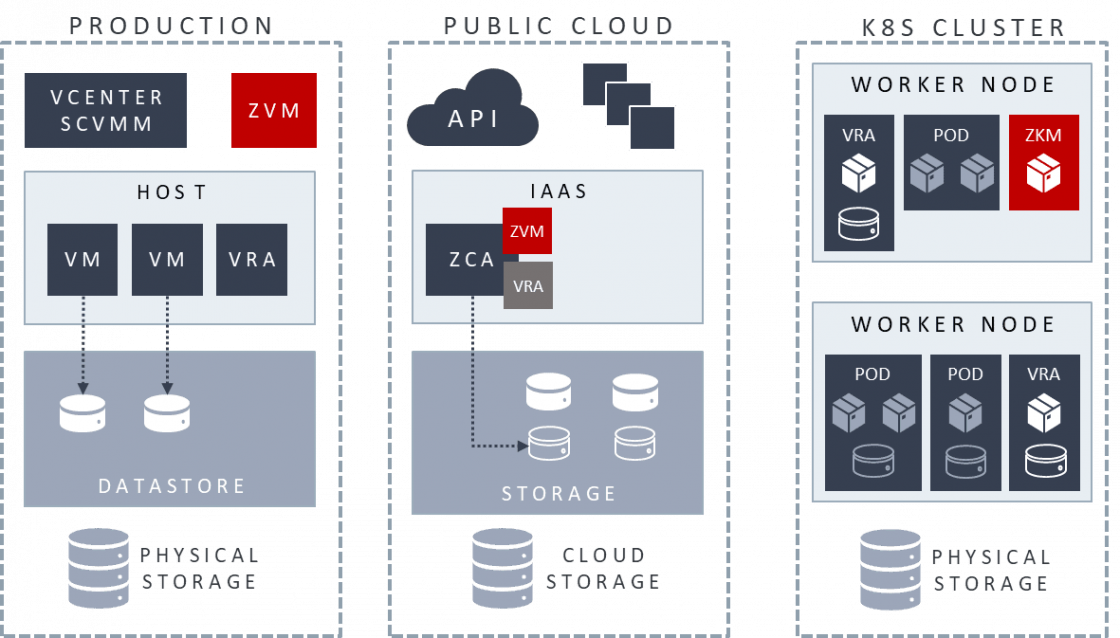 To exit, click outside the image
Other than the actual replication of data, Zerto Manager operates everything needed for replication between the protected and recovery sites.
It interacts with the underlying platform and orchestrates recovery, monitors changes, and collects information on entities available for protection within that environment.
In virtualized environments, this manager is called a Zerto Virtual Manager (ZVM).
In public cloud environments, such as Azure and AWS, Zerto uses a cloud instance called a Zerto Cloud Appliance (ZCA) that is similar to the on-premises ZVM.
Learn about the New Powerful Zerto Virtual Manager Appliance (Zerto 10)
Virtual Replication Appliances
A virtual replication appliance (VRA) is a purpose-built software appliance installed on the hosts where virtual applications will be protected, delivering a true scale-out architecture.
This appliance continuously replicates the data from protected entities to its local and/or remote target, where it then stores the data in the journal.
This same scale-out appliance also copies data from the journal to immutable repositories for additional resilience.
In public cloud environments, Zerto scales replication using a cloud-native scale-out architecture.
Zerto Replication Appliance Overview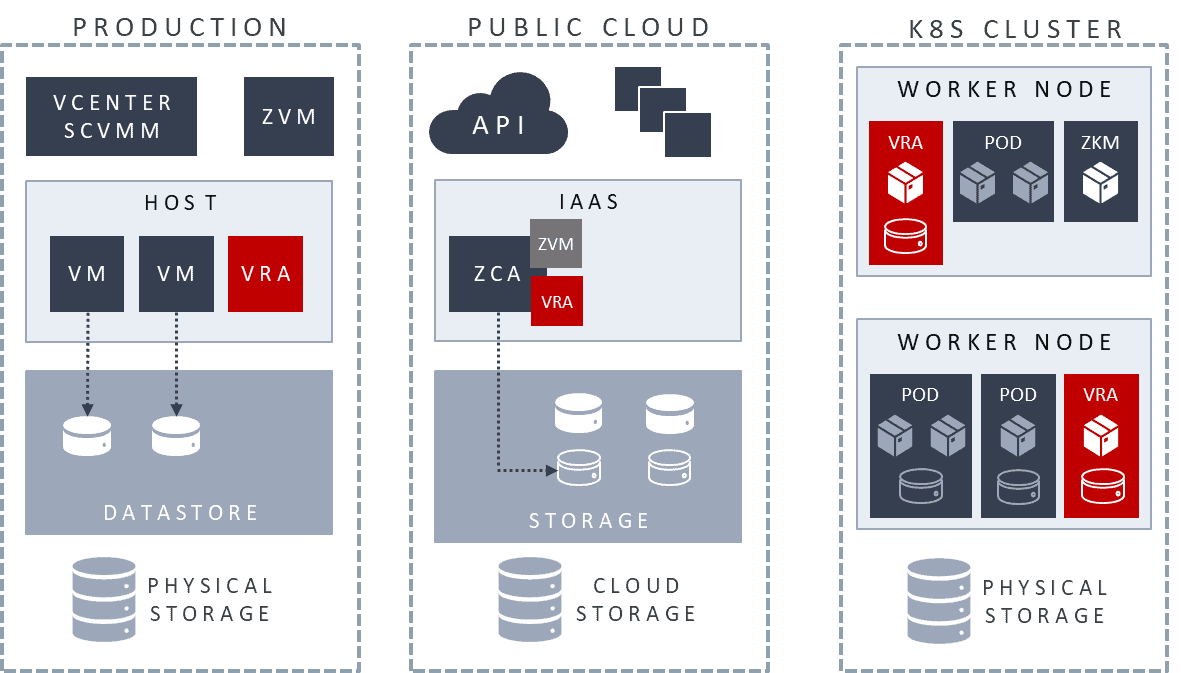 Zerto Replication Appliance (VRA) in different environments
(from left to right: virtualized, cloud, containerized)
Click outside of the image to exit the popup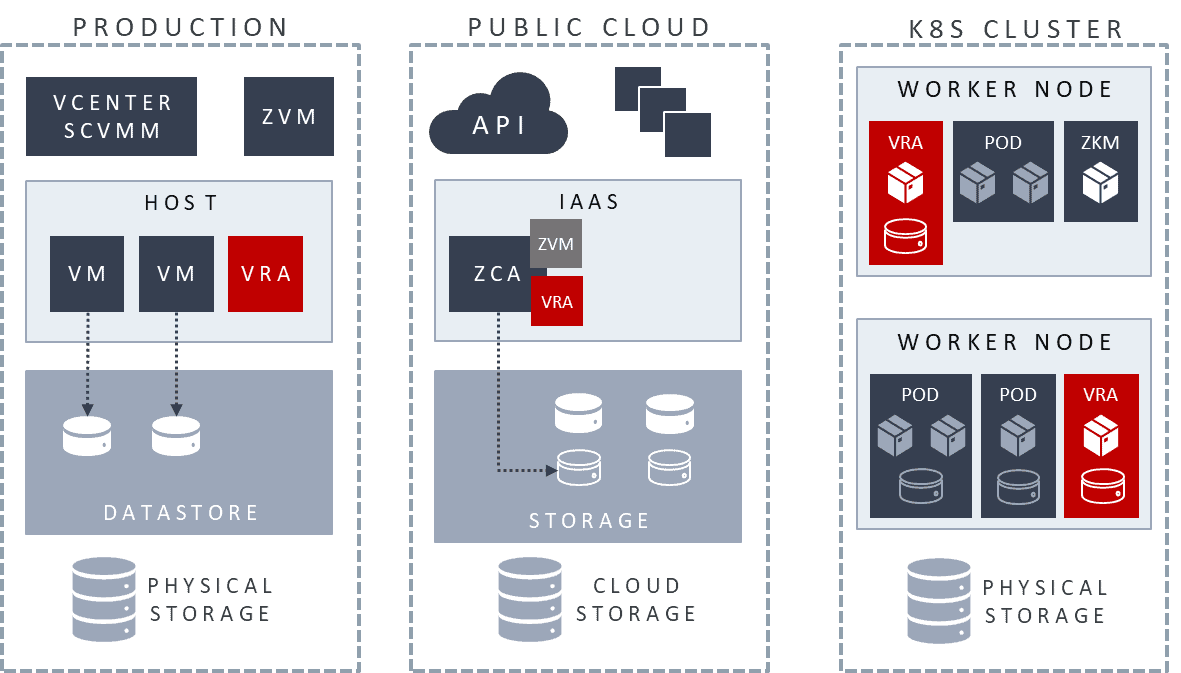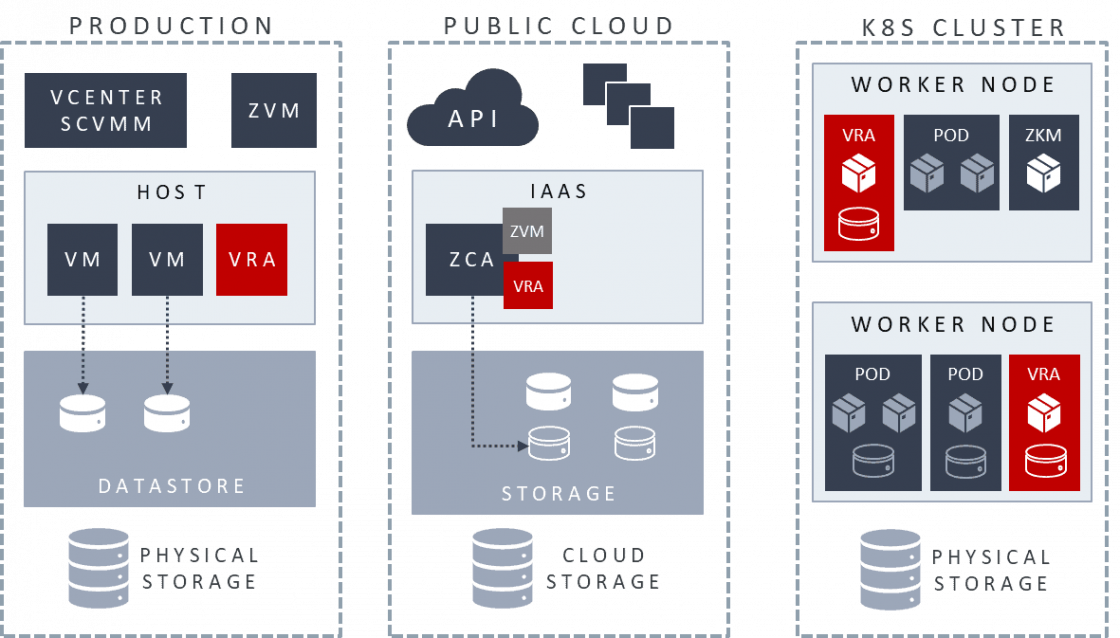 To exit, click outside the image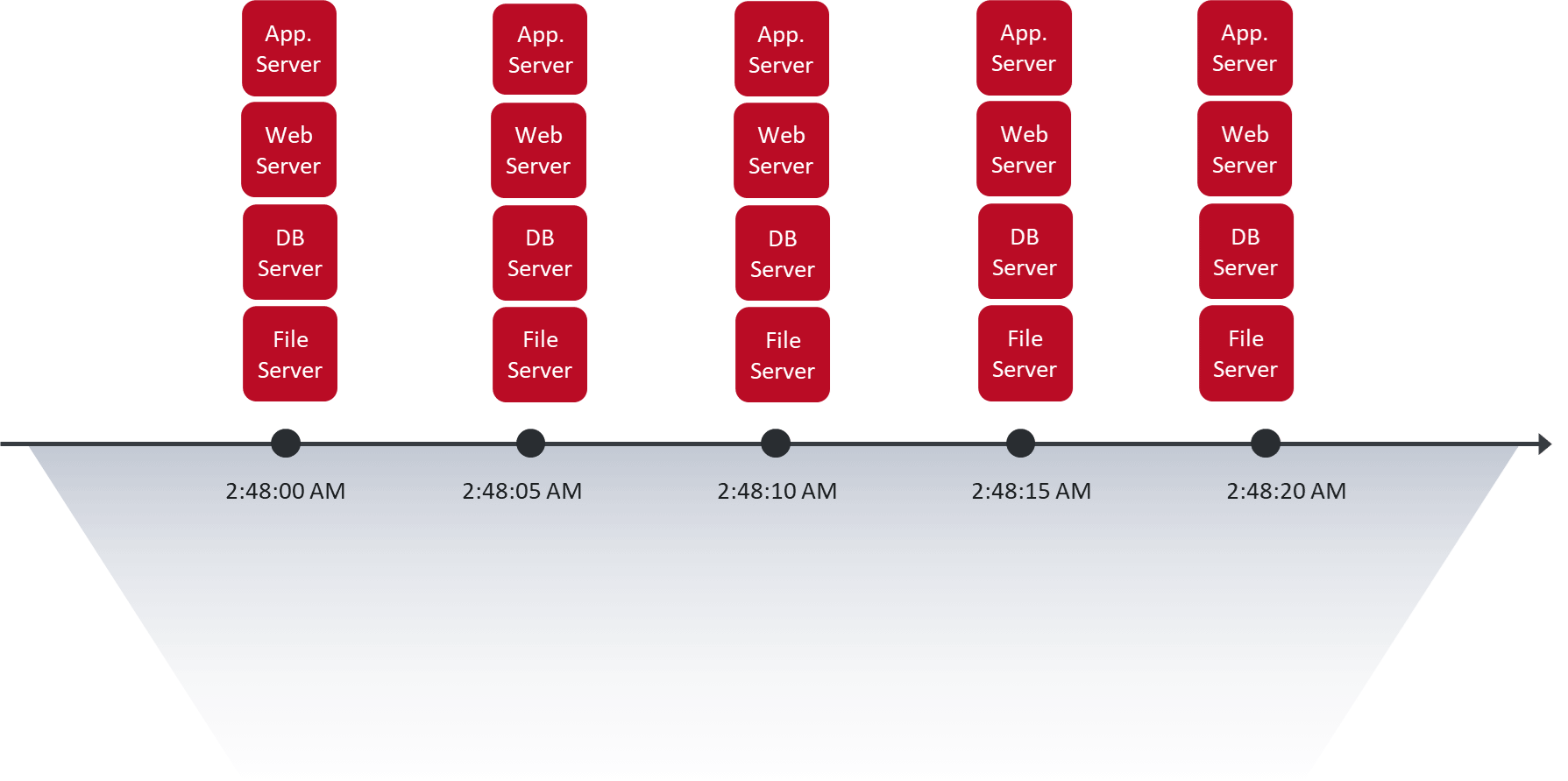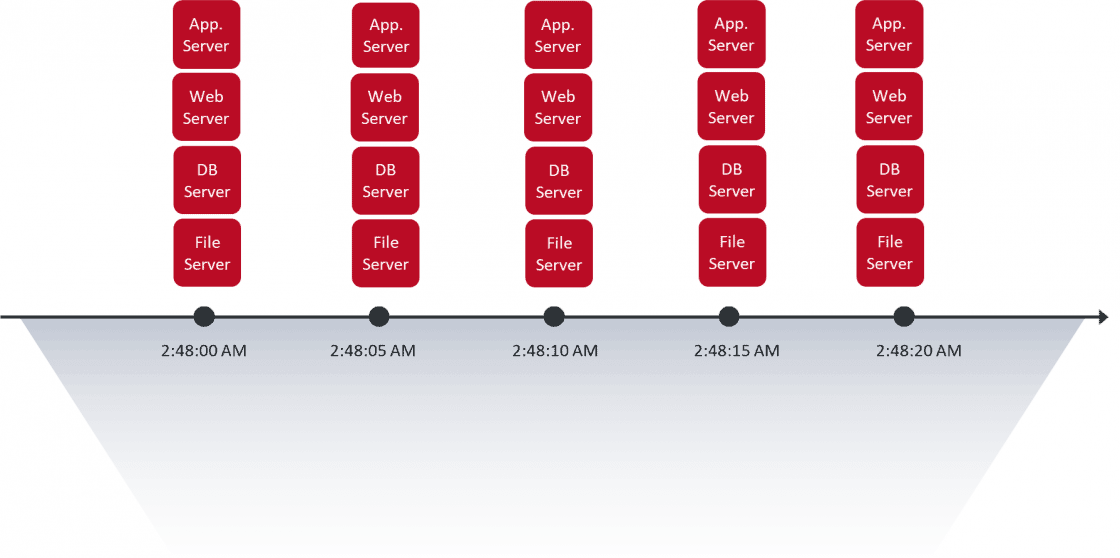 Application Consistency with Zerto Protection groups
To exit, click outside the image
Zerto's protection, recovery, and mobility are all configured through virtual protection groups (VPGs).
Today, an application is rarely run on a single server. Instead, most applications have multiple VM dependencies. Using the traditional method of protecting individual components results in significant challenges to recovering your complete application.
Zerto VPGs differ by allowing you to group one or more components together into a single entity, ensuring every point in time inserted into Zerto's journal (a checkpoint) is from the same point in time for all components within the protection group. This allows easy recovery of an entire application and its dependencies to a consistent point in time.
Zerto Protection Groups Overview
Watch the Video
Zerto Platform: Virtual Protection Groups (VPGs) Overview
To exit, click outside the image
In addition to VPGs, Zerto's VRAs store all protected data in the journal.
The journal stores all changes for a user-defined period, up to 30 days, and allows you to recover to any point in time within that journal. This ensures your recovery point objective (RPO) is always as low as possible, typically a mere 5 to 15 seconds rather than minutes or hours, like most alternatives.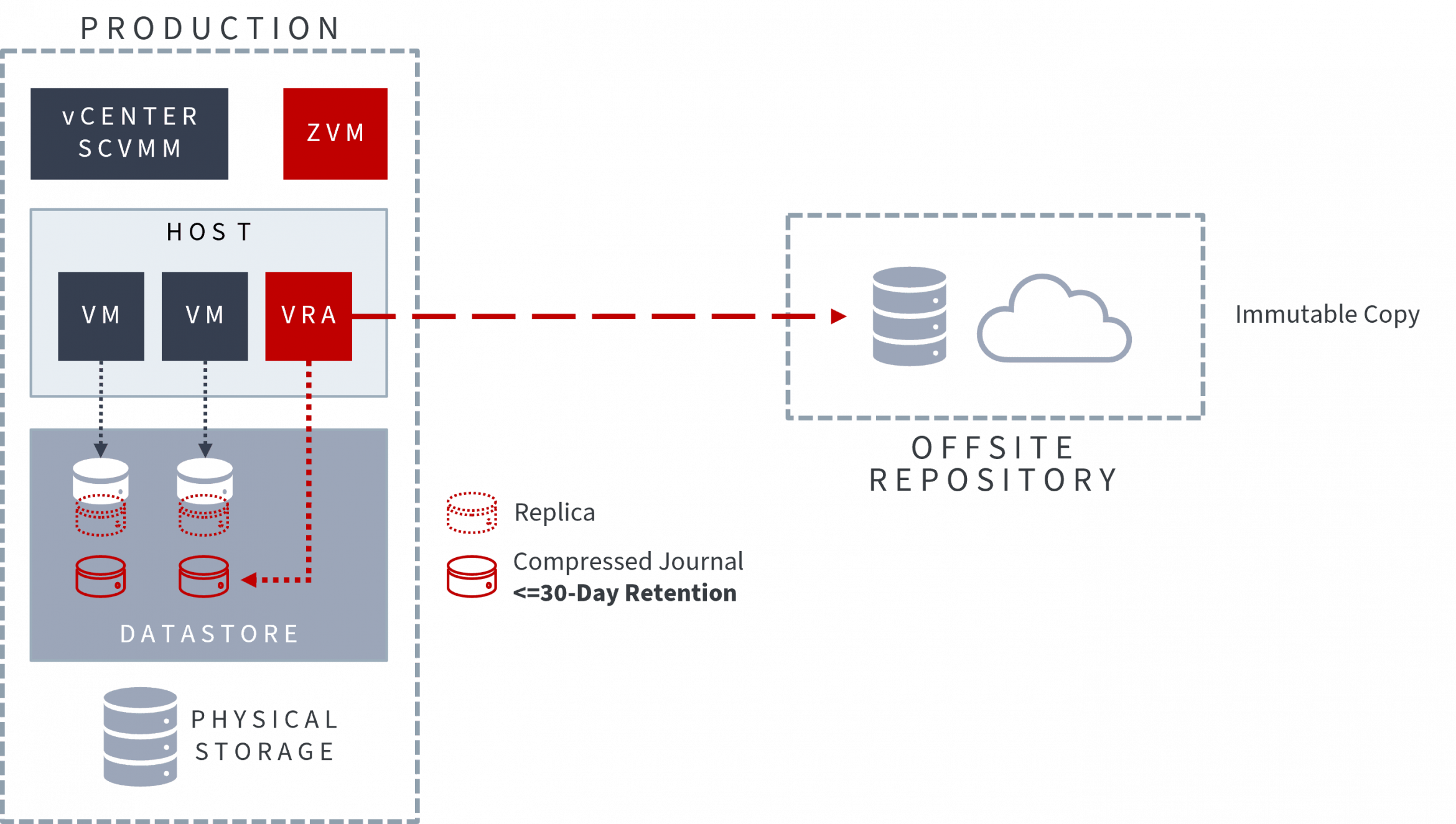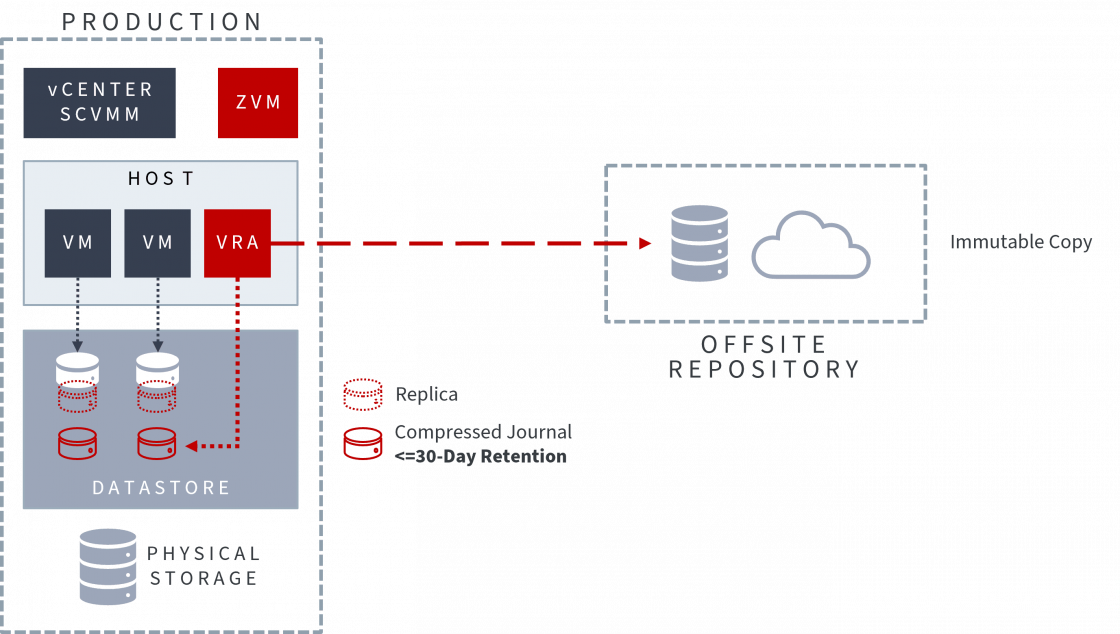 Zerto and Immutable Offsite Repositories
To exit, click outside the image
Immutable Offsite Repositories
Along with preparing flexible options for journal-based rapid recovery scenarios, most organizations have a strategy to combat ransomware.
Using Zerto's extended journal, you can lock copies of your data away in an immutable format, either locally or in the cloud, for up to one year. These additional immutable data copies give your organization the ultimate protection in a worst case scenario.
Get in touch with us to discuss the capabilities of Zerto and see how it can let you achieve your goals.
Take a tour of our solution to learn about Zerto's features and benefits for yourself.
Want to give Zerto a try? Get a free 14-day license or access to our on-demand labs.
Fill out a quick form and discuss your goals with our engineers.