Comparing Resilience – Part Five: Resilience with Business Continuity and Business Strategy
November 8, 2022
Est. Reading Time: 3 minutes
---
In the concluding part of our five part mini-series, we are going to put the pieces together. We'll see how the three dimensions we consider foundational to building business resilience—operational resilience (part two), IT resilience (part three), and cyber resilience (part four)—relate to business continuity, a tangible part of business resilience in the immediate to short-term horizon. We will also see how business strategy handles the longer-term forces that continuously challenge business resiliency, albeit with less dramatic consequences in the present, but potentially dire ones in the future.
The Importance of Business Continuity on Resilience
Now that we have reviewed in detail each element, let's sum it all up.
Achieving operational resilience requires flexibility by reviewing and restructuring rigid management processes and traditional organizational structure to expose silos and other obstacles that could cause hiccups when the company is trying to react agilely to changing circumstances and disruptions.
Establishing IT resilience forces companies to fast-track digital transformation efforts, modernize their IT estate, and consolidate data and processes to avoid silos—all on the path towards achieving an IT-resilient organization. Considering how IT is now pervasive in every business, it is important to note that IT resilience is really foundational to operational, cyber, and business resilience in general.
Demonstrating cyber resilience pushes organizations to a higher level of readiness that goes beyond quickly recovering from the impact of cyberattacks, such as ransomware. A cyber resilience approach aims at preventing a breach from occurring in the first place by strengthening your defenses.
Together, they all contribute to making an organization resilient, especially when it comes to withstanding unexpected disruptions in the short term. Business continuity planning helps to identify risks via risk assessment and BIA activities. The resulting business continuity plans (BCP) address these risks from these three aspects of resilience and are therefore essential to enable business resilience.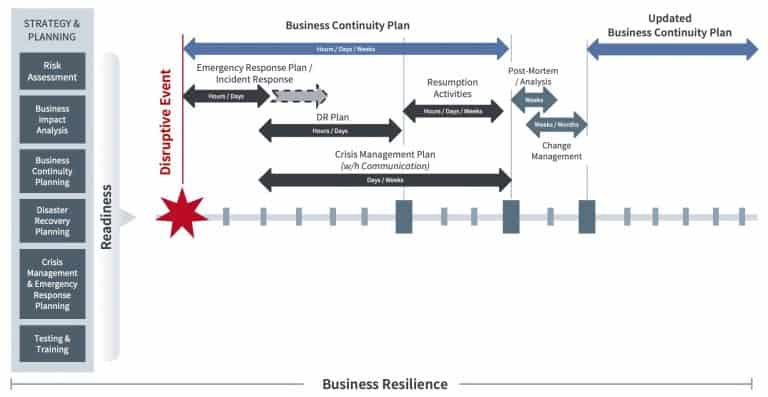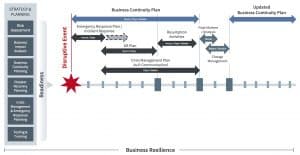 Business Strategy for Longer-term Resilience
However, attaining business resilience means tackling changes beyond the short-term horizon, changes that may be the consequences of world events or longer-term trends and evolutions. These are usually addressed through business strategy and governance as they usually impact all aspects of an organization, including its business and operating model (see Building business Resilience for long-term trends diagram).
The reverberations of the COVID-19 pandemic on the global economy prompted many businesses to start on the path toward building a resilient organization. Having seen unplanned disruptions on such a massive scale, organizations are acting with a renewed sense of urgency on business continuity planning and management efforts.
The Business Continuity Solution to Keep You Resilient
Holistically incorporating business, operational, IT, and cyber resilience into a seamless framework is foundational to the success of your business continuity plans. To protect your data from disasters and instantly recover applications without data loss, companies need a reliable data protection mechanism and cost-effective business continuity solution that delivers the core aspects of operational, IT, and cyber resilience.
Zerto, a Hewlett Packard Enterprise company, delivers an industry-leading data protection and recovery solution, combining continuous data protection, orchestration, and automation to accelerate multi-cloud and hybrid-cloud adoption. Zerto offers simplicity, enterprise scale, and agile data protection, along with many other benefits.
Zerto delivers continuous availability, enabling your organization to keep applications running 24/7 against any disruption or threat. By taking away the risks and complexity of modernization and cloud adoption, the scalable and software-only Zerto solution supports true business continuity, and in turn, business resilience.
Explore Zerto or Contact us now to start discussing how Zerto can help your organization build business resilience.
---