A-to-Zerto Glossary of Terms
Business continuity refers to an organization's ability to operate uninterrupted. Generally, this means maintaining critical functions during an emergency, but it also encompasses planned downtime. Constant availability of employee- and customer-facing operations is both the goal of business continuity and a way to enable business resilience.
What Is Business Continuity ?
Business continuity means being connected and operational 24/7. This continuous availability and functionality of your organization is fundamental to maintaining brand trust and employee morale. Business continuity requires strategic planning, including a contingency plan for unplanned disruptions as well as investments that reduce planned downtime. Business continuity is important because any periods of being offline have potentially dire consequences.
Why Does Business Continuity Matter?
In today's digital-first world, business continuity has become a commonplace expectation, even though it's admittedly difficult to achieve. Regularly scheduled downtime will frustrate your employees and customers alike. Unplanned disruptions are also more common than ever, owing to a number of causes:
Natural disasters

Labor disagreements
Digital heists and ransomware attacks

System failures and outages
But failing to plan for unexpected disruptions could be disastrous for your organization. In a worst-case disruption scenario, a business may even close permanently.
Business Continuity vs Disaster Recovery?
Business continuity is interconnected with disaster recovery (DR), forming the common acronym of BCDR. Although the two terms tend to be used interchangeably, they aren't identical. Business continuity means maintaining organizational operability, while disaster recovery denotes restoring IT systems after a disruption.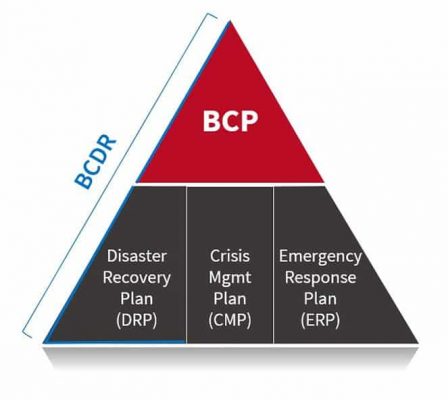 Business continuity planning establishes a business continuity plan, whereas disaster recovery planning produces a disaster recovery plan. The DR plan is a subset of the business continuity plan, along with the crisis management plan and the emergency response plan.
A DR plan may not always be triggered when the business continuity plan is invoked. There are situations that impact business continuity without affecting an organization's IT infrastructure and systems. A staff strike at a hospital, for example, will likely activate business continuity and crisis management plans without needing to invoke any DR plan.
Business Continuity Plan (BCP) vs. Disaster Recovery Plan (DRP): What's the Difference?
Business Continuity vs Business Resilience?
Business continuity is critical to establishing an organization's resilience against disruptive events in the immediate to short-term horizon.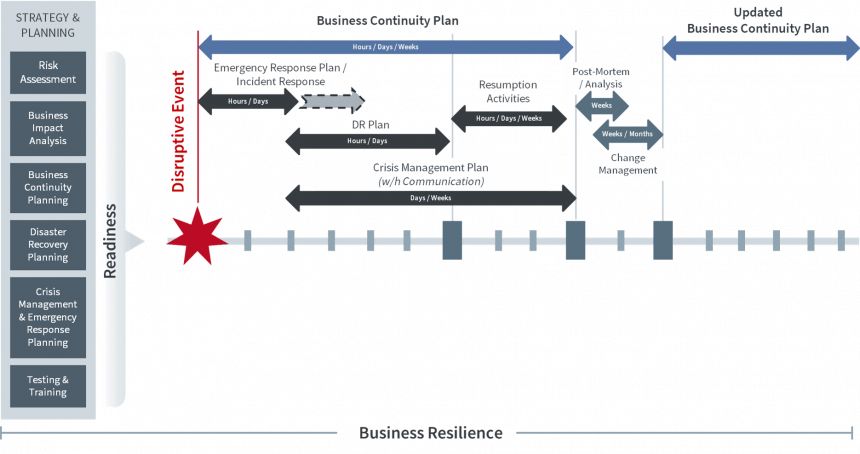 When disruption strikes, various plans are invoked and executed as needed. After normal operations are restored, an organization usually conducts a post-mortem analysis to identify gaps and implement improvements that consequently update and enhance the business continuity plan. This builds and improves business resilience.
Comparing Resilience – Part 5: Resilience with Business Continuity and Business Strategy
Why Use Zerto for Business Continuity
An essential part of business continuity, disaster recovery focuses on IT and technology infrastructure. Zerto, a Hewlett Packard Enterprise company, is a DR solution that greatly reduces the downtime associated with unplanned disruptions and minimizes the impact of planned disruptions, enabling true business continuity. Zerto also enables an always-on experience, providing organizations with more time for innovation and business transformation.
The Zerto solution ensures that your IT systems are resilient through emergencies that threaten to disrupt your operations. Zerto enables IT transformation through a single, simple, and scalable solution that offers unparalleled protection. It includes features critical to business continuity:
Instant file restore

Automated VM protection

Instant VM restore

Real-time analytics and capacity planning