A-to-Zerto Glossary of Terms
IT resilience is a network or system's ability to adapt and to protect data and services from disruptions and disasters. IT resilience is an essential part of business resilience, which is the ability of your organization to maintain business continuity, protect your people and assets, and thrive amidst change.  
Essentially, IT resilience is about protecting your data and keeping your systems up and running as much as possible. An IT-resilient mode of operations allows your organization to be ready for any type of disruption and to mitigate the risks of downtime and potential data loss.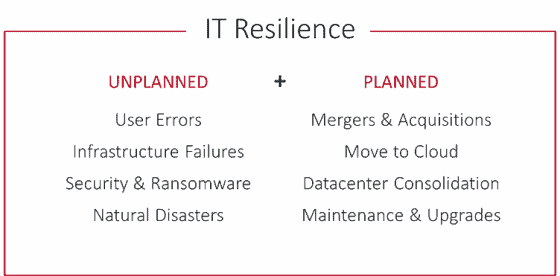 IT resilience is also foundational to successfully achieve digital transformation. A robust IT resilience strategy requires three components:
How to Achieve IT Resilience
After a disaster occurs, your services need to be up and running again in minutes without significant data loss so you can resume operations effectively. Achieving IT resilience starts with a solid backup and recovery strategy. Documenting and testing disaster recovery plans ensures you can recover quickly if downtime occurs. Along with on-premises protection, combining private and public cloud resources into a hybrid cloud can contribute to your organization's IT resilience efficiency while also reducing costs and resources. A hybrid cloud offers many advantages:
Set up public cloud resources as a disaster recovery site that can provide

failove

r if a disruption on the production site occurs.  

Move workloads and data to and from the public cloud

 to add flexibility to your system resources. 

Extend your system's capacity instantly when demand spikes.
IT Resilience Maturity Benchmark Tool (form fill required to see results)
Zerto delivers an industry-leading data protection and recovery solution, combining continuous availability, orchestration, and automation to accelerate multi-cloud and hybrid-cloud adoption. The Zerto solution offers simplicity, enterprise scale, and agile data protection, along with many other benefits:
Security

. Sensitive workloads stay in the private cloud with sophisticated security and governance. 

Flexibility

. Computing and storage capacity expand into the public cloud when demand spikes. 

Disaster recovery

. The public cloud provides replication and recovery. 

Efficiency

. Intelligent workload placement spreads workloads efficiently across the various environments.
Zerto enables businesses to deliver superior customer experience and accelerate digital transformation—all in one solution for IT resilience.