Comparing Resilience – Part Three: IT Resilience
October 6, 2022
Est. Reading Time: 3 minutes
---
Let's summarize where we stand. In part one, we covered business resilience. In part two, we went over operational resilience and showed its slightly narrower scope and approach. In part three, we are going to look at a cornerstone of business resilience, IT resilience.
What Is IT Resilience?
IT resilience refers to the ability to continuously keep essential IT systems and applications up and running despite disasters and disruptions. It also includes the readiness to stay responsive to disruptions, resume operations, and continue delivering services effectively while minimizing downtime and data loss.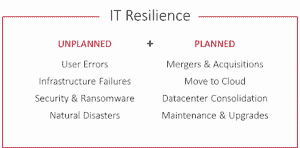 How Do You Ensure IT Resilience?
Having a robust data protection and recovery strategy based on backup and recovery is the first step toward ensuring IT resilience. Aside from data backup and replication considerations, IT organizations and teams also need to design robust disaster recovery (DR) plans and test these DR plans frequently to ensure quick and effective recovery from planned and unplanned outage events when they occur. The right technologies and resources can help you achieve this. Private, public, and hybrid cloud offerings offer several advantages including on-premise protection, failover options, flexible workloads, and storage capacity to safeguard your critical data, applications, and IT assets when a crisis hits.
Enabling IT resilience also means that the technology you use should be somewhat future-proof by being hardware agnostic, able to scale with your infrastructure, and with support for many types of environments and workloads (on-premises, cloud, container, SaaS, etc.).
The Importance of IT Resilience
IT resilience is quickly becoming the cornerstone of business resilience as organizations increasingly rely on IT for data and critical business functions. Without IT resilience, most businesses will be unable to maintain critical business functions when faced with disruptive events like cyberattacks, fires, natural disasters, etc.
In today's digital age, IT resilience ensures that a business maintains acceptable service levels when disruptions threaten to critically impact its IT ecosystem. This mitigates the risks of potential data loss and downtime while keeping your systems up and running as much as possible.
What Does an IT Resilience Strategy Require?
There are three major components of a robust IT resilience strategy: workload mobility, continuous availability, and multi-cloud agility. An effective IT resilience strategy focuses on delivering an 'always-on' customer experience regardless of unplanned outages and changes to IT infrastructure. This can be achieved via periodic backups of data and applications to offsite storage to allow for fast recovery.
Public and private clouds provide organizations with seamless and risk-free mobility of workloads, thus ensuring that your IT assets aren't tethered to on-premises environments. For best results, your IT resilience strategy should incorporate multi- and hybrid-cloud capabilities to facilitate migrations to, from, and in between clouds. This enables organizations to leverage the best features, services, performance, and throughput as well as flexibly tailor workloads without being locked to one cloud provider.
Next: Cyber Resilience
Criminals have moved to the cyber world where they can cause unlimited damage with very limited risks. This is a consequence of world digitization. As a result, any entity (individuals, institutions, and businesses) now living in the digital realm must protect itself, mitigate many kinds of cyber threats, and be able to recover from cyber-attacks. This is all about building cyber resilience, and this is what we are going to cover in part four.
---