What is IT Resilience?
IT Resilience is a network or system's ability to seamlessly adapt to change while protecting its business and customers from all types of disruptions and disasters. An IT resilient mode of operations allows businesses to be ready for any type of disruption, planned or unplanned, so that they can mitigate the risk of downtime and focus on the projects that drive transformation. Disruptions can manifest themselves in the forms of misconfiguration, planned attacks and natural disasters.
A robust IT resilience strategy requires three components:
Accelerate Digital Transformation and Innovation
Over 90% of business don't consider themselves IT resilient; however the majority of these businesses view IT resilience to be foundational to successfully achieve digital transformation.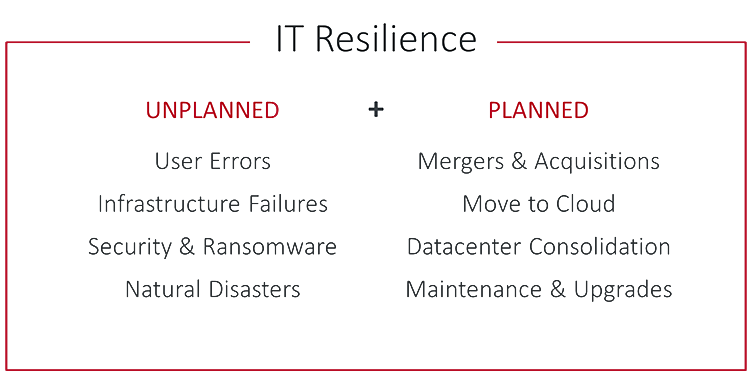 Zerto delivers an industry leading IT Resilience platform, combining continuous availability, orchestration and automation to accelerate multi-cloud and hybrid-cloud adoption. Providing IT leaders with simplicity, enterprise scale and agile data protection, Zerto enables businesses to deliver superior customer experience and accelerate digital transformation—all in one platform for IT resilience.