Offsite Backup & Data Protection
Offsite backups of Virtual Machines (VMs) and their data form a key part of a complete BC/DR solution as they are the last line of defense in protecting the business in the event of a disaster. By having a 3rd copy of the data kept offsite, no matter what happens with the primary site, local server backups, data replication or even recovery site the business always has the ability to recover.
The most common method of maintaining offsite backups is to use legacy tape or disk based backup solutions with tapes taken offsite on a daily or weekly basis. The tapes are then stored long term serving the dual purpose providing of a 3rd copy of the data and long term data retention for archiving as maintaining long term backups is often required to meet business and regulatory requirements. These legacy solutions present many issues in today's virtualized environments:
  Reliance on complex backup software to manage tapes, libraries and agents requiring specialist skill sets
  High cost with manual transport or archiving services
  Maintaining backups for long periods consumes large amounts of storage that is hard and costly to manage
  Tape based backups are rarely tested for recovery before being shipped offsite introducing risk
  Recovery is reliant on matching software versions and tape drives/loaders/libraries
  Recovery Time Objectives (RTOs) can be many days waiting for tape shipments or restoration from backups
How Zerto solves the challenge of Offsite Backups
Zerto Virtual Replication resolves all of the challenges of managing a separate legacy solution for offsite backups by including this feature in the software. Offsite backups are taken from the replicated VM data, in the recovery site, on a daily, weekly or monthly schedule. The backups can be stored on a disk or network share in a 3rd location, dedicated disk-based backup device or even stored in Amazon Web Service S3 storage with archiving to Glacier for long term retention removing the headache of managing storage or tape for storing offsite backups altogether.
The Zerto backup file is compressed, portable and restorable to any VMware and Hyper-V environment making it much more flexible than a tape based solution. As the offsite backup is taken from the replicated data, and not production, no production backup windows are required for performing the backup. This ensures no snapshots or backup jobs are ever run against production VMs which can affect performance and removes the challenges every organization has of having to try schedule multiple backup jobs within a specific time frame.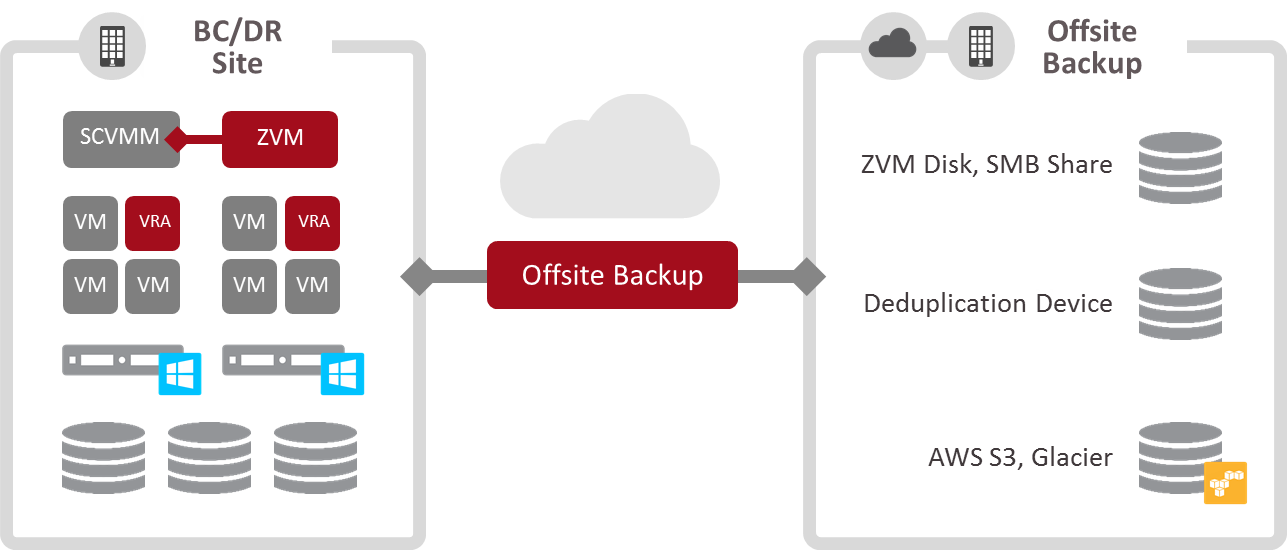 Zerto offsite backups keep a 3rd copy of the data available to restore irrespective of what happens with the replicated data, which is the final failsafe required in order to provide a complete BC/DR solution. It also has the added benefit of providing long term archiving capabilities for data retention and compliance as the offsite backups can be kept forever.
Summary
In comparison to having to continue to manage complex legacy tape based backup solutions for maintaining a 3rd data copy and for long term retention, the Zerto offsite backup feature leverages existing replicated data giving users a simple integrated solution to ensure the ability to always recover their virtual machines, easily meet data retention requirements and have a final fail-safe in the organization's BC/DR strategy.