Types of Backup: Select Wisely to Avoid Costly Data Loss
September 3, 2021
Est. Reading Time: 4 minutes
---
Backup technology has existed as long as data has needed to be recovered. We've seen countless iterations of backup solutions, media types, and ways of storing backup data. This last decade, many new backup tools have come out. Some appliance-based and some software. Yet, we see the same mistakes and legacy approach backup vendors have used for decades: snapshots.
We can categorize traditional backup solutions into two categories: appliance and software-based backup. But there is a third backup category that eliminates complexity and the data loss exposure from snapshots – continuous data protection. Let's see how they stack up.
Backup Appliances
Backup appliances claim to combine the hardware and software into a single box. These solutions usually retain a local copy of the backups and transfer that data to remote offsite locations. These backup appliances are also dabbling in delivering disaster recovery capabilities using VM snapshots.
Software-based Backup
Software-based backup integrates with VMware vSphere and Microsoft Hyper-V and allows users to take a snapshot using an image-level backup to restore the VM, files, or folders. Apart from traditional VM backup, software-based backup solutions are also looking to deliver disaster recovery capabilities using VM snapshots. These software solutions still have limitations, as they require agents and proxy servers which add complexity to the configuration, installation, and management of backup operations.
Continuous Data Protection: Moving away from VM snapshots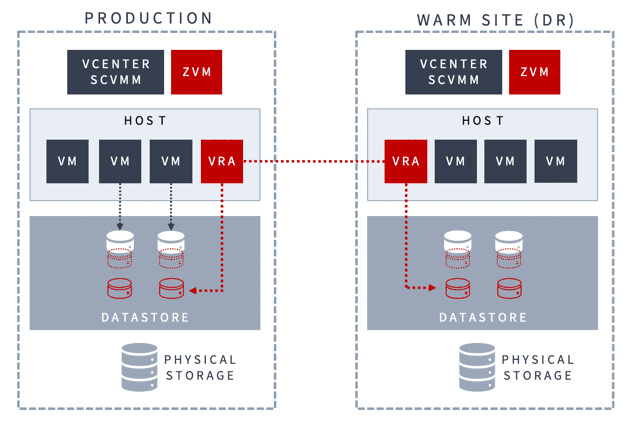 Zerto, a Hewlett Packard Enterprise company, developed our platform that does the exact opposite of legacy backup solutions. Instead of using cumbersome VM snapshot data as the primary source of protection and recovery, it uses near-synchronous replication for both disaster recovery AND backup of VMs. How?
With the Zerto platform, replication happens at the hypervisor level using a scale-out model and journaling technology. This means that as a user you can replicate locally (at production) and to a secondary site (on-premises, public cloud, or managed service provider) at the same time. Why is this valuable to you? Using these two sets of replication checkpoints (with RPOs of 5 seconds) you can:
Instantly restore VMs, files, and folders locally without data loss or impact to production. This all happens from a local journal on the production site.
Perform an entire site or application failover, failback, and move without data loss or impact to production. This will work consistently in on-premises VMware or Hyper-V environments, on Microsoft Azure or Amazon Web Services (AWS), and over 350 Managed Service Providers (MSPs).
While delivering replication for disaster recovery and day-to-day backup scenarios, Zerto also delivers full and incremental copies to cost-effective secondary storage. This solves for long-term retention compliance along with file-level recoveries that are necessary from time to time. The Zerto platform integrates with:
Purpose-Built Backup Appliances (PBBAs)
Physical secondary storage such as HPE StoreOnce
Microsoft Azure (this includes Azure Archive)
AWS (including Glacier)
S3 Compatible Storage such as Cloudian
Zerto vs. Periodic Backup: Key differentiators
Ultimately Zerto brings industry-leading recovery times to a converged disaster recovery and backup experience without the challenges and disruptions associated with VM snapshots. There are additional differentiators like:
Application-centric recovery for multi-VM applications. Recover an entire application and all its VMs to one single, consistent point in time.
Software-only without agents or proxy servers
Scale-out architecture, scale from a few VM to thousands with ease
Vendor agnostic and cloud-ready
Trusted disaster recovery with built-in automation and orchestration
Simple installation, management, and upgrade experience
The growth and severity of ransomware attacks have put backup technology under the microscope. Organizations are looking for more reliability and faster recovery speeds from their backup solutions. Zerto brings its expertise in protecting Tier 1 and 2 workloads to backup.
Don't take my word for it, look for yourself and deploy our backup and ransomware labs for free. Also, read our technical comparison whitepaper on Zerto vs. traditional periodic backup technology. See links below:
Technology Comparison: Zerto versus Traditional Backup
---