Zerto's Virtual Replication vs. VMware Site Recovery Manager (SRM): How Do They Compare?
August 26, 2016
Est. Reading Time: 2 minutes
---
This is the second post in our "blogging from the VMworld show floor" series, covering the most common questions we get at VMworld. The most popular question today is, "How does Zerto's Virtual Replication (ZVR) compare to VMWare's Site Recovery Manager (SRM)?"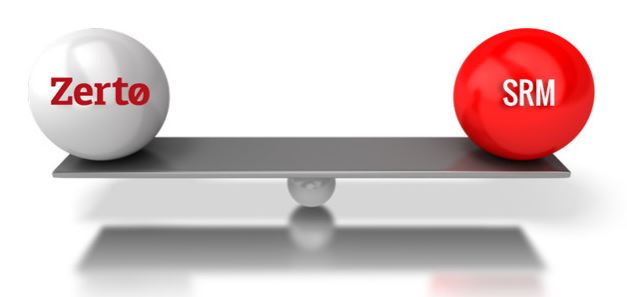 The best answer to this question is actually a deep dive on ActualTech Media entitled "Comparison: Zerto vs. Site Recovery Manager (SRM) & vSphere Replication" on his site, virtualizationsoftware.com.
The article goes through the impact virtualization has had on disaster recovery, and gets into a bit of the history there. Then it goes on to review the replication options VMWare supports, namely vSphere replication which can be used with or without Site Recovery Manager (SRM) also from VMWare, or the use of SRM with Array-based replication products from a storage provider. A clear chart of the differences between the products and their use cases is provided.
The author notes that VMware's vSphere Replication, "replicates individual VMs within or across vSphere clusters. Certainly it is better than recovering from an offsite backup but its recovery time and scalability (even when combined with SRM) may not be enough to satisfy your needs." Adding that SRM overcomes many of these issues, it is not able to fully cover the replication limitations that vSphere Replication presents. For this reason, lots of the organizations using SRM choose to replicate using array-based replication, which is expensive and often involves configuration and support hurdles.
Zerto provides replication at the hypervisor level that also provides automation of failovers and recoveries. The administration is very straightforward with Zerto since there is no need to coordinate with other components to perform successfully.
Read the full post here.  

Download this comparison paper for more details about the key differentiators of Zerto Versus Legacy Disaster Recovery.
Request a demo to get a personalized overview of our solution and see how it can help you to protect your VMs.
---