Part Two – How One-to-Many Replication Works
March 21, 2023
Est. Reading Time: 5 minutes
---
In the previous blog, "The Benefits of One-to-Many Replication," we provided an overview of Zerto's one-to-many replication feature. This article will explain in detail the functionality of one-to-many replication, how it employs virtual replication appliances and groups, and some common recovery models that leverage its features. With Zerto's one-to-many, your disaster recovery (DR) strategy gains layers of recoverability that better protect you in today's digital landscape.
How Does One-to-Many Replication Work?
Zerto, a Hewlett Packard Enterprise company, is a disaster recovery (DR) solution that offers a unique one-to-many replication feature. One-to-many replication allows you to replicate data from a single source to multiple (up to three) target environments, providing a flexible and efficient way to protect your data and applications. The core functionality of Zerto one-to-many is virtual replication appliances that are installed on the source and target environments.
Virtual replication appliances work together to replicate data and maintain consistency across all target environments. Replication begins when an appliance is installed on the source environment. This virtual replication appliance identifies and replicates the data that needs to be protected. These appliances are versatile and can replicate data from a wide range of sources, including virtual machines (VMs) and cloud-based environments.
After replication, the data is sent to the target environments. Each target environment also has its own virtual replication appliance, which receives the replicated data and stores it in a local journal. Finally, the appliance on the target environment applies the data to the local storage, ensuring that the data is consistent across all target environments.
This replication process works in conjunction with multiple virtual protection groups. Protection groups logically organize virtual instances that need to be replicated and restored at the same point in time. Each group is treated as a separate entity, with its own replication settings and recovery options. These groups provide a high level of granularity in data replication.
You can create up to three virtual protection groups and replicate specific virtual instances. In addition, virtual protection groups also enable various recovery options for different VMs, applications, or files. For example, you can configure a group to fail over to a secondary datacenter while another fails over to a cloud-based environment. With this flexibility, you can set different recovery options corresponding to the criticality of your data.
There are many ways to leverage one-to-many replication. The following are three common scenarios that take advantage of Zerto's one-to-many:
Local Continuous Disaster Recovery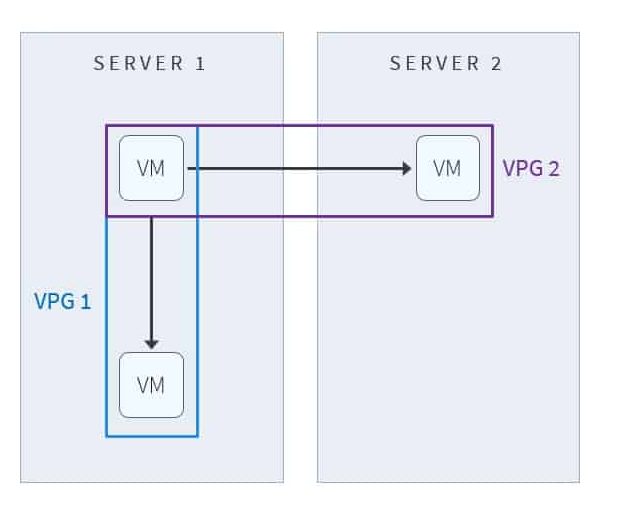 Local continuous disaster recovery uses one-to-many to replicate multiple local copies of a virtual instance for a faster, more active restore. This allows users to recover directly to the production site and has less latency (and cost) compared to secondary site recovery. With Zerto one-to-many, you can replicate to as many local servers hosting the virtual instances as possible for greater redundancy.
Multi-Site Disaster Recovery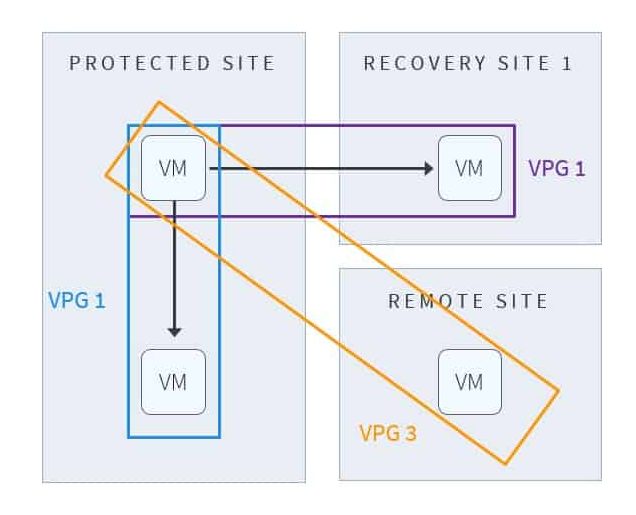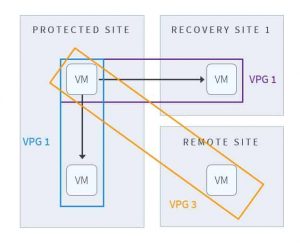 Redundancy is the key to a strong DR solution. Replicating to multiple sites at once offers redundancy in the number of data copies and the ability to restore services at different levels. In the multi-site disaster recovery model, users add redundancy by layering on recoverability. When you add a virtual instance to multiple virtual protection groups that span across multiple sites, the one-to-many feature can recover from numerous points in time without excessive overhead. This is typically known as "fan out" disaster recovery capability since the virtual instance would be replicated to multiple sites at once.
"Staggering" journal retention times enables dynamic recovery at many different service-level agreements (SLAs). Depending on what applications the virtual instances are hosting, multiple recovery points (as well as target sites) provide flexibility that doesn't require a large journal history.
For example, consider an on-premises virtual protection group 1 replicating to a remote site with 24-hour journal retention. Using one-to-many, you can then replicate to another location with a longer retention period (e.g., virtual protection group 2 to a one-month journal) utilizing the public cloud or a certified Zerto managed service provider (MSP) as a target site. This reduces overhead and management costs generally associated with provisioning a secondary cluster.
Protection During Migrations
Finally, why not migrate while you replicate for disaster recovery purposes? Many DR strategies today depend on having a "warm site" ready in case of an application failure. This strategy involves moving virtual instances associated with a virtual protection group to a secondary site. For example, you may want to migrate only an application's database instances to independently protect them while you fail over to another site during a disaster.
→ Read more about the failover and move operations using one-to-many with Zerto, and also about the six common challenges to migration projects.
Summary
Zerto's one-to-many replication feature adds layers of recoverability to your disaster recovery strategy. The core functionality, driven by the virtual replication appliance and smartly deployed virtual protection groups, expands the scope and scale of virtual instances hosting applications. Zerto's one-to-many enables you to replicate multiple times locally (local continuous disaster recovery), replicate and fail over to multiple target or remote sites (multi-site disaster recovery), and move specific virtual instances to a "warm site." As a result, your DR strategy reduces overhead while providing you more complete protection.
In the next installment of this miniseries we are going to cover how Zerto's one-to-many supports Kubernetes.
Ready to try Zerto's one-to-many for yourself? Sign up for our hands-on labs!
---