Enabling Multi-Cloud Mobility for the JWCC Contract
Est. Reading Time: 4 minutes
---
With the Department of Defense Joint Warfighting Cloud Capability (JWCC) contract award, cloud services will become an integral part of mission strategies, and migrating and protecting mission applications and data is key to a successful move to the cloud. Zerto, a Hewlett Packard Enterprise company, is a single, software-only tool that provides an easy path to migration from the datacenter to a cloud of choice, as well as between multiple clouds.
At Zerto, we have strategic partnerships with each of the contract awardees: Amazon, Google, Microsoft, and Oracle. Each of their platforms has particular attributes that suit them to certain workloads. As a result, these options will increase hybrid and multi-cloud adoption, which challenges missions to ensure that applications—whether on-premises or in the cloud—are not locked into any single platform and can be moved around with ease.
Zerto removes the limitations that have traditionally made migrations lengthy, challenging, and impactful. By taking an agnostic approach where vendor lock-in is removed, Zerto enables true workload mobility across cloud platforms, without manual conversions or implementations.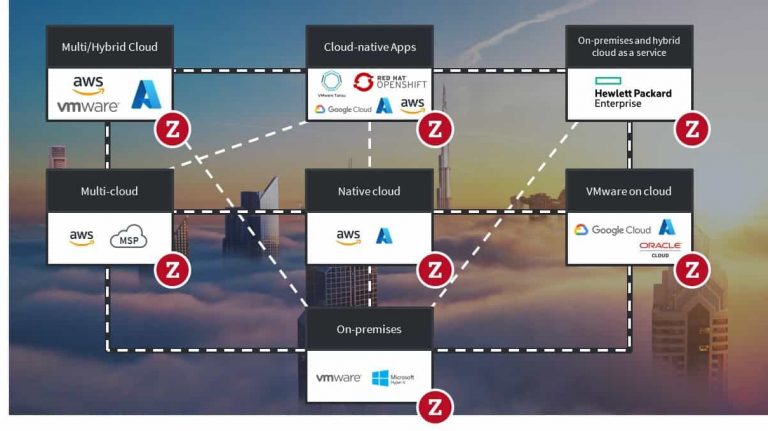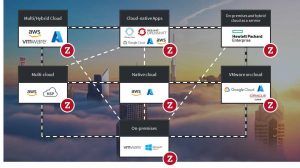 With vendor freedom, we allow applications to move seamlessly to, from, and between clouds. Using continuous data protection (CDP), the traditional migration window can be reduced from days to just a few minutes, with next to no impact on the production environment. Additionally, Zerto provides replication, orchestration, and automation together in one consistent interface without relying on any added tools.
Let's take a closer look at how we can protect, recover, and move data and applications to, from, and within clouds.
Migration to and from the Cloud
Zerto uses built-in automation and orchestration to migrate VMs, mission-critical applications, or entire datacenters to and from Azure, Amazon Web Services (AWS), Oracle, Google, or VMWare on cloud. For a planned migration, Zerto allows you to utilize consistency groups, known as virtual protection groups (VPGs), to protect, recover, and migrate all VMs associated with an application to or from these cloud platforms. In turn, all VMs will be migrated to a single point in time to ensure data fidelity and integrity.
Across all these clouds and cloud models, Zerto uses a scale-out architecture built for the enterprise. Its tight integration and seamless VM infrastructure mobility converts workloads to run natively on different cloud environments. Capabilities such as simple testing before committing to a migration and one-click rollback provide total confidence during a disruption. Taken together, this makes Zerto the industry standard for fast and seamless datacenter migrations.
Migration within the Cloud
Built for scale and speed of recovery, Zerto In-Cloud for AWS introduces a resilient, cloud-native architecture to migrate applications within the public cloud as efficiently as possible. For example, Zerto In-Cloud for AWS can migrate Amazon EC2 instances between regions and availability zones. This provides greater application mobility and decreases the time developers need to move applications geographically closer to the client they serve.
Containerized Applications
To support the growing adoption of Kubernetes, Zerto helps migrate containerized applications and their associated components running on Kubernetes, as well as their persistent data. By including replication, recovery orchestration, and automation in one simple software solution, Zerto allows users to migrate all their Kubernetes objects to any destination for resilience and portability. Supported environments include Azure Kubernetes Service (AKS), AWS Elastic Kubernetes Service (EKS), Google Kubernetes Service (GK), Oracle Container Engine for Kubernetes (OKE), and more. Zerto makes moving between these platforms simple.
No matter where your Kubernetes environments are running—on-premises, in the cloud, or a combination of the two—Zerto maintains your freedom of platform. With Zerto, you can use the infrastructure of your choice without cloud lock-in.
Zerto and the JWCC Cloud Contract
With the hybrid and multi-cloud options the JWCC contract opens, Zerto will be an ideal tool to migrate your applications and data from the datacenter to your cloud service provider of choice. When you can easily move between or back to the datacenter with a single, software-only tool, each mission has the flexibility to maintain data integrity during migration and can move to the appropriate environment simply and safely.
Contact us today to learn more.
---