Disaster Recovery 101: Everything You've Ever Wanted to Know About DR….But Were Afraid to Ask! (Updated Sept. 2022)
June 8, 2017
Est. Reading Time: 2 minutes
---
In today's evolving digital landscape, comprehensive disaster recovery (DR) solutions are more important than ever. Modern businesses can't afford downtime or data loss, and customers expect 24/7 access to their data and applications. But as DR solutions and the threats they defend against become more complex, making the right choice about DR is imperative to defending your business.
Edge computing, containerization, software-defined infrastructure, and cloud computing are changing the landscape of information technology, and cyberthreats like ransomware are threatening all IT platforms across the globe. Data and data access are some of the biggest commodities in today's digital world. Losing hours' worth of data and being offline for hours or days is incredibly costly in a 24/7/365 marketplace. Organizations need to be back online in minutes, not hours, and reduce data loss to near zero for business-critical data and applications.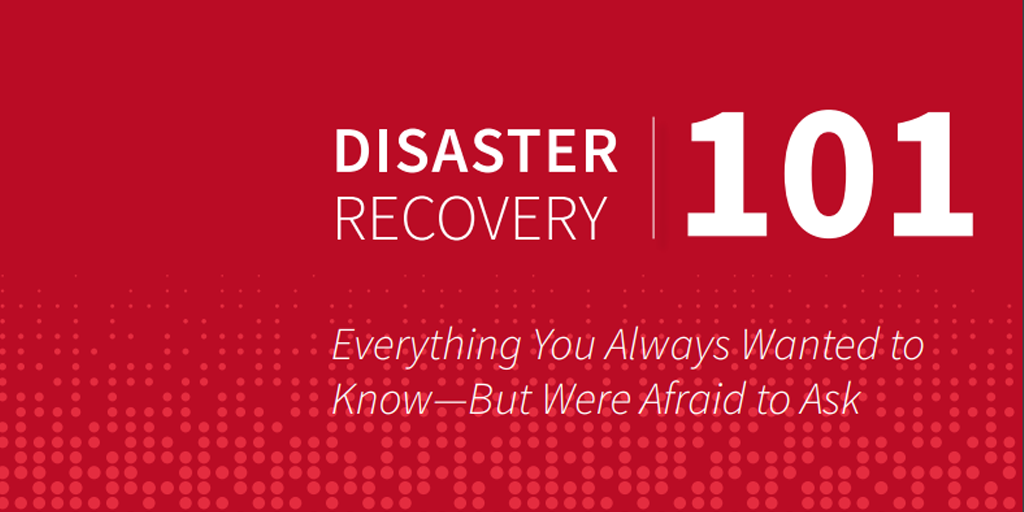 IT professionals are challenged to protect multifaceted datacenters while meeting aggressive recovery point (RPO) and recovery time (RTO) objectives for uninterrupted business. Traditional backup solutions, which measure recovery times in hours, simply can't keep up. Even agent- and storage-based replication solutions aren't flexible or scalable enough to provide varying datacenter compatibility and recovery at scale.
To choose the best data protection and recovery solution, it's helpful to get back to basics: comparing periodic backup solutions and outdated replication solutions against continuous data protection that provides the lowest RPOs and RTOs at scale. Understanding different kinds of backup and replication, the true cost of downtime, and your total cost of ownership will get you the most protection for your investment.
Our DR 101 eBook will help you make an informed decision about disaster recovery and prepare for any disruption—whether it's a natural disaster, ransomware, user error, or other outage. Our eBook illustrates the true cost of these disruptions and the effectiveness of available solutions.
Don't join the 83% of businesses that suffered data corruption as a result of disruption in the past year. Traditional and outdated backup and replication methods simply aren't enough to fully protect the modern datacenter. Learn about DR from the ground up to make informed decisions and implement an effective DR strategy. We'll show you how DR strategy is a key part of a resilient IT infrastructure—the backbone of successful digital businesses and always-on customer experiences. Learn how to minimize RPOs to seconds and achieve RTOs of minutes with a solution that's right for you!
---