RPO and RTO: Differences and Considerations
A-to-Zerto Glossary of Terms
Recovery point objectives (RPOs) and recovery time objectives (RTOs) are two of the most important metrics of any disaster recovery plan and are measured in units of time. They deal with data loss and recovery time for data and applications in the event of a disaster. Low RTOs and RPOs are key to achieving IT resilience.
What Is the Difference between RTO and RPO?


RTO

represents the amount of downtime that can be expected before operations, including data and application services, are back online following a disruption. RTO may be influenced by many factors, including the level of manual vs. automated recovery processes such as boot ordering of VMs, redirecting network traffic, recovering application stacks consistently, etc.
RPO

measures data loss in a disaster recovery scenario. It refers to most recent point in time in which a known, good copy of data is available to recover a system. The further back in time a recovery point exists, the more data is lost. RPO is often determined by what data protection solution is used such as: backups, storage replication, or

continuous data replication

.
In figure 1, the RTO is 4 hours (from 1:05 to 5:05 p.m.). Since the disruption occurred at 1:05 p.m., and the last data copy was taken at 10:00 a.m., the RPO is three hours and five minutes. However, in the worst case scenario, the RPO would be four hours, which is the interval between each backup time. This example is simplified—it assumes that the recovery phase starts almost exactly when the disruption occurs. This isn't usually the case, as described in the next section.
What is the Relationship between RPO, RTO, MTD and MTDL?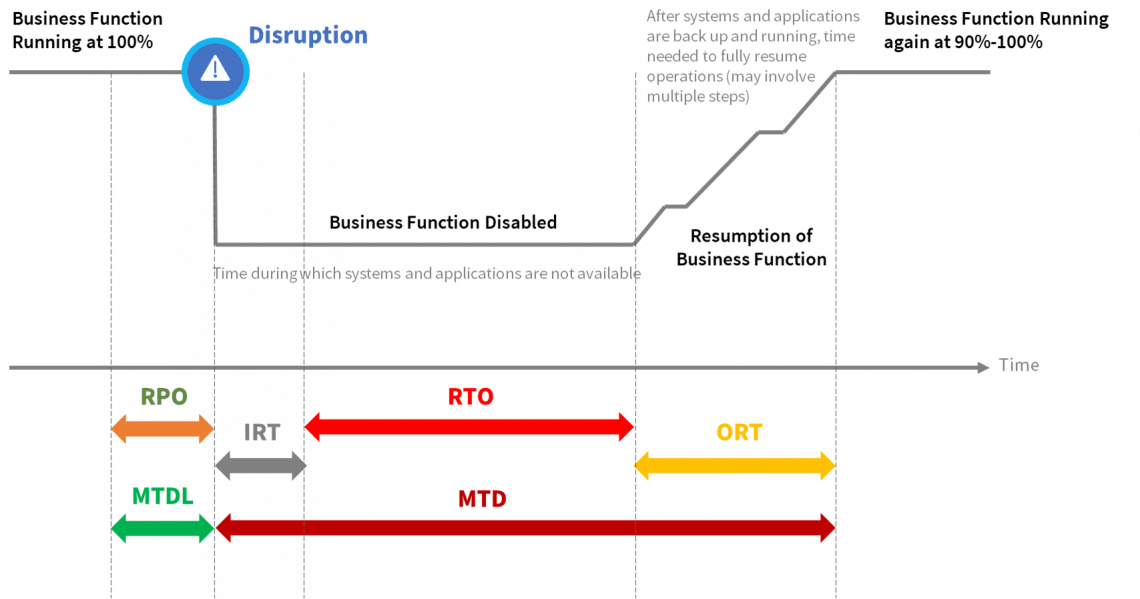 RTO is one of several components that make up MTD. As shown in figure 2, MTD includes incident response time (IRT)—the time from the disruption point to when the disaster is declared and the recovery plan activated—RTO, and the operational resumption time (ORT) needed to restart and run business function at an acceptable level.
Optimizing any of these three components (or all of them) increases the likelihood of meeting, and even exceeding, the MTD requirement.
If IRT and ORT are inefficient, they will force an RTO target lower than what may be necessary, which potentially adds cost toward a DR solution that can deliver a lower RTO.
RPO directly correlates to MTDL and must be less than or, at most, equal to it.
RTO and RPO: Business Process vs. Application and Data Level
Business impact analytics usually determine MTD and MTDL, two key business continuity metrics, at a business process level.
However, there are almost always several IT applications and systems involved in each business process. The RTOs and RPOs of each individual application will have to be evaluated. All dependencies—such as any order over app, VM, or database recovery sequence—must be considered to ensure that the resulting RTO and RPO of the overall business process is compliant.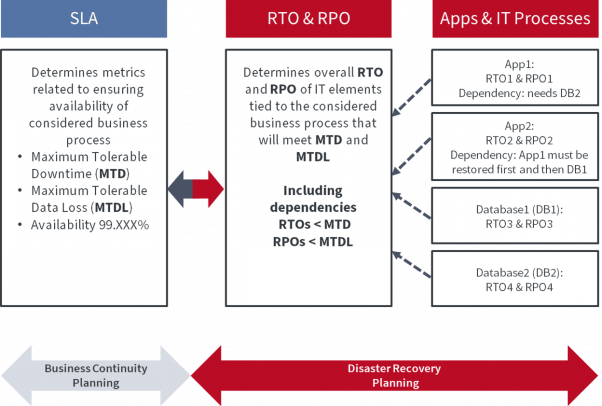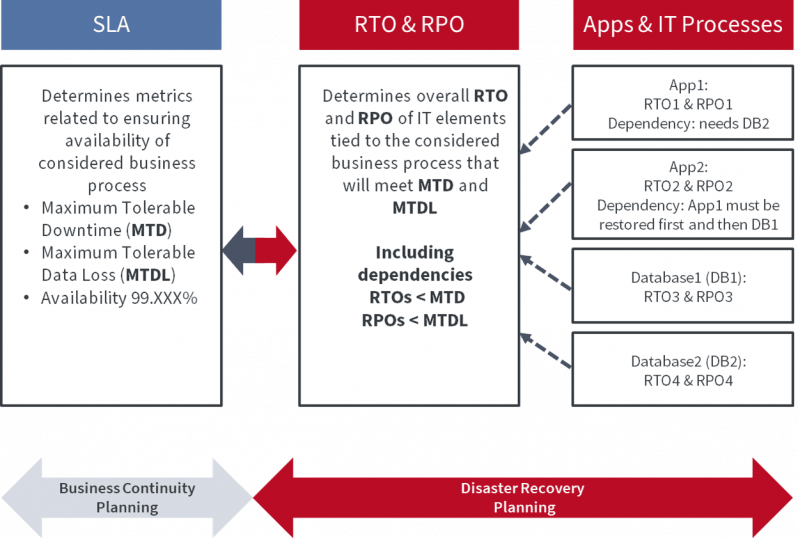 This sets RTO and RPO requirements, which need to be less than or equal to the MTD and MTDL set in the SLA, as shown in figure 3.
The DR team is responsible for evaluating and selecting compliant solutions as part of the DR planning process.
Financial Implications of RPO and RTO
Downtime, measured by RTO, is time spent waiting for applications and data to be recovered. It significantly decreases revenue, productivity, brand reputation, and customer loyalty. For most businesses, the cost of data loss easily reaches six figures.
Figure 4 illustrates the financial impact downtime that varying RPOs and RTOs would have on a company with a revenue of $100M, based on three different solutions.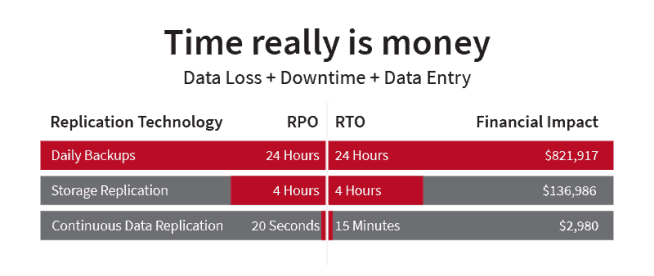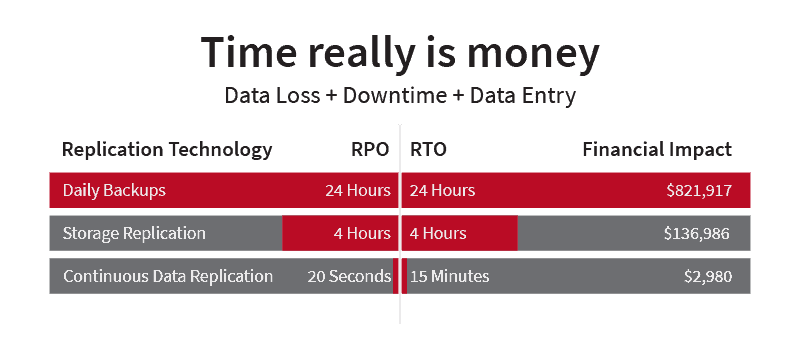 Together, low RTO and low RPO are the foundation of any disaster recovery plan. Both help businesses understand the actual costs of data disruption to help businesses plan and prepare for a disaster, whether it's an unplanned outage, an act of nature, or a ransomware attack.
While achieving low RTOs and RPOs does incur cost, it's a small fraction of the costs that downtime and data loss inflict on an organization. When considering its critical business processes, an organization will often decide the investment is well worth it.
A successful disaster recovery solution should include certain features to help you optimize your RTO and RPO.
Continuous data protection (CDP)

. CDP is always on and replicating the most recently changed data, offering much lower RPOs than snapshot-based backups—with significantly less data loss.
Journal-based recovery

. Granular journal technology allows you to rewind specific components and recover to the precise moment (down to the second) immediately before a disruption, giving you the lowest RPOs possible.
Orchestration and automation

. These elements are essential for a disaster recovery strategy, as they allow you to test your disaster recovery plan and minimize downtime before a disruption occurs, helping you to get your RTOs as low as possible.
Scalable architecture

. A flexible, scalable architecture simplifies and reduces recovery time from a disaster of any size, from one application to an entire server.
Achieve the Lowest RTO and RPO in the Industry with Zerto
In today's digital business world, it is more important than ever to keep these objective times as low as possible. Luckily, lowering RPO and RTO to within a few seconds is not only possible but simple with Zerto, a Hewlett Packard Enterprise company.
Zerto consistently achieves the lowest RTOs and RPOs in the industry —with its continuous data protection technology— to help organizations achieve business continuity and ransomware resilience. Zerto adapts DR strategies to keep recovery objectives as low as possible, preventing data loss almost entirely.