ZVR 5.0 One-To-Many Use Case No.5 – Protection During Migrations
October 27, 2016
Est. Reading Time: 2 minutes
---
Read an updated post, from 2023, on How Zerto's One-to-Many Replication Works. Click here!
When it comes to changing your DR site, be it to a new datacenter, co-location space, cloud provider or public cloud, maintaining replication for disaster recovery can be challenging. This results in significant windows of unprotected VMs and data introducing risk and complexity. To help explain the problem let's take a look at some common examples:
Example 1
You have 20TB of VMs replicating from vSphere to vSphere, you want to switch your DR site to a new Hyper-V cluster to reduce licensing costs. How can you protect the VMs to Hyper-V, perform test failovers to ensure a working recovery in the new environment, all without breaking your existing replication and recovery?
Example 2
You are replicating 20TB of VMs from DC1 to DC2, you want to switch to replicating to Microsoft Azure as you want to remove the cost of having to provision and manage your own DR site altogether. How can you replicate all your VMs to Azure and test the failover to the public cloud before you turn off your existing protection?
Example 3
You are currently protecting your VMs to Zerto Cloud Provider A, you want to switch to Zerto Cloud Provider B. You have no DR site of your own, you need to change provider but cannot do so without having a period of time where you cannot recover.
All of these example problems are now solved with One-To-Many replication. How? You simply create new Virtual Protection Groups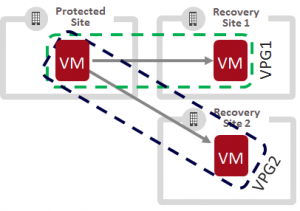 (VPGs) for the existing VMs replicating to the new target vSphere, Hyper-V or cloud site. Once the VPGs have finished synchronizing you can perform no-impact failover testing to the new DR site to guarantee recovery, all without breaking the replication of both VPGs, with no shutdown in production.
Once you have successfully tested failover to the new site all you need to do is delete the old VPGs and you have successfully migrated to a new DR site with no break in protection whatsoever. Problem solved!
I hope you enjoyed reading about the many use cases of Zerto Virtual Replication 5.0. Visit this page to learn more.
---