The Bald Truth: RPO/RTO (Recovery Time Objective/ Recovery Point Objective)
October 24, 2017
---
Whether you're in the IT industry or not, you've either barely heard the term RPO/RTO or you have heard it and think you know what it means to you. We here at Zerto wanted to make sure you understood our stance on this dire topic in order to ensure you leave here informed, educated, and ready for your next steps.
The following information is really all about you, not Zerto (even though we live and breathe this stuff — it's in our blood, really). Below, you'll find multiple formats of consumption to satisfy your thirst for RPO and RTO. Consume it bite by bite, or gobble it down all at once, either way we think you'll enjoy your journey with us today.
Do you like videos but don't have a lot of time? Watch this 90 second introduction below to RPO and RTO and what you should be considering when you hear and discuss these terms and what they mean to your business. We've taken a serious topic, real information and thought leadership, and captured some of the fun personalities you've been following here at Zerto all in one great series of video shorts.
Read the RTO/RPO Video Transcript
The next step is for you take a few bites of this easily digestible infographic with details and statistics that will help you feel more confident in your decisions and understanding your next moves for your IT organizations.
Lastly, here are a few blogs we released on these topics that will also help you wrap your mind around these topics and clear up any confusion you've had with this subject.
Armed with this absolutely beautiful bundle of information, you're now ready to take it to the next stage. We're ready to answer your questions on how Zerto is your trusted partner to solve your IT resilience needs across the board, and we also invite you to stay tuned for the rest of the information coming on the latest IT industry topics that you haven't had the time to spend on yet, or maybe have been burned on in the past.
Enjoy!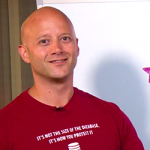 Harry is a Technology Evangelist at Zerto focusing on driving adoption of Zerto's enterprise class scalability and agility to organizations of all sizes and sectors — across clouds, hypervisors, and platforms. With 20 years of industry experience, Harry spent more than 8 years at VMware — 5 years in Professional Services as a Senior Consultant architecting and implementing private clouds and major datacenter migrations, and another 3 years in Technical Marketing focused on product integration and scalability with the vRealize and vCloud product suites. Follow Harry on Twitter @HarrySiii and LinkedIn.
---