Zerto for Microsoft Hyper-V Part 2: Installation Requirements
January 7, 2016
---
By Joshua Stenhouse, Zerto Technical Marketing Manager        
After discussing features, requirements & cross-hypervisor replication in part 1 of our discussion on Zerto from Microsoft Hyper-V, in this second blog post I will cover the installation requirements for Zerto.
Just as Zerto utilizes VMware vCenter for task orchestration and automation in a VMware vSphere environment, it utilizes Microsoft System Center Virtual Machine Manager (SCVMM) in a Microsoft Hyper-V environment. In the below diagram are the pre-install requirements for Zerto in Microsoft Hyper-V: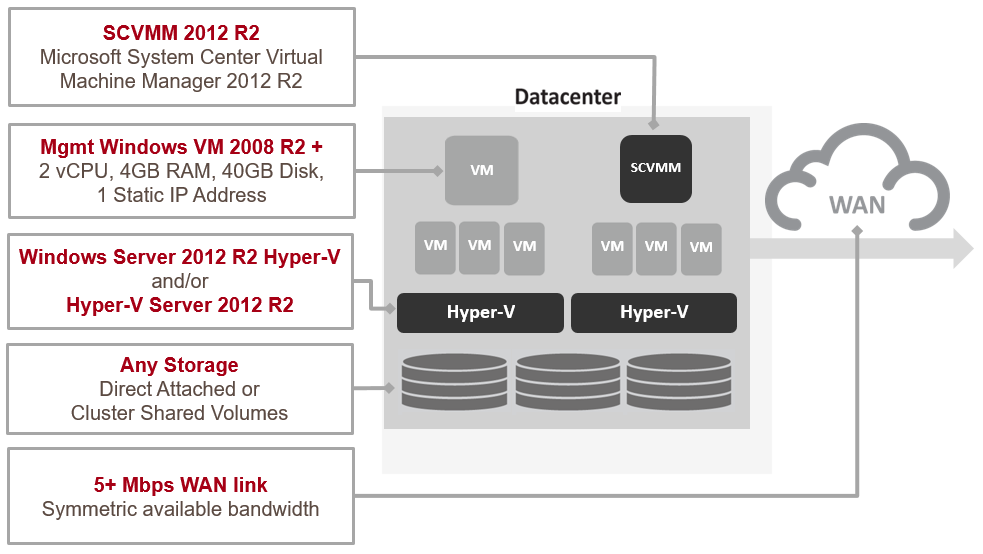 The management Windows VM is where you install the Zerto Virtual Manager (ZVM) service to manage disaster recovery. One ZVM is required per SCVMM or vCenter server and any number of ZVMs can be linked together for replication, recovery and management.
It is recommended to have 1 SCVMM server or vCenter (if replicating to/from VMware vSphere) per data center for disaster recovery. If the SCVMM or vCenter server is unavailable then the ZVM is unable to perform recovery operations, so both management servers should be protected by high availability in a VM.
Following is the architecture for installing Zerto in a Microsoft Hyper-V environment: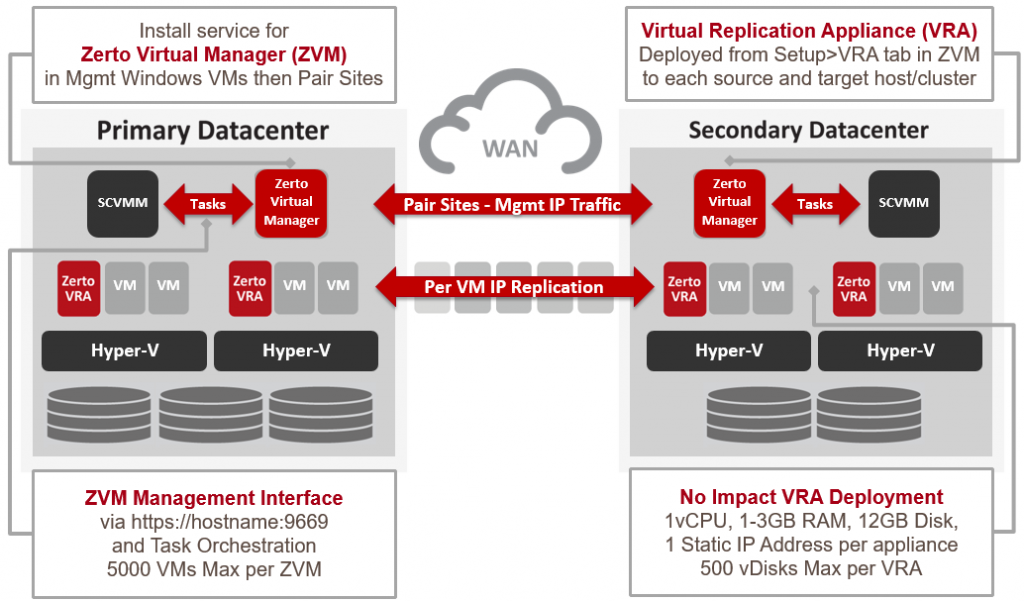 To summarize the process in the correct order:
Install the ZVM service onto the dedicated management VMs provisioned for each SCVMM server, linking it into the SCVMM server for that site with a dedicated service account.
Pair the ZVMs together so management traffic is replicated to allow selection of a target and source for replication and recovery.
From the ZVM interface deploy the VRAs onto the Hyper-V hosts, specifying a static IP address for each VRA. The IP address must be able to route to the IP addresses of the target site VRAs. No downtime is required for deploying VRAs and there is no impact to running VMs.
VMs can now be placed into Virtual Protection Groups for SLA based protection and application centric recovery.
In order to continue replicating and protecting VMs while performing live migrations, each Hyper-V host in a failover cluster than you're replicating from and to should have VRA deployed.
In my next blog post I will cover creating Virtual Protection Groups to allow the replication and recovery of VMs.
Read the other posts in this series by clicking on these links:     Part 1 , Part 3, Part 4
---