What's New in Zerto Analytics?
October 10, 2018
---
In case you didn't hear at Microsoft Ignite, Zerto recently announced the general availability of Zerto 6.5.  This release continues to build out the Zerto IT Resilience Platform™, laying a foundation for future backup capabilities and providing deeper analytics across all protected sites and clouds.
This blog is meant to help customers (current and future) understand the wealth of visibility and control you get over your environment with Zerto Analytics, especially now with our latest release.  Oh, and by the way – Zerto Analytics comes free with no setup or configuration required.
One of the major enhancements we made to the Zerto Analytics solution is the ability to now provide 90 days' worth of historical data on items such as average RPO and network performance.  This is a great feature for cloud service providers as they can now provide quarterly reports to their customers on the health and compliance of their protected environment.  In the image below, you'll see that I have configured my RPO report for 77 days, and of those 77 days the selected application had an average RPO of 7s, meeting the configured SLA of 5 minutes 100% of the time.  I neglected to include the additional 13 days because my lab was powered off so there weren't any new data points collected during that time.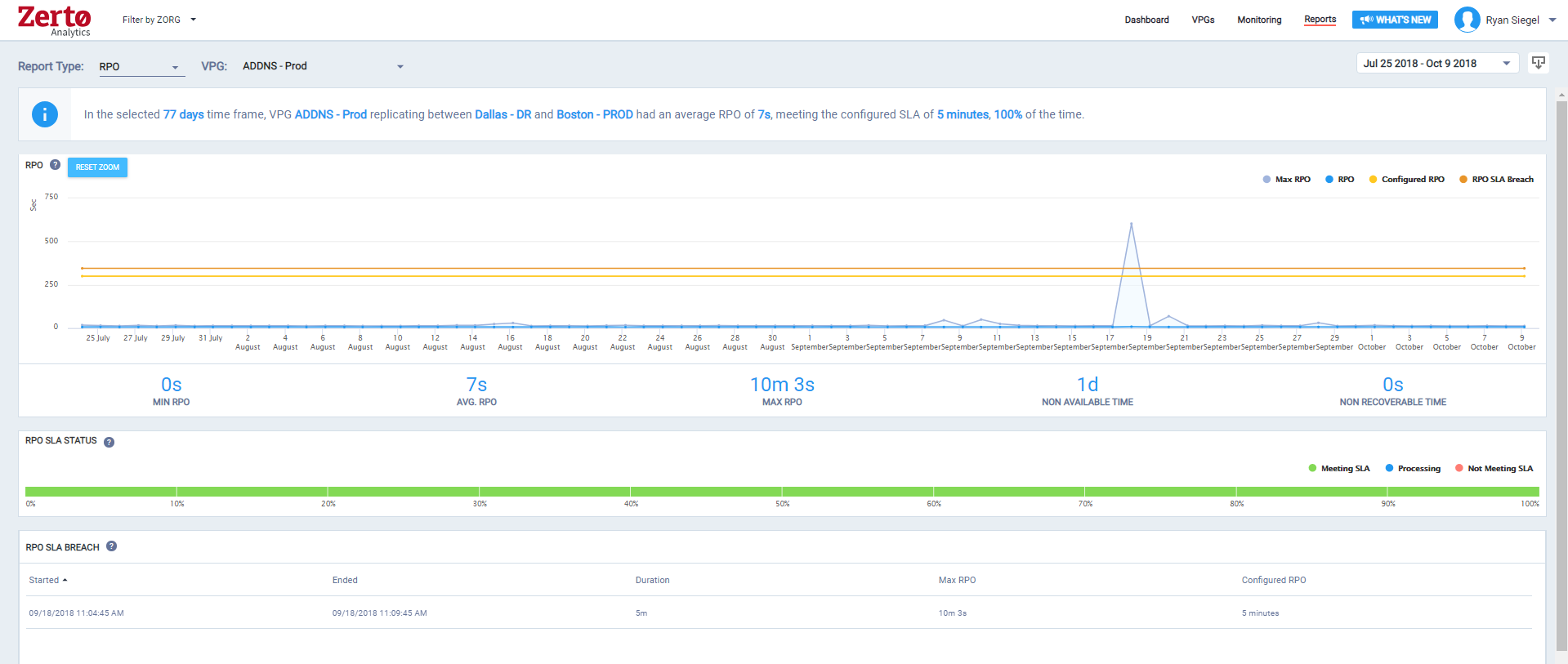 Cloud service providers aren't the only ones to benefit from this enhancement.  Enterprises of all sizes can use this extended historical analysis to troubleshoot problem areas and discover patterns in their data over time, helping maintain an IT resilient mode of operations.
Another exciting feature is the ability to pull reports and filter on a per-ZORG basis.  Disaster Recovery as a Service (DRaaS) customers can be located across the globe, but logically organized into Zerto Organizations (ZORGs).  The ZORG eases administrative functionality for cloud service providers by providing a centralized management capability.  However, when trying to generate weekly, monthly, or quarterly reports, cloud service providers can sometimes struggle to find the correct customer data given that they can be managing hundreds of individual ZORGs.
Zerto Analytics solves this problem with the additional of ZORG filters in Zerto Analytics.  Cloud service providers can now pull the same reports but filter on a per-ZORG basis, making it incredibly easy to find the data you need.
You'll see that for the same report, I can now search for particular ZORG IDs to streamline my ability to provide DRaaS customers with the proper data for the health and compliance of their multi-site, multi-cloud environment.
These aren't the only improvements made to Zerto Analytics!  If you're curious to learn more, visit the Zerto Analytics page or begin your free trial today.
---