What's New in Zerto 10 for Azure?
June 14, 2023
Est. Reading Time: 3 minutes
---
In an ever-changing IT landscape where it's crucial to maintain uninterrupted business operations, robust disaster recovery (DR) solutions like Zerto for Azure are an absolute necessity. Zerto, a Hewlett Packard Enterprise company, empowers customers to run an always-on business by simplifying the protection, recovery, and mobility of on-premises and cloud applications. Zerto harnesses the scalability, security, and agility of Microsoft Azure to deliver a uniquely powerful and adaptable DR infrastructure.
Zerto for Azure stands out as an exceptional choice as a scalable DR solution that provides seamless failovers and migrations to, from, and within the Azure cloud environment. With the release of Zerto 10, Zerto for Azure customers will benefit from three new features that enhance replication and recovery ability.
Multiple Virtual Replication Appliances
In Zerto 10, the new Virtual Replication Appliance (VRA) for Azure is separate from the Zerto Cloud Appliance (ZCA). This means that users can now have multiple VRAs for enhanced replication and recovery capabilities. The new multi-VRA architecture scales out protection for VMs in Azure rather than using multiple ZCAs.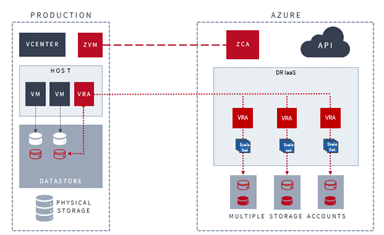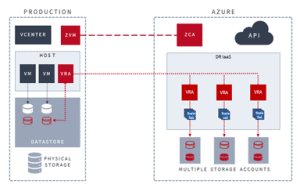 Zerto for Azure Architecture
Enhanced scalability enables protection of up to 5000 VMs to, from, or within Azure. Each VRA has its own scale set worker pool and dedicated storage account, ensuring minimal interruption between replication and recovery processes. With fewer ZCAs required to scale to, from, or within Azure, Zerto 10 reduces management complexity and simplifies resource consumption scaling as replication scales up or down.
Multidisk Consistency
Zerto 10 also introduces multidisk consistency for Azure VMs, which protects VMs to, from, and within Azure with complete disk consistency. Moving away from snapshot-based replication, multidisk consistency for Azure VMs now leverages a new restore point API, offering an easier and more efficient way to manage replication and recovery operations.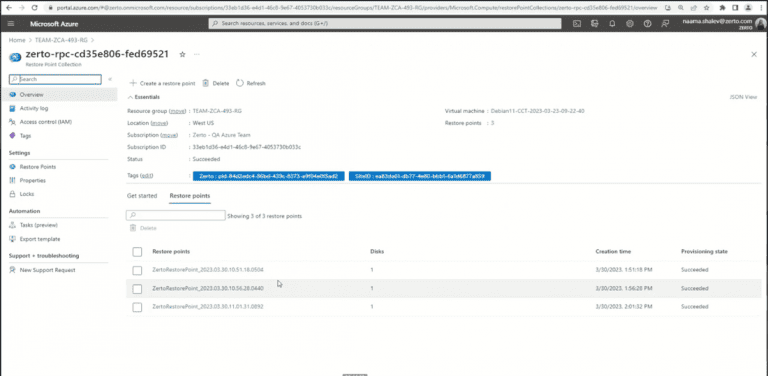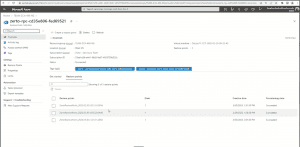 Zerto for Azure Restore Points
Region-to-Region Protection
With multidisk consistency support and new Azure VRAs, Zerto 10 also improves region-to-region protection for Azure. Users can now easily protect workloads between regions within Azure for in-cloud protection against regional outages and other disruptions like cyberattacks.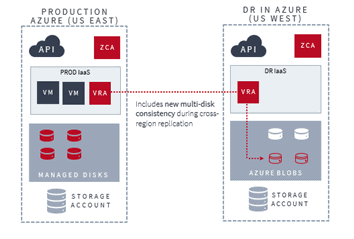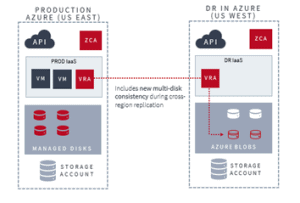 Zerto for Azure Region-to-Region Protection Architecture
Zerto for Azure Continues to Innovate and Improve
The latest Zerto for Azure release introduces significant improvements, including a new multi-VRA architecture that enhances replication and recovery, multidisk consistency that guarantees complete disk protection during replication and recovery, and region-to-region protection that defends against regional outages and cyberattacks. With these new features, Zerto for Azure can easily scale protection up to thousands of VMs, reducing management complexity. Its multidisk consistency improves efficiency and simplifies operations. And users now have in-cloud protection for workloads between Azure regions. Overall, Zerto for Azure continues to improve an already industry-leading offering, giving users the most powerful, flexible DR infrastructure on the market.
Searching for a real-world example of how Zerto for Azure works? Check out this PeerStory about how Grey County in Ontario, Canada uses Zerto for Azure to provide a disaster recovery solution for the entire organization!
---