Test and Dev – What Can Zerto Do for You?
June 14, 2017
---
One thing that I always say about Zerto is there is something in our technology for everyone.  Whether you are the CIO, a virtualization admin, or an application developer, you can find value in ZVR.  Today, I wanted to discuss the many uses cases for our product – specifically using ZVR for creating higher quality test/dev environments.
Heraclitus had it right – "The only thing that is constant is change."  I think most information technologists would agree that this is especially true within their discipline.  Between server upgrades, software patches, and hardware refreshes, it would be safe to say that IT is one of the most dynamic facets of your business.
Zerto gives you the option to perform alterations on near-real time replicas of actual production servers any time, and any day.  Using ZVR, you can easily do a test failover on a production application to a previous point in time, inject any code you need to, and see how the performance of the application is affected.
ZVR's One-to-Many feature allows you to replicate VMs locally and as well as to multiple disaster recovery sites.  Test locally knowing that your test VMs require no environment changes, and will not impact DR testing nor increase overheads associated with running extra workloads at another remote site. Perform the final unit tests against Virtual Protection Groups (VPGs), then satisfy integrated testing by either replicating larger VPGs containing more related applications, or just include multiple VPGs in your Failover Test. Final acceptance testing is incredibly challenging — and historically test servers are always "production-like," but never "production." Of course, leverage ZVR REST APIs as part of your automated testing.
As we continue to develop our award-winning continuity platform, Zerto remains a solution that solves issues across the board, including the ability to significantly improve test and dev efforts.  Simple to use, easy to manage, and quick to deploy – Download a trial today and take the first steps to realizing true enterprise-class data protection.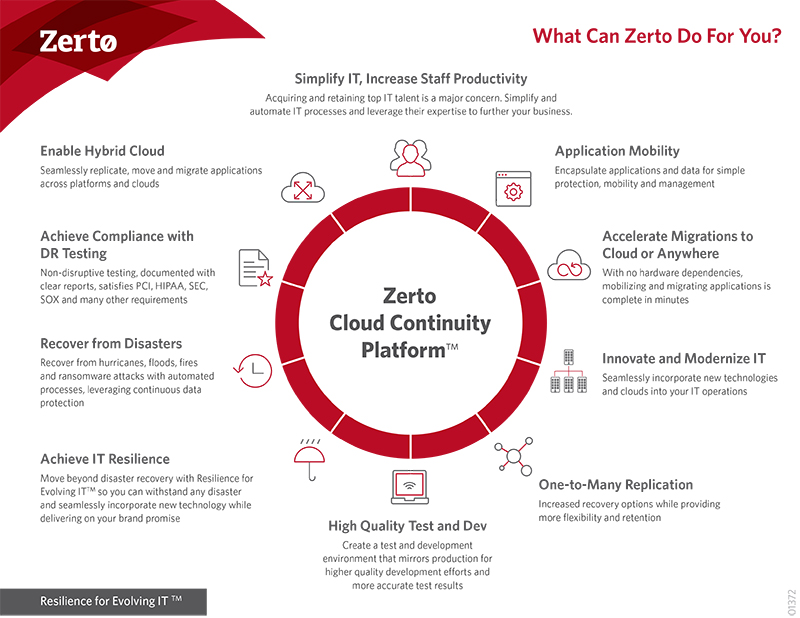 – Ryan Siegel, Zerto Technical Marketing, focuses on creating and delivering the latest innovations and solutions in the IT Resilience space, including disaster recovery, datacenter migrations, and driving the adoption of new technologies and solutions. Find Ryan on LinkedIn.
---