Upgrading ZVR 5.0 to 5.5 Quickly and Easily: Demo
September 13, 2017
---
About a year ago I was fortunate to have the opportunity of writing this blog regarding the speed and ease of upgrading Zerto's Virtual Replication (ZVR). As you may be well aware by now, upgrading ZVR became easier and less intrusive in the version 5.x world. What I mean by that, is when upgrading environments from a 5.x to a newer 5.x, the VRA upgrade process no longer requires a delta synchronization upon completion. All of the block changes will be tracked in the bitmap during the upgrade process.
I'm sure you are also aware of the pain points in upgrading some solutions out there. I'm proud to say Zerto customers have loved the upgrade process in ZVR because it really is only a few clicks….upgrade Zerto Virtual Manager (ZVM), then upgrade the Zerto Virtual Replication Appliances (VRAs). It's really that easy. But…do you know what we've done to make it even easier in 5.5? Read on!
The installer for ZVM version 5.5 includes a very handy VRA "auto-upgrade" checkbox as part of the wizard. This checkbox happens to allow the installer to automatically kickoff the upgrading of each VRA attached to the ZVM, once the ZVM install is complete. The VRAs are queued so they don't all run at the same time, and you can actually close the ZVM wizard during the VRA upgrade process and just monitor this process through your vSphere management client, or the ZVM dashboard. I've included some screen shots of the process below, along with a video showing the process!
Step 1.) Launch the ZVM 5.5 installer.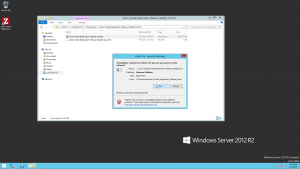 Step 2.) Review and click Run
Step 3.) Of course, fully read the EULA before you accept it
Step 4.) Here's the magic new checkbox! You can auto-upgrade the VRAs after the ZVM upgrade has completed!!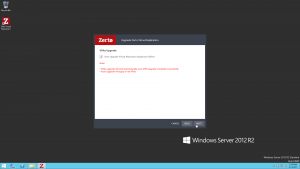 Step 5.) Review the upgrade validation. Pending you have no errors, please do continue; you're almost there!
Step 6.) That's it! You're Zerto Virtual Manager upgrade is now complete. VRA ugrades will continue. You may close this window and verify the VRA upgrade process from within the ZVM dashboard.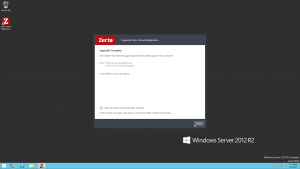 Step 7.) Here's a look at both the ZVM version showing 5.5, and the ZVM dashboard VRA tab signifying the VRA versions are up to date.
It truly is that fast and easy! Here's a video of the whole process if you prefer some mouse movement over static screen shots. Thanks for coming by and stay tuned for more!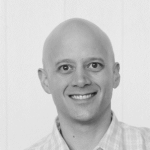 Harry is a Technology Evangelist at Zerto focusing on driving adoption of Zerto's enterprise class scalability and agility to organizations of all sizes and sectors — across clouds, hypervisors, and platforms. With 20 years of industry experience, Harry spent more than 8 years at VMware — 5 years in Professional Services as a Senior Consultant architecting and implementing private clouds and major datacenter migrations, and another 3 years in Technical Marketing focused on product integration and scalability with the vRealize and vCloud product suites.
Follow Harry on Twitter @HarrySiii and LinkedIn.
---