Replicating Raw Device Mappings with Zerto
May 28, 2016
---
By Joshua Stenhouse — Zerto Senior Solutions Engineer

I'm often asked if Zerto's Virtual Replication supports Raw Device Mappings (RDM) in VMWare, and I can usually tell the person asking is expecting me to say no, but the answer is actually a resounding YES! This is always followed by great responses such as "amazing" or "I don't believe you". I then list exactly what we do support and all becomes clear; which is:
1.      Replication of both Physical RDMs (pRDM) and Virtual RDMs (vRDM)
2.      Replication from RDM to thin or thick VMDK or pre-provisioned RDM in the target site
3.      Replication from pRDM to vRDM and vice versa
4.      Move, failover and failback
5.      Failover to VMDK (Virtual Machine Disk) then failback to RDM
6.      Failover testing with no shutdown of the protected VMs in production and no break in the replication
7.      Failover and failover testing to previous points in time using a journal of changes in the recovery site
8.      Consistency between VMDKs and RDMs in the same VM and across a VPG (Virtual Protection Group)
9.      Cloning target RDMs to VMs in the inventory with the RDMs converted to VMDKs
10.      Migration from RDM to VMDK with configuration of failback to VMDK removing the source RDM
This is made possible as Zerto replicates using software in the hypervisor. This makes Zerto's Virtual Replication both storage agnostic and agnostic to VMFS, NFS, VMDKs, pRDMs and vRDMs. Here you can see the Zerto selection screen for replication to and from VMWare RDMs within the Configure Volume section for a protected VM: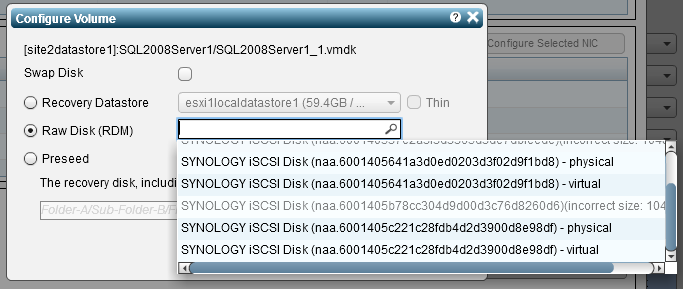 The default behaviour of Zerto is to replicate an RDM to a thick VMDK, but this is very easily changed to a thin VMDK or a pre-provisioned pRDM/vRDM in the target site when protecting the VM using the screen shown above.
All of the supported Raw Device Mapping in VMWare configurations really do allow you to be very granular in how you configure protection around your RDM based VMs.
If you have any unresolved questions regarding replicating Raw Device Mappings with Zerto please feel free to add a comment below.
---