One-To-Many Replication with Zerto Virtual Replication v5.0
October 6, 2016
Est. Reading Time: 3 minutes
---
Read an updated post, from 2023, on Zerto's One-to-Many Replication. Click here!
Zerto Virtual Replication (ZVR) 5.0 introduces the new capability of One-To-Many replication which I am really excited about. In my opinion it extends the lead of ZVR as the fastest, most powerful replication and recovery solution for Virtual Machines (VMs), files and data. For many customers it could even remove the need and headache of short term snapshot-based backups to disk altogether!
When you can simultaneously replicate a VM to multiple target platforms while replicating a local copy, with support for VMware vSphere, Microsoft Hyper-V, Amazon Web Services and Microsoft Azure, from any storage to any storage it really is a game changer.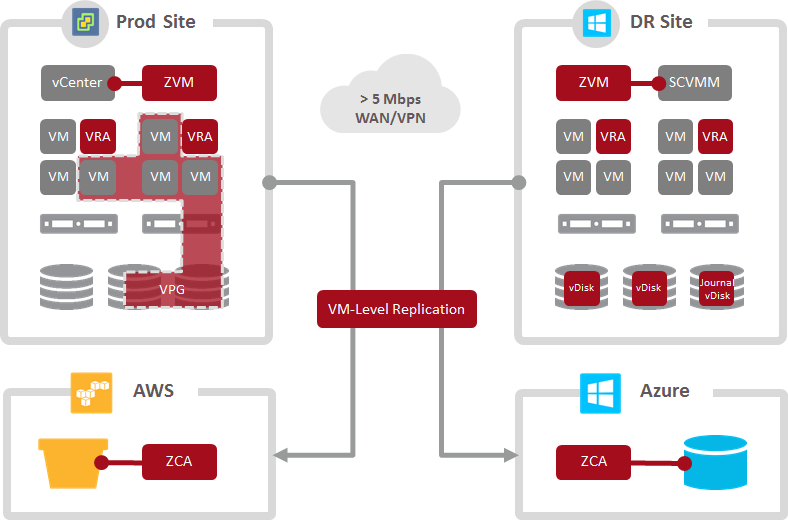 One-To-Many replication works by protecting VMs in multiple Virtual Protection Groups (VPGs), each with individually definable SLAs and the option to replicate the VPG to a different target platform. Before this feature, a VM could only exist in 1 VPG at once. With this restriction removed the VMs can be replicated to each target simultaneously in multiple VPGs. Each with Recovery Point Objectives (RPOs) in seconds, no snapshots and no performance impact.
VPGs can have a different journal data retention policies configured for point in time recovery. As a quick reminder, the journal contains the compressed block-level changes for the history configured to enable recovery to thousands of points in time. This can be between 1 hour to 30-days in ZVR 5.0 with additional settings for maximum size, warning thresholds and the ability to store the thin journal vDisk on a separate datastore to the replica VM for maximum flexibility.
This means you can have local replicas on separate local storage with 30-day journals for local file and VM restores. Simultaneously you can have a remote replica and 3-day journals for disaster recovery, all being continuously updated with the block-level changes to just seconds out of date from the production data. Wow.
All you need to do now is re-purpose your existing disk storage used for short term backups as VMFS or NFS datastores and you can remove the headache of nightly snapshot-based backups altogether. Need a file? Zerto file level restore. Need a VM? Perform a failover of the VPG containing that VM. Need an exchange mailbox? Perform a local failover test of the Exchange mailbox VM and export the PST. Need a SQL database? Local failover test of the SQL database, backup and export the SQL DB needed. All of these from seconds before the deletion or corruption occurred, available to restore in minutes on a granularity of restoration that NO backup solution can ever achieve. You can then leave snapshot-based backups to do what they do best, weekly or monthly backups of VMs for long term archiving to a dedupe device or tape. The game has officially changed.
But this isn't the only use case, there are many for One-To-Many replication and I'm sure you are already thinking of your own! To get you started here are my top 5 use cases: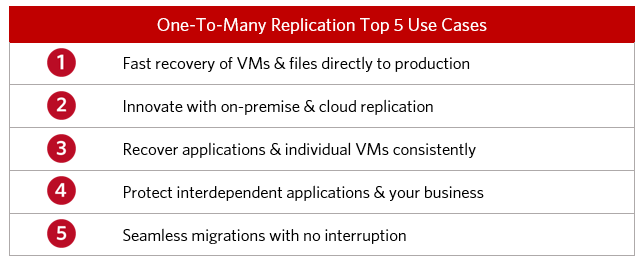 Each use case will be linked to separate blog post explaining it in more detail as the posts are published to the zerto.com blog. Thanks for reading and keep checking for more posts on the revolutionary One-To-Many replication in ZVR 5.0.
Joshua Stenhouse
Technology Evangelist
Zerto
---