The Reviews Are In: Zerto Tops Info-Tech's Backup Report
October 30, 2020
---
The Zerto platform delivers best-in-class performance among backup and availability vendors. But don't take our word for it—look at what Software Reviews/ Info-Tech Research Group has to say about it.
In a recently published report, Software Reviews gave Zerto's platform the highest composite score (8.8/10) in its review of 55 backup and availability software suppliers. The score tallied end-user feedback in the categories of vendor capabilities, product features, and likeliness to recommend. The Backup and Availability Data Quadrant graph (below) shows that score, with the x-axis showing Vendor Experience and Capabilities and the y-axis showing Product Features and Satisfaction.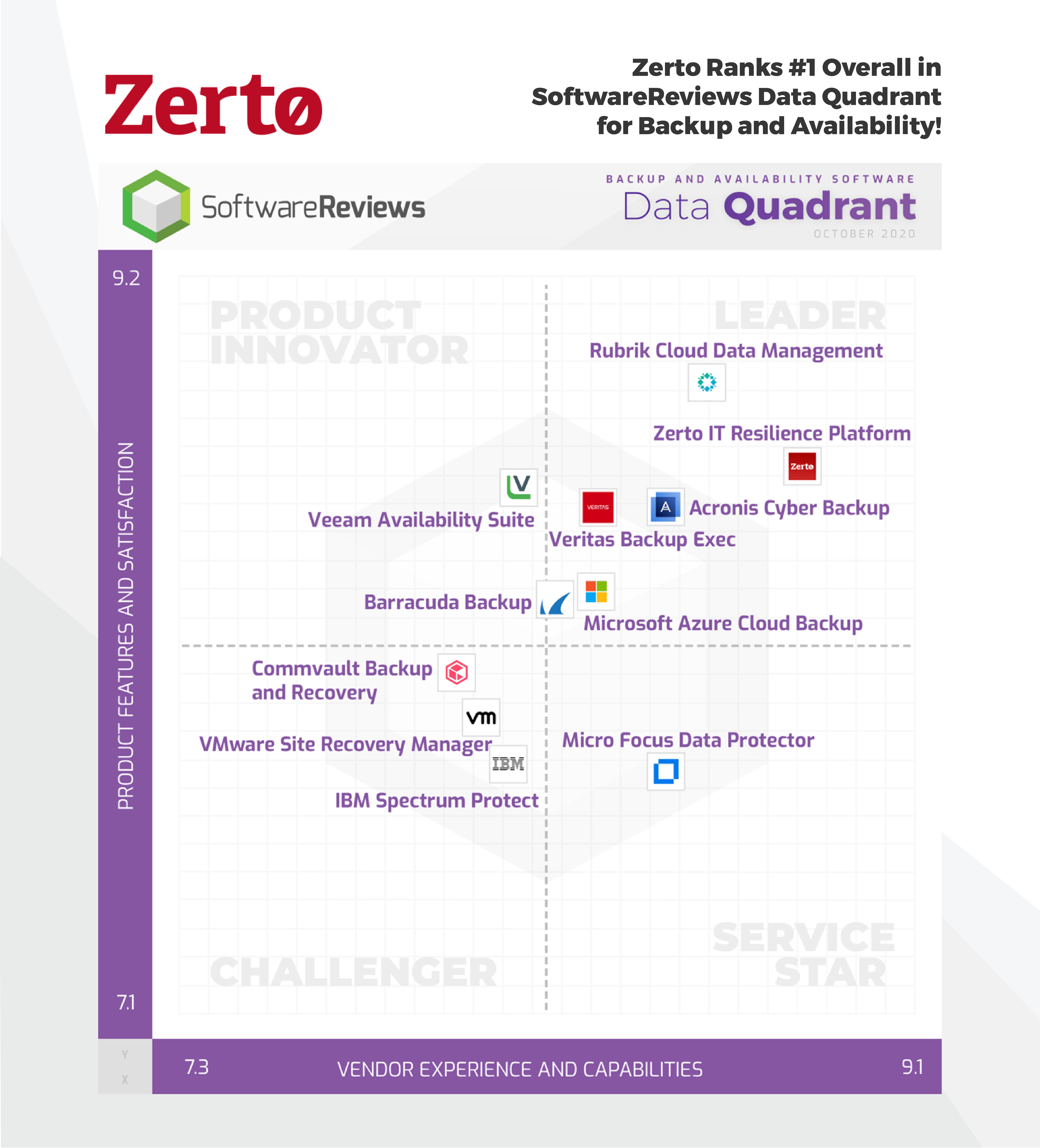 Zerto's features and customer satisfaction beat out competitors from the biggest names in the software business. They found our flexible solution created the best value for customers, from ease of integration to maintaining high data availability.
Even as this survey was underway, Zerto continued to create more value for our customers with our new Zerto Data Protection (ZDP) offering that can reduce total cost of ownership (TCO) by 50 percent. ZDP streamlines data recovery by using our cost-effective, journal-based recovery system for all data backup, from top-tier, customer-facing applications to lower-tier applications that sometimes don't get backed up at all. Our solution can prioritize both the high-availability needs of short-term data recovery and the cost-saving and compliance needs of long-term data retention.
What's more, our just-launched Zerto 8.5 brings new features not included in this year's review. Customers will have new native cloud object storage for AWS and Microsoft Azure; new workflow that simplifies restoration of files and folders; new public cloud disaster recovery and data retention; new platform automation and lifecycle management; and many more.
In other words, we expect Zerto to be at the top of Software Reviews' list again next year.
Where Zerto Shines
Even without those new features, Zerto's platform earned high praise. In addition to having the best overall score, Zerto's score in several categories was number one:
Business Value Created: Our customers rated the value our product creates for their employees, customers, partners, and shareholders more highly than any other provider rated.
Ease of Data Integration: According to our end users, Zerto's platform makes data integration simple and avoids the headaches often associated with this process.
Backup of Cloud-based Data: Reviewers noted that Zerto's platform can not only save backups to the cloud but can also save primary data and services there.
Replication for High Availability: The report placed our solution highest for managing "replication of primary data host to host and site to site for live failover and availability," as well as providing basic secondary copy backup.
We've heard from a lot of customers about how satisfied they are with our product, but it's great to see our experience confirmed by independent reviews. Read the Software Reviews/ Info-Tech report to see how Zerto's platform can bring value to your business, or take a tour of the platform.
---