Zerto Keeps City of Tyler Blooming with IT Resilience
---
Nestled in the Piney Woods of East Texas between Dallas and Shreveport, Louisiana, Tyler  is home to more than 100,000 citizens and serves as the county seat of Smith County, which covers another 940 miles. The City of Tyler CIO, Benny Yazdanpanahi, leads an IT team that keeps the city running 24/7 with services for public safety, water, waste, and roads, as well as IT services to 11 Smith County cities. After a software glitch knocked out the city of Tyler's critical software applications for several days, Yazdanpanahi turned to Zerto and Mark III Systems for a new approach to IT resilience.     
We asked him to take a few minutes to share his experience.  
Zerto: Benny, your efforts to build a DR program with Zerto started with a simple software glitch that impacted critical services to Tyler and its residents. Before we get into that part, can you tell us a little about how you're using Zerto?  
Benny: We strive to provide services to all of our internal users by making sure all critical data and databases are available to city employees 24/7. And we use Zerto to replicate all of our data to make sure that all three of our datacenter locations can simultaneously copy each other in case of a disaster so we can revert to a certain time and recover our data, especially for our public safety and our public works applications.  We picked Zerto over many other products that we evaluated based on the economics and its ability to scale. And the company has been a consistent and reliable partner ever since.  
Zerto: How many VMs are you protecting with Zerto?  
Benny: There's probably over 300 VMs in total with 50 that support critical applications.   
Zerto: And what are the main applications protected by Zerto that you consider critical?  And what makes up your storage environment?  
Benny: Our biggest concern and priority is around data and applications for public safety. There's a lot of public safety applications and data around the city's first responders and support functions like water and utilities. It's the stuff that keeps our city rolling. And we're using IBM Storewize v7000 all flash arrays.   
Zerto: What initially prompted you to start a DR initiative?   
Benny: It was prompted by an issue that knocked out our IT software applications. This unexpected failure took us several days to get back up and running, but it felt like months. So we needed a new solution. The event forced us to rethink how to protect the city's data and maintain the critical operations for public safety and the public works. We normally conduct backups across our three datacenters. But that wasn't enough to protect the city's infrastructure from a software glitch like the one we experienced.
So we initiated an emergency procurement process and worked with Mark III to get operations back on track and make sure something like this never takes us down again. And then we began evaluating several IT resilience solutions before we picked Zerto for its ease of use, affordability and its ability to scale to our plans to expand services outside of Tyler's city limits.  
Zerto: What were some of the main criteria in terms of what you were looking for when evaluating a new DR solution?  
Benny: It was a lot about ease of use and a small learning curve for my 12 team members managing three locations in Tyler and our surrounding cities. So it had to be something that is easy to learn and pick up so we don't have to have months and months of training. And the support has been tremendous as well. My guys have been bragging about the Zerto support. Based on the support and price, Zerto really stood out and delivered everything we needed.  
Zerto: After installing Zerto, did anything come up that allowed you to test Zerto in action?   
Benny: We had an ISP that came in to fix a problem and, in the process, wiped out an entire application and data. With Zerto we were able to roll back three seconds before the mistake occurred. And we never received a call from anyone complaining that their data was missing. I also don't get complaints from my team, which is good. Instead, they're telling me that when they spin up a VM under Zerto, it's easy to migrate it to the DR side and everything else continues to run smoothly. If they need to shut down a VM for maintenance, it is very easy to spin up the other side. So, there's a ton of efficiency we've gained using Zerto for our organization.   
Zerto: What are some of your goals over the next couple years for the City of Tyler and your IT? 
Benny: Well as I mentioned we're not just managing our own city. We are also contracted out to other cities to provide service to their IT departments.  So, for example, with the City Jackson and the City of Whitehouse, we're venturing out to offer our services or help them duplicate them. So that's my goal to literally promote our services to our sister cities around us. Zerto makes it easier to collaborate with other cities and share our data sites. 
Also, Zerto makes my job easier so I can spend less time worrying about infrastructure issues and more time focusing on innovation. Because my job is more than bits and bytes, I have to think about the organization for the next five to 10 years. Zerto gives me the tools I need to evolve and grow and serve our Tyler residents and those around us. 
To learn more about the City of Tyler's approach to IT resilience with Zerto read the case study here.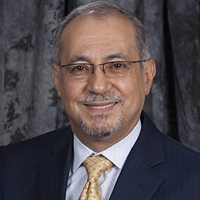 City of Tyler CIO, Benny Yazdanpanahi
---