Top 5 Frequently Asked Questions on Data Protection with Zerto
March 25, 2016
Est. Reading Time: 3 minutes
---
Guest post by Sean Masters, Zerto Sales Engineer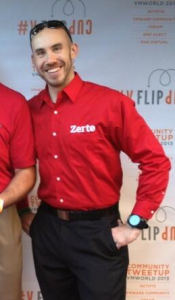 "What do you mean it's up and running already? It can't be this easy!" — actual trial customer after we installed his proof-of-concept, completely non-intrusively, in under 30 minutes.
As a Solutions Engineer with Zerto, the majority of my day is spent discussing the benefits of near-real-time replication and orchestrated recovery built in to a single, simple platform (ok, I'm sold). Today I want to pull back the curtain a bit and cover the most frequently asked questions about deploying Zerto.
1. "I don't have time to upgrade all of my hosts to install your software! Do my vCenter Servers and ESX\ESXi hosts all have to be at the same patch level?"
At Zerto, we don't believe that you should have to manage your infrastructure just to manage your data protection solution. In fact, many of our customers and providers run mixed environments for a variety of reasons. The only requirement we have with regards to vSphere versions is that each vCenter and ESX\ESXi host be at a minimum version of 4.0 Update 1.
2. "I'm currently running VMWare vSphere Enterprise licensing at one site, do I have to upgrade my other sites to match?"
Not at all. Zerto does not concern itself with your VMWare vSphere licensing levels, as long as you have something. You can even run vSphere Enterprise Plus in one data center and vSphere Evaluation in another and things will work just fine. You could add a third data center running vSphere Standard and you'd still be fully-supported.
3. "I can't have any downtime just for testing. Will Zerto need to restart or reboot my vCenter or put my hosts into Maintenance Mode?"
No to all-of-the-above. Zerto installs seamlessly into the environment. The only thing you do is point it at a vCenter, enable the Zerto plugin in your vSphere Client, and then deploy one or more of our Virtual Replication Appliances right from the Zerto GUI. You can even skip the vSphere Client or Web Client and view your Zerto solution right in a browser.
4. "I don't have any lab resources. Can I trial Zerto in Production or do I have to put this in the lab?"
Zerto installs seamlessly and non-intrusively, and many of our customers install right in to their Production environment and start protecting live applications right away. Because we allow any number of sites to communicate and replicate, customers are able to test within 1 site or between all of their sites — yes, even during a POC.
5. "The last DR / data protection solution that I tested took days or weeks to install. Will I need Professional Services to stand up a POC?"
Zerto POCs are delivered in one of two ways: either you can be guided by a Zerto Solutions Engineer or one of hundreds of Zerto Alliance Partners, or you can install the software yourself with a basic level of VMWare vSphere knowledge and be up and running in under an hour. What are the benefits of a guided POC? You get a Zerto Solution Engineer or a Zerto Alliance Partner all to yourself for a couple of hours, during which time we will discuss your BC\DR goals, deploy and configure Zerto to meet those goals, and start protecting applications right away.
Now you know how easy it is to get up and running with Zerto. What are you waiting for? Check out some of our videos or request a free trial today!
---