Disaster Recovery or IT Resiliency – Wouldn't Both Be Best?
March 17, 2016
---
By Jennifer Gill, Zerto's Director of Global Product Marketing
Disaster recovery is a need in just about every IT budget and it is often the first thing to get cut. What most organizations don't realize though is that the right disaster recovery solution will also deliver IT resiliency. You need the ability to recover from any service interruption – like a power outage, ransomware or even in the case of an overzealous marketing person who thinks they are "helping" (this may have been me 🙂 hmmmmm).
If we look at this information from Forrester, it shows that natural disasters aren't only thing that causes an outage. You will also notice that human error happens more often than any natural disaster.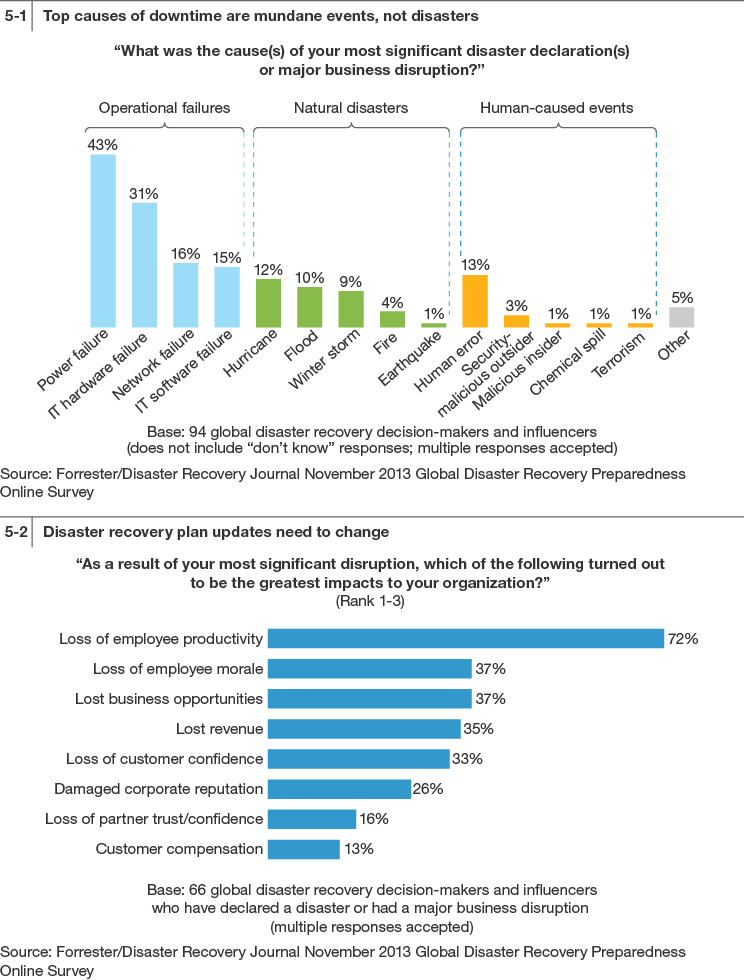 What is IT Resiliency?
Simply defined, IT resilience is an organization's ability to maintain acceptable service levels, no matter what challenges arise.[1] So, if you organization is hit with ransomware, for example, you need a solution that can enable it to recovery quickly. Even if something a bit less scary happens, like a hiccup in the network, will your applications and data still be available to your end-customers?
Zerto not only delivers the best disaster recovery solution for virtual environments, it delivers the best solution to ensure IT resilience. Let's take the ransomware example. With Zerto's journal, you are able to recover from minutes or seconds before it hit the data center. The journal ranges from 1 hour to 14 days worth of historical checkpoints, which are consistent for recovery. Using the non-disruptive testing feature, you can safely and easily determine which recovery points are safe and essentially "undo" the virus.
"We have been hit with ransomware two times and with Zerto's Virtual Replication our end-users never knew it. Within minutes we were able to quickly and easily recover to a few minutes before the files were encrypted and essentially "undo" the ransomware. Without Zerto, we would have to either pay the ransom, or recreate the files from a nightly backup – losing a significant amount of work resulting in lost productivity. Zerto saved us in a very big way – I really can't say enough about it!" Rubyanne O'Bryan, System Administrator, Team Lead, Kentucky Workers' Compensation Fund
Additionally, you need a disaster recovery solution that in itself is resilient. If something changes in the network or a VM moves, you need to ensure the disaster recovery solution can adapt and continue replicating, recovering and protecting the applications and data. Speaking with Mike Dehler, VP of Technical Infrastructure at STRATA, this is what he likes the most about Zerto.
"The overall resiliency of Zerto is very impressive. We do maintenance and we take down hosts and move things around, we take down parts of the infrastructure on the target site, and Zerto just figures it out. It keeps on working – we don't get a bunch of errors. Zerto figures it out and continues to protect our environment."
When I joined Zerto over 4 years ago, I thought we were selling an amazing disaster recovery solution. It certainly is amazing, but it does so much more than that for your environment. You can move applications between hypervisors and clouds, and achieve a higher level of service with a fully resilient IT infrastructure.
[1] http://deloitte.wsj.com/cio/2013/04/01/how-to-create-it-resilience/
---