ZertoCON Awards Are Open For Submissions
February 21, 2017
---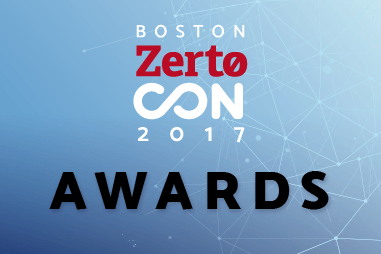 Calling all Zerto Partners and Customers!
Great news–the Second Annual ZertoCON Awards are now open for submissions! Sure, I'm running the awards so I may be a wee bit biased, but I honestly think these are the greatest honors ever bestowed on IT folks in the history of ever. And the Zerto customers and partners who submit for these awards? Why, you are all our heroes. I am not kidding; we all sit around and stare at our email inboxes. When an award submission comes in? PANDEMONIUM. We talk about you for days, and that's the non-alternative truth.
So, with that low-key preamble, here are the super-awesome awards you can submit for between now and May 1, 2017:
ZERTO ADVOCATE AWARD
FOR CUSTOMERS
This award will be presented to someone who's gone above and beyond spreading the good word on Zerto. Basically, someone at Zerto has you on speed dial.
MASTER OF DISASTER AWARD
FOR CUSTOMERS
This award will be presented to the company that used Zerto to recover from a catastrophic event. One IT guru had a septic tank back up into his data center. No, I am not kidding.
INNOVATION AWARD
FOR CUSTOMERS
This award is given to a customer at one of our customer companies who has used our technology outside of the traditional BC/DR use case. If you've done something around migration, replication, or future-proofing the data center, then tell us! We live for this stuff. I am not kidding here, either.
COLLABORATION AWARD
FOR CUSTOMERS & PARTNERS
The best results happen when Zertonians team with our customers and partners in order to make a joint project a success. Do you have a story where teamwork played a key role? Let us know what happened and you could win the Teamwork Award!
RISING STAR AWARD
FOR PARTNERS ONLY
Think you're a fast-moving cloud or reseller partner in the Zerto ecosystem? Then this is the award category for you. Tell us why your marketing, sales, or branding success makes you a rising star!
ADDITIONAL AWARDS
That's not all! Zerto proactively bestows honors outside of the nomination process. Customers and partners alike may be eligible for a Readiness Award based on an analysis of their training successes. Zerto will also name the Reseller and Cloud Partner of the Year based on the company's ability to drive exceptional levels of revenue, market share, and growth through their Zerto BC/DR business.
Finalists will be named in various categories where possible. Only customers who have purchased before January 1, 2017 will be considered for this year's awards. Partner need to have signed their reseller agreement by the same date. Questions about the ZertoCON Awards nomination process? Email ZCONOPS@zerto.com.
Think you deserve to win? We want to hear your story! You can nominate yourself or your company, depending on the award. And if you know of a deserving Zerto customer or partner, then you can submit on their behalf as well.
PROTIP: Submissions will be accepted until 5 p.m. (Pacific Time) on May 1, 2017 and will be awarded at ZertoCON. So submit now. Not that I'm sitting staring at my screen and waiting for you to submit, but…
Okay, I'm totally obsessing about this and can't wait to hear from you!
SUBMIT NOW: https://www.zerto.com/zertocon/awards/
About the Author
Christina Bauer has delivered high-tech marketing programs for a wide variety of companies, from large players such as Microsoft and Cisco to start-ups like Mindful Technologies and Cyber-Ark Software. At Zerto, she supports the channel as a Partner Marketing Manager, where she creates systems and programs that help drive ecosystem growth. Christina lives in Netwon, MA with her husband, son, and semi-insane golden retriever Ruby. She really does troll internal systems to see partner submissions for ZertoCON awards.
---