ZertoCON Award Submissions Now Open
April 28, 2016
---
By Christina Bauer, Senior Partner Programs Manager at Zerto
I've got news! #ZertoCON, the industry's premier business continuity conference, has opened submissions for our first-ever customer awards. Since this is Zerto, our recognition categories cover some kick-ass territory. Love our Master of Disaster theme? Now you can own that moniker with our MoD award (more details below.) And that's just for starters. Enter before May 13 and you'll receive a free pass for you and a friend* to see the Red Sox play the Colorado Rockies at the historic Fenway Park on May 25. Come on, that's downright awesome.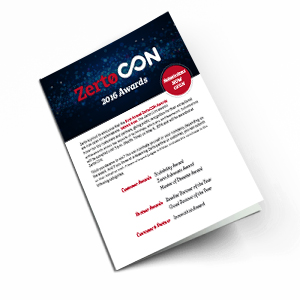 The ZertoCON awards provide public recognition for exceptional customer achievements across key aspects of technology, advocacy, and teamwork. Plus, they're super cool. These awards include (you can read the text below in official 'game show host' voice):
Zerto Advocate Award. This award will be presented to an individual who has gone above and beyond spreading the good word on Zerto. This is a customer that we can always rely on to take a reference call, present at an event, or comment on a question in a community.
Master of Disaster Award. Be the first true Master of Disaster! This award will be presented to the company that used Zerto to recover from a catastrophic event. When all hope seemed lost, Zerto saved the day and the company.
Innovation Award. This award is given to a customer at one of our customer companies who has used our technology outside of the traditional BC/DR use case. Submissions around migration, replication, or future-proofing the data center are welcome!
Reseller Partner of the Year & Cloud Partner of the Year. This award is not open for submissions but will be assigned by Zerto. The honoree will be a Zerto partner who has driven exceptional levels of revenue, market share, and growth through their Zerto BC/DR business. Recognition will be awarded on both a reseller and cloud partner basis. Depending on the strength of submissions, awards may also be broken out across global geographies.
Think you deserve to win? You can nominate yourself or your company, depending on the award. And if you know of a deserving Zerto customer, you can submit on their behalf as well. So why are you waiting around and reading my blog? Nominate yourself or your company today!
And this is so sweet, I have to mention it twice. When you submit by 5 p.m. (Pacific Time) on May 13th, 2016, then you'll also get free tickets for the Red Sox v Rockies game on May 25th.
*Red Sox tickets are available to ZertoCON registered attendees on a first come, first serve basis, so don't delay!
---