Zerto Wins Cloud Storage Innovation of the Year at SVC Awards 2018
November 26, 2018
---
Last week was centered on recognizing what we are thankful for, and we were pleased to end the week with another thing for Zerto to add to the list. On Thursday, the Zerto IT Resilience Platform won Cloud Storage Innovation of the Year at the SVC Awards in London. The win marks the fifth consecutive year of Zerto being recognized at these awards, among industry leaders in the cloud, virtualization and storage space.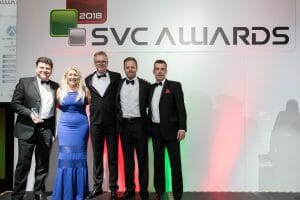 This year's award acknowledges Zerto as a pioneer in helping organizations move to the cloud, by redefining industry approaches to backup, disaster recovery and cloud mobility. As businesses strive to be available to customers, prospects and employees 24/7/365, the IT Resilience Platform is an novel solution which helps to prevent the irreparable harm of disruption that many organizations have come to see as inevitable.
"The IT community is eager for a better, simpler, more cloud-friendly way to do backup, and Zerto has shown us that the answer is not backup at all – at least not in the traditional sense," said Jayme Williams, Senior Systems Engineer, TenCate. "Zerto's unique way of doing continuous data protection not only gives us the easy backup alternative we're looking for, but its ability to combine it with disaster recovery and complete cloud mobility under one platform is like nothing else we have seen. Both traditional leaders and newer players in the backup space do not integrate well with cloud solutions and, as their disaster recovery capabilities are limited in virtual environments, they cannot provide the complete package we're excited to get from the Zerto platform."
The awards evening was a great celebration of the best of the best in storage, digitalization and cloud, and was enjoyed by all the members of the Zerto team who attended.
Thank you to all the partners and customers who voted for Zerto in this category. To view the full award entry on the IT Resilience Platform, and see the full list of winners, take a look at the SVC Awards Winners page here.
---