Zerto at VMworld 2016 – What to Expect
August 25, 2016
Est. Reading Time: 3 minutes
---
It's that time of year again (kind of like Chrismakah in July but EVEN better) – VMworld! In true Zerto fashion, the team here is as excited as ever with the new announcements we are planning (make sure to stay tuned for those)! It has been a busy time here and we have a ton of VMworld deliciousness to offer conference goers, so see the list below to not miss anything! Oh, and don't forget to just stop by booth 2231 to chat and say hi – we LOVE visitors!!
Top 5 things NOT to miss at VMworld with Zerto:
DEMO Derby: If you thought you were in love with the Zerto's Virtual Replication (ZVR) product before, wait until you kick the tires on some brand NEW features! If you really love it, you can sign up for Beta right on site. All of this will be available for your pleasure in booth #2231. Think Genius Bar on steroids ;-).
Zerto Theater Session: Join Technical Evangelist Josh Stenhouse as he discusses the ever-changing world of IT in his session, "Evolving your BC/DR Technology" in Theater A, Tuesday at 3:20pm.
Get ThunDRstruck: The Zerto team is known for throwing quite a mean party and we won't let you down this year either! We have booked an all-female AC/DC cover band, AC/DShe. We will be partying it up right at the super convenient House of Blues in Mandalay Bay on Monday night at 8pm -11pm.
#RedWed: We do it every year and it just keeps on getting better! Step 1) stop by our booth to pick up one of our kick-@$$ Tshirts. Step 2) wear the kick-@$$ Tshirt on Wednesday (that's right – one less thing to pack) and you could win some awesome prizes. We are doing a drawing at the Zerto booth 2231 at 3pm on Wednesday for our main giveaway: Oculus Rift BUT if you tweet or get spotted on the show floor we have over $2,000 in prizes just burning a hole in our pockets!
Our beautiful smiling faces! Seriously we are sending out a pretty big team that will be available for your questions, comments, therapy sessions, and of course party needs! Come stop by booth 2231 and say hi!
And just because I am seriously bad at keeping secrets (I talk in my sleep)….here is a sneak peak at one of our spiffy Tshirt designs that we will have at VMworld. Make sure to stop by and check out the other two RAD designs…and of course follow our VMworld activities here: https://www.zerto.com/zerto-at-vmworld-2016/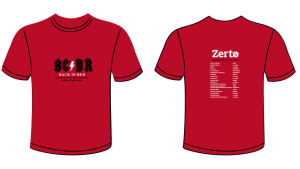 See you this weekend!
– Your favorite Zerto Conference Programs Manager (yes, I am the only one – minor detail) C.S.P a.k.a. Christina St.Pierre
---