Zerto Certified Professional Training
April 15, 2016
---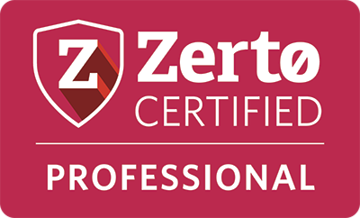 Are you a Master of Disaster? Join the ranks of masters worldwide who have taken our Zerto Certified Professional (ZCP) training and are now using Zerto to minimize data loss and maximize uptime. We have just released our business continuity certification, ZCP Basic for Zerto Virtual Replication (ZVR) 4.5, the latest version of Zerto's award-winning business continuity software.
ZCP Basic 4.5 is a free introductory technical course that is self-paced and easily accessible online via the MyZerto platform. If you don't already have an account, sign-up for one here and then log-in to start your training.
The latest ZCP course includes training on some of our exciting new features such as Journal File-Level Restore, ZVR 4.5's game-changing feature that lets you recover specific folders or simply one single file that was accidentally deleted.
If you are a newbie though, don't worry, ZCP 4.5 still covers all the tools you need to reach Master of Disaster status, including: ZVR installation, configuration, and key recovery operations such as test & live failovers.
The e-learning in ZCP Basic 4.5 is estimated to take around 1 hour and 15 minutes, and there is a certification exam at the end. Passing the exam with 75% or higher awards you the ZCP Basic business continuity certification—and officially recognizes you as a Master of Disaster, ready to face any outage and manage your IT environment with confidence.
Additionally we are excited to announce that we are taking our training to the next level! This May, at ZertoCON, we will be offering for the first time ever the ZCP Advanced certification exam! So for those of you who are interested in really putting your skills to the test, and looking for official proof of your elite BC/DR status, sign up for ZertoCON now.
(Please note at this time that ZCP is only available to Zerto customers and partners)
---