What's Hot at VMworld 2016
August 30, 2016
---
Shift your Thinking, with Zerto!
VMworld 2016 US is going on right now and we have a huge team attending to spread the love and share our excitement. We're extremely excited to be a part of it, and I'm glad to report that our customers and partners are equally as excited!
Monday started off with another wonderful keynote general session. As always, VMware does an excellent job of finding new ways to make the venue fun and exciting for the attendees. I was in the "VM Village," Hang Space area, for the general session which was complete with tons of giant monitors, AstroTurf, bean bags, picnic tables, lawn games, etc. It wasn't a bad place to be while catching the exciting first day presentation and still being able to socialize without missing anything.
You may have heard some of the new releases by VMware but Monday morning's session was all about the VMware Cloud Management platform, which has a beautiful UI complete with visibility into many aspects of the cloud. Additionally, VMware announced the latest partnership to deliver VMware's Cloud Foundation on IBM Cloud.
If you're at VMworld, here are a few neat things to check out: the Hands on Labs section for endless courses you can take (FOR FREE), the recharge stations for when you need power and a place to jump onto your laptop, and the expert panels too! I've seen them PACKED with tons of industry experts just waiting to give you a little personal time!
I expect Tuesday to bring even more excitement as I've always found there's historically been even bigger announcements and cool features of what's to come.
If you've been following the Zerto social media accounts this week you've seen the announcements we've had so far, but just in case you haven't yet, here's a recap.
Zerto Virtual Replication (ZVR) 5.0 coming soon! Check here for more information and some datasheets covering what's new, ZVR DR to Microsoft Azure FAQs and architecture, one-to-many virtual machine replication, 30-day journal, and the mobile platform! Combining these features into the already extensive replication and recovery platform opens your world up to so many more use cases that I could talk your ear off for hours on them!
On that same page you'll also see that the ZVR 5.0 Beta program is starting very soon (click here for access to the sign up page)!! The buzz has spread and everyone wants to get on the list, so sign up now!
We also announced complete disaster recovery for IBM Cloud! Customers can now deploy critical business applications on the IBM Cloud. Come by this week and learn more!
Not only do we have a lot of new announcements to share but we have many fun activities happening at our booth. Come by to snag one of three awesome t-shirts and see a demo of Zerto Virtual Replication (ZVR) 5.0 features! Reach out to us and share your thoughts about any recent news and all the fun you're having at (or remotely) with the VMworld experience! As always, our t-shirts are drawing in the fans especially in preparation for our #RedWed (wear your Zerto t-shirt on Wednesday) giveaways! Get on the show floor, to our booth and post your #RedWed pictures on Twitter – we can't wait to see them all!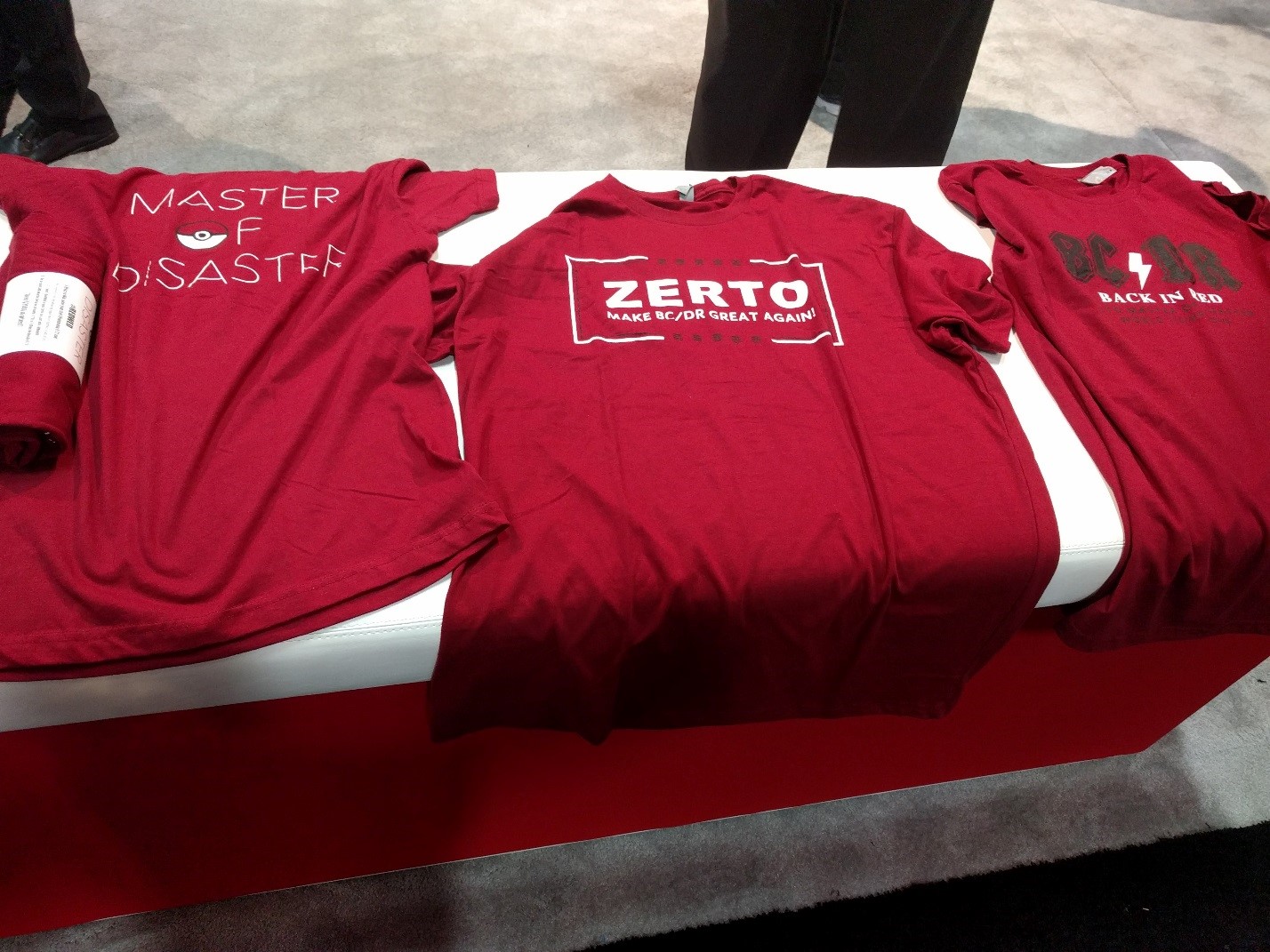 I've had an awesome time catching up with everyone as well, but still have so many more people to catch up with!
And don't worry if you missed our #ThunDRstruck party, we still have some fun saved up for the rest of the week!
---