VMworld 2018 Highlights: Change Begins with Zerto 7
September 6, 2018
---
"Wow!" is one of the words that comes to mind when we think back to VMworld 2018. The theme for this year was "Change begins with you" and I think we have never had a better match! Zerto has been enabling change since we introduced 1.0 of our product and has never stopped since. With Zerto 7 we are going to change the way people see and use backup. Goodbye Periodic Backup!
Our booth once again stood out in the crowd and dominated the Solutions Exchange. We were able to show off some of the 6.5 features and had a sneak peek available of the new Zerto 7 UI so we could get valuable feedback from our customers. With our edgy messaging we certainly got the attention of both customers and prospects which led to great conversations.
One thing is clear after VMworld; the world is ready to change the way they backup. More than once attendees experienced the "aha-moment" after we explained our vision and what we are going to deliver on with Zerto 7. Related to our 7 release we had the "Win Big with Zerto 7" slot machines on the booth (Vegas isn't really Vegas without slot machines, right?) where attendees could win raffle tickets for the big RedWed prize draw on Wednesday. We saw many people lining up to spin these beauties!
Sunday, Aug 26
On Sunday the Welcome Reception was hosted on the Solutions Exchange from 5:00PM to 7:30PM. In those 2.5 hours we had over 1,500 people visiting our booth. Talk about an amazing start!
Monday, Aug 27
A full day of Solutions Exchange goodness with many conversations about backup, our State of the Resilience IDC report and of course spinning slot machines. But Monday would not be Monday without the Zerto party closing it in all its glory. We got right into party-mode with Lydia Ansel playing dance tracks and adding some live violin to it, it was impossible not to dance. But what would a Zerto party be without adding some rock to it, and boy did we rock on the sounds of Pearl Jam delivered by the Ten Band. If you closed your eyes you would swear you are at a live Pearl Jam concert!
Tuesday, Aug 28
Business as usual on the Solutions Exchange with thousands of visitors on our booth stopping by for a conversation and of course to pick up one of our famous t-shirts! This was also the day where Rob Strechay and Drew Harris (from The Cosmopolitan of Las Vegas) presented their "Periodic Backup is Dead! Hello Zerto 7" session in front of a packed room! For those who were not able to attend this session you can watch the recording at: https://videos.vmworld.com/ (session ID: HYP3715BUS).
(Red) Wednesday, Aug 29
Wednesdays at VMworld are famous for us hosting our Red Wed prize draw. Red Zerto t-shirts were the dress code for this day and as you can see that worked out well. This year we had a record number of prizes to give away: 7! One of them being an Oculus Rift (unfortunately Zerto employees were excluded from this draw :)). The 7 prizes went along with our theme and how you will win big with Zerto 7 – coming soon!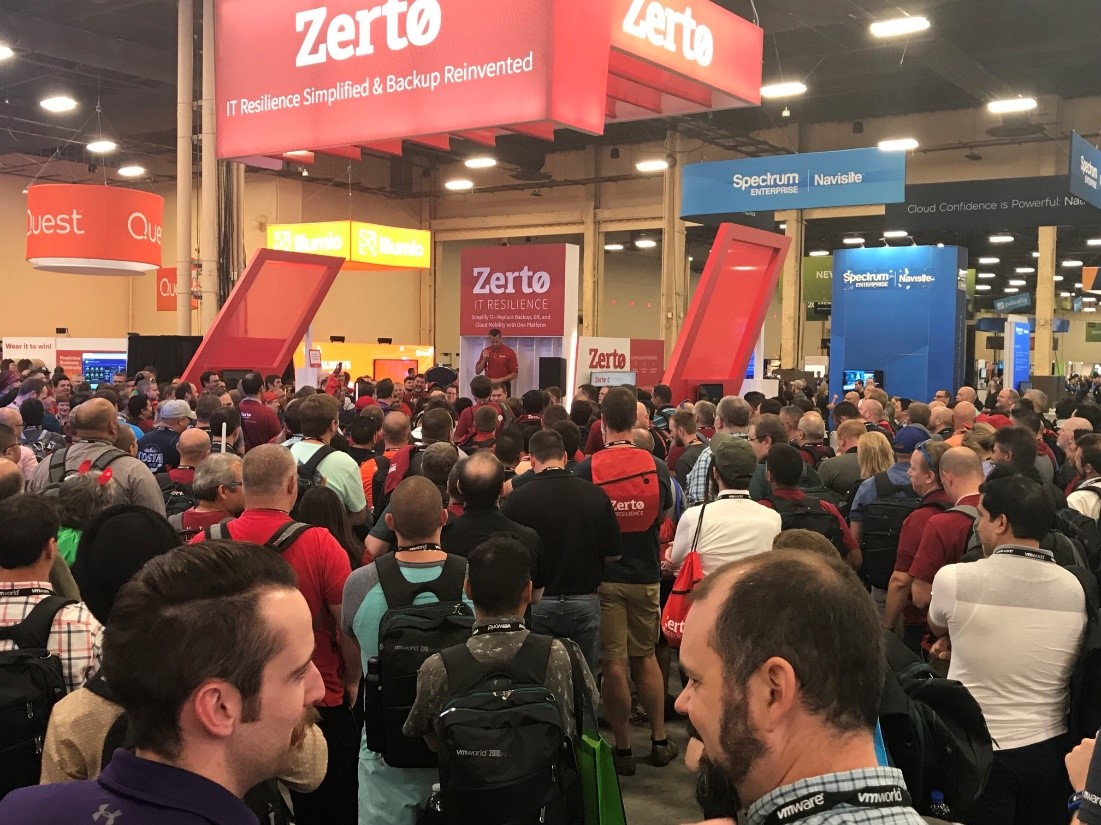 Everyone's a winner with #Zerto! But 7 people today got extra lucky by winning our 7 prizes. Congrats to a few of our #RedWed winners! #vmworld pic.twitter.com/zIGGGH0jHL

— Zerto (@Zerto) August 29, 2018
Throughout the conference we have to call out one more item that was a big hit among the vCommunity – the Level Up vTrail Maps. This year Zerto was excited to sponsor this amazing project that offers a guide to new VMware users where they can get all the valuable knowledge on various products, as well as learning who's who in the influencer world. The maps were going like hot cakes but don't worry if you didn't get yours you can still download it here!

The #vTrailMap's are finally here! Stop by Zerto's booth this week and pick one up for yourself or to share with others in the #vCommunity! @porterdeleon @Tech_LevelUp pic.twitter.com/MOzMbYgtdt

— Zerto (@Zerto) August 27, 2018
---