Experience Uninterrupted Technology at HIMSS 2017
February 10, 2017
---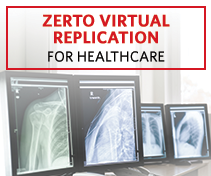 It's that time of the year again.. we're just a week away from the 2017 HIMSS Annual Conference & Exhibition in Orlando, FL, (Feb 19-23). Zerto will be there in full force! Each year, HIMSS brings together thousands of healthcare IT professionals from around the world to network, share, and learn about all about the latest and greatest technologies supporting this rapidly growing industry.
What does this mean to you? Zerto fully understands your needs when it comes to and your healthcare systems and data. You need your data 24/7, and cannot afford any amount of data loss. You also need to maximize your system's up-time in order to effectively deliver uninterrupted care and stay in compliance.
Additionally, all applications matter. Your applications are complex and need to be handled with care. When you visit us at HIMSS you'll learn how Zerto can help you address application recovery across multiple virtual machines, with consistent data recovery down to the second!
"The granularity of the failovers is magnificent.  The application can be failed over to how it looked 5.7 seconds ago, or 28 seconds ago, or 4 minutes ago.  Other products do not deliver that level of granularity for failovers.  This is critical for us as minimizing data loss helps us deliver quality care to our patients." – James Crowther, IT Operations Manager, Liverpool Heart & Chest Hospital
Watch the video below to see how this renowned UK hospital leveraged ZVR for non-disruptive DR testing during business hours; executed failover/failback, recovery and DR testing with a single click(!); and experienced aggressive service levels that minimized impact to patient care.
Need a second or third opinion? Check out more healthcare content and learn how Zerto provides BC/DR for Healthcare.
Visit us at HIMSS booth #7861 to learn more, see a demo, and get the inside scoop about how Zerto can help you. Don't forget to get a "DR Checkup" to find out how prepared your IT is for a data disaster.  You could win some awesome prizes! Stay tuned for more HIMSS coverage and videos I'll be delivering from Orlando!
About the Author
Harry is a Technology Evangelist at Zerto focusing on driving adoption of Zerto's enterprise class scalability and agility to organizations of all sizes and sectors, and even across clouds, hypervisors, and platforms. Prior to Zerto, Harry spent more than 8 years at VMware with 5 years in Professional Services as a Senior Consultant architecting and implementing private clouds and major datacenter migrations, and another 3 years in VMware's Technical Marketing focused on product integration and scalability. @HarrySiii
---