Day 3: Zerto's Virtual Replication "Athena" Update, A Look Ahead
May 26, 2016
---
By Keith Taylor, Product Specialist at Zerto
As the saying goes "All good things must come to an end" and sadly, today was the final day of our inaugural #ZertoCON.  But it hasn't just been good, it has been GREAT and we've all had a fantastic time here in Boston over the last few days.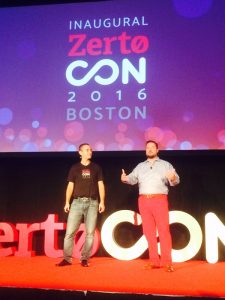 We kicked off our last day with a keynote from our CTO and co-founder, Oded Kedem, and our VP of Product, Rob Strechay, "What's Coming Next from Zerto?"  I'm really excited to finally be able to share with you the details of what we have planned for some of our future releases, I had sneak preview of this during our Advisory Board sessions on Monday but now I have the privilege of being able to share some of the awesome capabilities we're adding to an already amazing solution.
We've got an awful lot planned for our future releases, but let's talk a little about our next release due in Q4 this year, 'Athena' the next ZVR update.
Let's get straight to the big one, you asked for it and you've got it.  Support for replication into the Microsoft Azure cloud.  It's been on many people's list for a while now and we're delighted to say it's coming soon and yes, it will be just as awesome as you'd expect.  We've even had some demos running to show just how powerful this feature is going to be and I have to say, they've gone down a storm!
Next up, and almost as big, is support for "One-to-Many"; replicate from a single site into multiple targets, whether it's local or in the cloud.  Have as many copies of your data as you need, wherever you need them.  This is some clever stuff and opens up a bunch of new use cases just for this feature: having local and remote copies, maintaining protection during migration, utilizing the cloud for longer retention and DR, recovering individual VM's from VPG's with ease, plus recovering interdependent applications consistently and defining application boot order.  Some cool stuff huh?!
We're also extending the length of the Journal, from 14 all the way up to 30 days. Configure it as you need, but that extended retention period is going to give you that extra layer of security and may, in some cases, remove the need for periodic backups entirely.
On top of this, we'll also be giving you the facility to allocate alternative Journal retention periods to specific VM's.  So if you only need to retain data on some applications for a few hours or a few days, make it so.  But if you need an extra level of protection for some of your most critical applications, choose 7 days, or 10, or 14, or 30… whatever it is that suits you best, we're going to do our best to make sure you have it.
The last point I'm going to cover is again, a pretty big one; have I listed a feature that isn't "big" yet?  The Zerto App, SaaS delivered, no VPN required and the ability to view and manage a multi-ZVM landscape from absolutely anywhere.  In a World of Uninterrupted Technology why should you have to stay in the office to manage your replication processes?  Do it from anywhere, including from the comfort of one of our very own Zerto bean-bags.  Although not necessarily as one of our customers put it to us earlier "Between the bean-bag and my fleece, I'll never have to leave my data center again…"!!!
There's plenty more that we have planned for our future releases beyond Athena as well, we're talking automated failback from the public cloud, support for KVM, OpenStack integration, container application resiliency and enhanced push-button upgrades. We're not going to stop there and we'll continue to push the boundaries of what's capable with your "Disaster Recovery" solution , and let's face it, Zerto has always been, and continues to be More than DR.
Once again we had some really interesting sessions running throughout the day:
Azure 101 for VMware Admins
Creating the Always On, Always Available Data Center by Forrester
Maintaining Consistency Without Snapshots? Protecting and Recovering Multi-Tier Applications
Customer Experiences with Hyperconverged and Zerto
Software Defined DRaaS Enables a Viable Onramp to Hybrid IT Data Protection
Stress Free Backup Storage
Partner Enablement Sessions by Forrester – Differentiating Your GTM Strategy & Solution Selling Resiliency
Multi-Target Replication! Traditional BC/DR is Dead
Replicating Successful Career Models in IT – John Troyer
Forrester – Total Economic Impact of Disasters
Supporting and Troubleshooting Hypervisor Based Replication with Best Practices
We also had the chance to recognize some of our finest customers and partners with the first Zerto award ceremony!  For their contributions to our mission of achieving "A World of Uninterrupted Technology for Everyone", the following people received their well-deserved awards:
Advocacy Award – Bob Lanning of Premier Inc.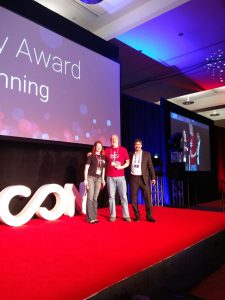 Innovation Award – TenCate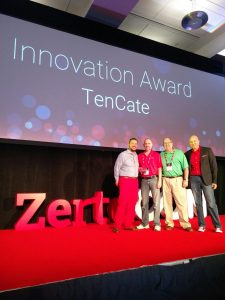 Master of Disaster – Rubyanne and Russell of KESA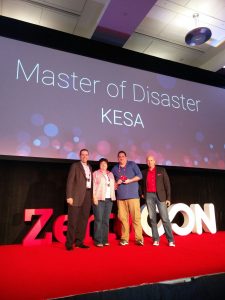 Partner of the Year – iLand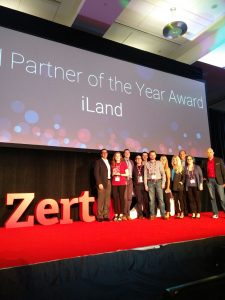 Reseller of the Year – Sirius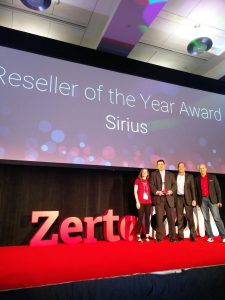 ZCP Advanced Leader Award – William Mui of Eze Castle Integration
We can't thank you all enough to your continued contributions to helping us make Zerto what it is today!
I suspect that the highlight of everyone's day (certainly mine!) was an absolutely astounding keynote speech from the legend that is, Retired NASA Astronaut, Dr Story Musgrave.  He has without-a-doubt one of the most remarkable and inspirational individuals on the planet.  While he is arguably best known for his work with NASA, the man has done EVERYTHING.  He is a mechanic, an engineer, a pilot, a trauma surgeon, an artist, a photographer, a designer, a producer, a writer, a landscape architect, a mathematician and so, so much more!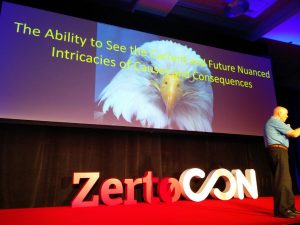 He was kind enough to talk to us about his amazing journey through life and how he has and continues to constantly challenge himself in order to further his understanding of… well, life!  His  journey includes: his roots as young child growing up on a farm, causing mischief (like depositing one of his father's tractors in a river) and being, as he put it, a "product of child labor" working on the farm wrapping bales or maintaining the equipment, his service in the marines, his endeavors in education (despite never finishing high school he has 7 – yes, 7 – graduate degrees and 20 honorary doctorates), his work as a surgeon and of course, his work with NASA over the course of 30 years and a record 6 space missions.
For me personally, what I enjoyed the most though was the insight he gave into his unique mind-set and thought processes.  Probably the best way to sum it up is 'multiple domain thinking' – the idea of applying the knowledge, skills and expertise of seemingly unconnected areas to create innovate, thought-leading ideas and approaches to conquering challenges.  Who would have guessed that the solution to fixing a problem with the Hubble telescope would come from a shower head?!?!  Undoubtedly my favorite quote from this week, which came from him, was
"If you only apply traditional experts, you'll only get traditional answers"
His unconventional approach and devotion to achieving operational excellence is something that every single person should aspire to and is certainly something that I myself will be contemplating for a while to come.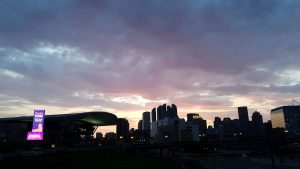 And with that I think I leave you for now.  It's been an incredible event and something for all of us, the Zerto family, our partners, customers and wonderful sponsors, to be very proud of.  Thanks to all of you for making the inaugural ZertoCON a truly fantastic experience and we can't wait to see you again next year!!!
---