Calling All Women in IT
March 8, 2016
---
Today, March 8th, is International Women's Day; a day to celebrate the social, economic, cultural and political achievement of women. At Zerto we are passionate about the progress of Women in IT, and last year started our ongoing I Am Not a Booth Babe campaign.
The campaign focuses on addressing one small area of Women in IT – our participation in tech tradeshows. IT is an exciting field where some of the best and most creative minds get together. In other words, it is a perfect field for the women who have already contributed, and the future women who will contribute.
As we at Zerto embark on the first-ever ZertoCON conference, we want to celebrate women in IT and make sure as many join us as possible.
In that spirit, we will be holding a raffle. The first eight women who sign up on March 8 for ZertoCON will win a free pass to the conference. And for all the women who sign up and attend, we will give you a special ZertoCON I Am Not a Booth Babe button at the event!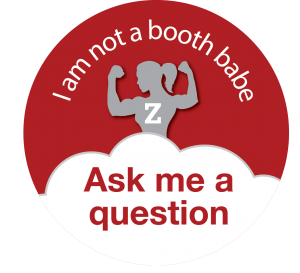 Simply
Sign up with this link
Put in your information and choose general attendee as your registration type
A window will appear asking for your discount code, in that text-box write WOMENINIT
Click Continue
So sign up and help us promote the role of Women in IT!
---