Announcing ZertoCon Local – Coming to a City Near You!
August 15, 2016
---
Our inaugural ZertoCON in May was a huge success with hundreds of people joining us for a great few days in Boston.  But we know that unfortunately, you couldn't all come out and join us and we're feeling a little sad about that.  At Zerto we like to share the love, so we've decided to bring ZertoCON to you in a series of over 30 events all around the world we're calling ZertoCON Local!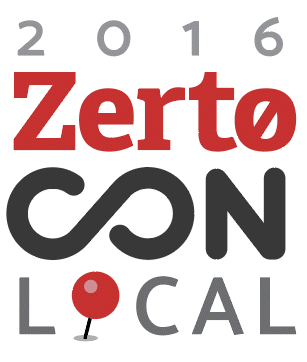 From September through November, ZertoCON Local will be visiting a city near you to bring the best bits of the industry's premier business continuity conference to every corner of the globe. We'll be hearing from a selection of industry experts about their insights into the business continuity landscape and how we're seeing the evolution from disaster recovery to IT resilience.  There'll be tantalizing glimpses into the Zerto road map, where you can find out how the product is growing and evolving to offer you a true IT resilience platform.  Plus of course, you'll have plenty of chance to mingle with your peers and share all your tips, tricks and best practices over a cup of coffee, or maybe even a beverage of your choosing!
You can find all the information about each location we'll be visiting on our registration page, including of course details of how you can reserve your place with us.  You won't get a better chance to come and learn, share and have some fun – at least not until our next ZertoCON – so come and join us as we bring the best thing since sliced bread right to your doorstep!
---