A Day at ZertoCon Local
November 4, 2016
---
Guest blog from ZertoCon Local Grand Rapids, MI 2017 Attendee, Travis
Having already attended ZertoCON in Boston back in May of this year, I must say I was excited to see a more tailored format at ZertoCON Local, right in my backyard of Grand Rapids, MI. My job demands a lot of time and energy, so it was great to be able to attend a show that was close to home where I could gather some additional knowledge that helps me leverage ZVR and its capabilities. I wasn't sure what to expect, who I would see or meet, and what new things I would learn. Being able to condense down 3 days of information into half a dozen hours is no small task, so I was somewhat skeptical of the amount and depth of information that would be exchanged. It didn't take me long to realize that attending ZertoCON Local was the perfect complementary activity to attending ZertoCON in the first place!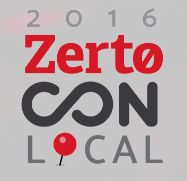 The experience was unique and (I hate to be redundant – it was a "Local" event!); the content was geared specifically to the Zerto customers and partners in the Grand Rapids area. This ZertoCON Local was held in the fantastic City Flats Hotel. For those who haven't been, it's an exquisitely beautiful boutique hotel in the heart of downtown Grand Rapids. We started the day off with some specialized training only available at the ZertoCON Local events for Zerto technical and sales certifications. The session was great. Like most things in life, you get out what you put into it. Having already passed the basic Zerto Technical Certifications, my goal was to ask questions and learn what was necessary to take the Advanced Certification, and ramp up my Zerto knowledge to a new degree. Boy, is that test challenging! I could walk away with an impressive amount of knowledge to take the test in my spare time, and am looking forward to passing with flying colors.
After training, we were whisked away from the beautiful ballroom at the ground level to a meeting room complete with Zerto swag for each one of us! There we got to see firsthand where Zerto is now and where they're going into the future. Being able to learn about their plans for cloud (support for MS Azure, awesome), and extending the journal to 30 days… makes me think about whether I need my backup solution anymore! This insight enabled me to start considering ways to leverage ZVR that I had not previously considered. It's storage and hypervisor agnostic (some would say, environment agnostic all together), lead me to thinking of a world of possibilities for our current environment. Zerto will work with whatever technologies we throw at it! If we want to go public, private, hybrid cloud…….no sweat! Replicate and recover to Azure? Yup! vSphere or Hyper-V to AWS? Sure! Implementing a disruptive new flash storage array? No problem. It was not only nice to see, but comforting to know the breadth and depth of possibilities!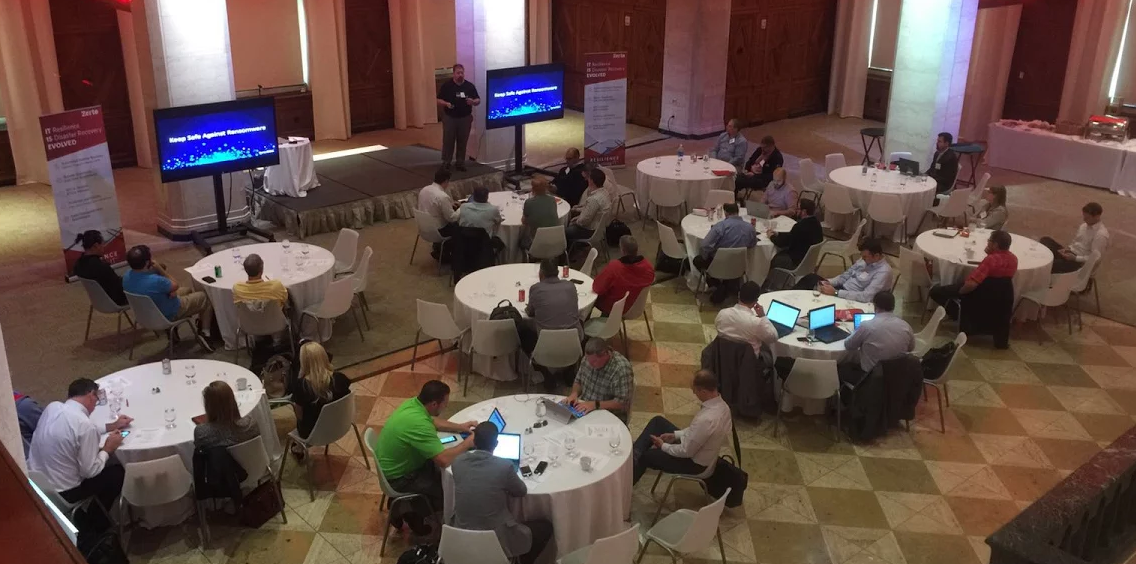 Lucky for me, I previously volunteered to be a part of the customer experience session. Someone should've told them not to give me a microphone, because as you probably have guessed by now, I can talk about Zerto for days! I was fortunate to be able to share my experience with Zerto, and had an amazingly interactive session with many of the attendees. The great thing about ZertoCON Local was it had audiences of all business areas, not just technical. This lead to some great questions from not only customers, but Zerto partners as well! It was awesome to hear others' experiences, not just with the product, but with the company itself. Zerto, while being sold 100% through the channel, has a noted customer first approach and that shows with everything they do. Their events – just like the company, the product, and the people – are customer-centric, information packed, and a whole lot of fun!
The Ransomware session came next, where we learned how to mitigate against the threats of things like Cryptolocker, and more. Being in the financial services industry this is an ongoing concern not only for our mission critical business applications, but for protecting customer data and anonymity. During this session, we learned about the rise of Ransomware attacks, things to look for and consider and how to best protect your data and if you're a victim, how to recover quickly and keep those nasty hackers (eating Hot Pockets and guzzling Mountain Dew in their mom's basements!) at bay.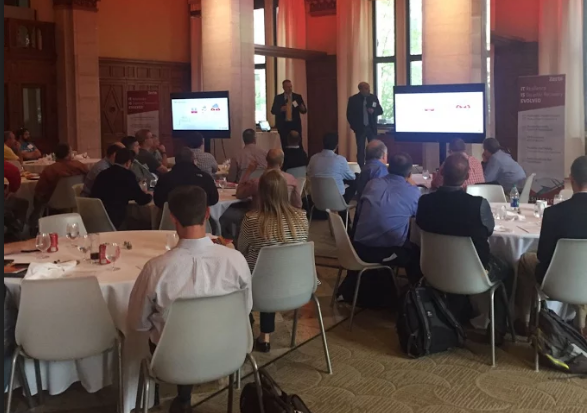 We closed the day soon thereafter and got onto one of the best parts, Happy Hour! I thought I knew almost all my industry kin in the greater Grand Rapids area, but I had the chance to network and meet fellow Zerto customers and go into even more depth about their environments, use cases for ZVR and our experiences all together. I chatted with Zerto partners as well and even got invited to come onsite to a customer to share my experiences, field questions and serve as a reference to Zerto and ZVR. I'll be honest with you; I was flattered to be invited and I plan on taking them up on the invitation! I guess that's the thing about Zerto, or any other fantastic company with solid products; it breeds not only customer loyalty, but customer advocacy………and I'm happy to be a proud Zerto advocate, as they have saved my company a lot of time and money white at the same time making my life much easier!
So, let me recap quick. ZertoCON Local was a fantastic way for folks that could not get to Boston in May for the first annual ZertoCON show to see what they missed in a condensed format. Don't be shy to ask questions, interact, and network with fellow customers, partners, and prospective Zerto customers. It's a show for all titles, both business and technical, and provides a succinct view into the company's past, present and future, along with the capabilities of the product today and the capabilities of the product today and how they align with industry demands.
In addition, while I highly recommend anyone considering or already working with Zerto to attend, I also recommend attending ZertoCON 2017 in Boston next May. Zerto takes it to the next level at their annual conference, which includes keynote speakers, breakout sessions and tracks based on role, and some fun events at places like Fenway Park, the Seaport District, and other iconic Boston landmarks. I'm sure they're already cooking up some fun and informative sessions and events for ZertoCON 2017, and I can't wait to be a part of it again!
---