Zerto Virtual Replication 4.5 – What's new?
March 9, 2016
---
By Shannon Snowden, Zerto's Sr. Technical Marketing Architect
With the introduction of Zerto Virtual Replication (ZVR) 4.0 last year we really raised the bar in dynamic data protection. In that version we added support for Amazon Web Services and Microsoft Hyper-V, plus we released a totally new user interface based up on HTML5. All of those new features in 4.0 showcased the dedication of Zerto's vision of being able to leverage multiple platforms from any combination of private, public, managed clouds that meets your Service Level Agreements (SLAs). We call this the Cloud Continuity Platform.
With the growing list of supported infrastructures, Zerto's Cloud Continuity Platform is really offering to you data protection resiliency with options that simply didn't exist prior to Zerto. Check out our More than DR series of blog posts for how you can use ZVR for more than just a point disaster recovery product.
Because of these new platform choices, we have customers who are protecting virtual machines (VMs) that range from their most important, business critical application servers to VMs they never thought they would never be able to do anything more than basic backup functionality. Having the choice to protect workloads in the public cloud or private cloud with one tool starts blurring the lines to whether they need traditional backup at all given that they can quickly recover to the previous 14 days at very granular points in time.
What's New in 4.5?
ZVR 4.5 builds upon the 4.O release with more features and improvements. We will highlight a few of them here. For the complete list, see the ZVR 4.5 Release Notes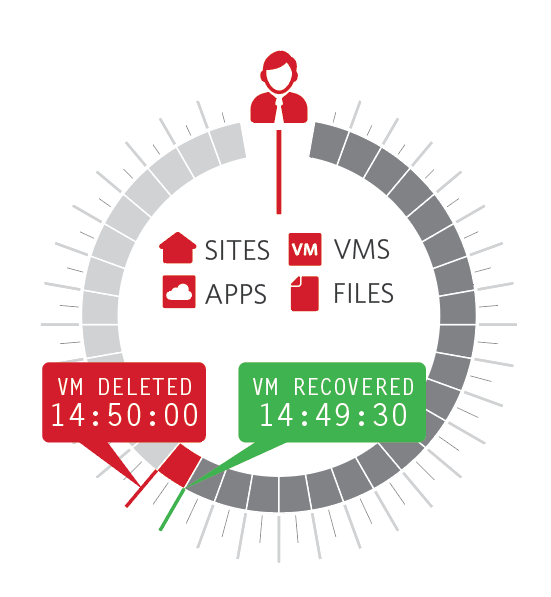 Administrator Saves the Day Feature: Journal File Level Restore
Wouldn't it be great if you could restore a VM, database or a file from a Zerto protected Virtual Machine using any checkpoint in the journal you want? Well now you can with ZVR 4.5.
We've kept the operation simple. It is all managed from the same HTML5 Web GUI that is used for all the other operations such as failover testing, failovers and migrations.
For more details, see this JFLR datasheet
Administrator Saves the Company Money Feature: Compressed Journal
Speaking of the journal, in ZVR 4.5 we decided to add a small feature will be high impact in saving money with less storage usage for your disaster recovery. Now in 4.5, the ZVR journal is compressed at the target site.
We only would do this as long as it didn't cause delays in failover testing, live failovers or migrations. It doesn't, so you get storage savings without paying for a decompression operation during your testing or failovers. This results in Zerto using even less space than it did before, even though we were very frugal with our space requirements already. Expect to need only about 10% for ZVR journal space now that it's compressed.
Administrator Gets New Ways to Manage Zerto Features: More Security, Resiliency and API Options
Role Based Access Control
For customers using the Zerto Cloud Manager, we've added Active Directory integrated Role Based Access Control (RBAC). In versions through ZVR 4.0, we had RBAC based off of vCenter. However, as ZVR grows past just the VMware platform as we did when ZVR 4.0 was introduced, we needed to have RBAC available for those environments that aren't just VMware based.
S3 Server Side Encryption
For customers using AWS with ZVR, we've added a great security improvement in version 4.5 to include S3 Encryption. This will help ensure your data stays secure, even when it is in the public cloud.
Enhancements for Feature Resiliency
As with every new version, we've continued to enhance features to make them even better than before. In ZVR 4.5, we introduce some subtle but effective improvements to already great features. For example, now you can change the Zerto replication from an offline host to another target host in a cluster through the user interface. We've also eliminated a couple of steps that you need to take if you want to restore to a checkpoint that is during the time of an extended network outage that extends past the SLA of the journal.
Here is a really clever feature we're introducing in ZVR 4.5 that will help with maintaining SLAs. Through ZVR version 4.0, when a VM was added to an existing VPG, it caused the VPG to trigger a re-write of the journal to include the VM. That's because all the VMs in a VPG have write order fidelity, which in English means there is consistency information between the VMs in a VPG so when they are restored to a previous point in time, they all wake up together at the same time. When you add a VM to an existing VPG, you change the dynamics of the write order fidelity and until ZVR 4.5, this caused a journal re-write.
This re-write temporarily opened the possibility to not have checkpoints very far back to recover to until the journal SLA had built back up with time. You still have points in time to recover to, but we wanted to retain the full SLA even though the parameters of the VPG are changing with VMs being added. With 4.5, the points in time are retained in the journal and then it factors in the new VM into all the new checkpoints being written.
APIs
With every version, Zerto released more APIs to give you more management options. We've added in some powerful ones in ZVR 4.5. We're seeing big interest in these from our large customers, technology partners and cloud service providers. Now you can:
Create VPGs
Edit VPGs
Add/Remove VMs
Set replication and recovery configuration
Configure VMs, NICs, Volumes and other parameters of VMs in VPGs
Note: In this version, vCD is not yet supported as well as backup, setting target volume as preseed or RDM disk management.
One final note on APIs. Through our Gold level partnership with HPE, we announced our first HPE Operations Orchestration (HPEOO) content package. We leverage the Zerto APIs in the HPE OO workflows and this demonstrates our commitment to streamlining data protection functionality via APIs. HPE OO is a free download and so is the Zerto content package. This is a great way to see our APIs in action.
So now that you know a bit more about ZVR 4.5, experience it for yourself with our free trial!
---