Why Did Over a Thousand People Queue up to Hear Zerto Speak at AWS Summit Sydney?
May 1, 2016
---
(The post originally appeared on LinkedIn.)
This year is the second time Zerto has participated as a sponsor at the AWS Summit in Sydney. Last year we were amazed by the interest in our technology. For a moment we were like rabbits caught in headlights of an oncoming vehicle. The sheer numbers of people that visited our stand were truly surprising to us, particularly in light of the more established partners in our space that didn't seem to be creating anywhere near the same "buzz" as Zerto.
Fast forward a year and we needed to find out if the interest was because we were a new name or something more substantial. Actually the question was rhetorical, we knew it was something more than passing interest. The pre-registrations for the Zerto presentation which stood at over 1500 going into the event told its own story – the buzz got stronger over the last 12 months.
So why is that? Why did over 1200 people attend our talk at AWS Sydney today (27/4/16)?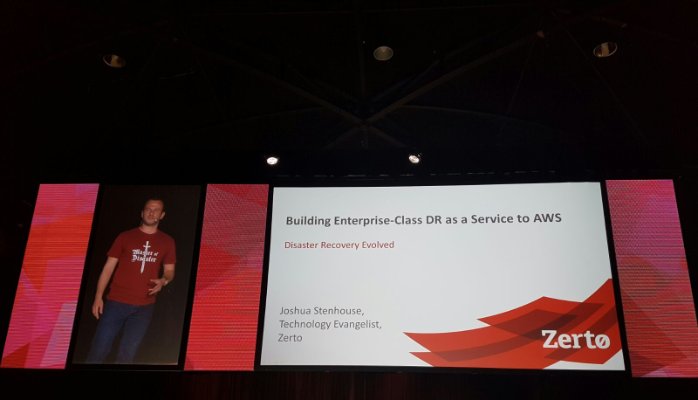 Well Josh Stenhouse Zerto product evangelist will probably tell you it's because he is such a great speaker. I wouldn't argue with that, but I don't think that's the reason for the turn out.
I believe that it's to do with our cloud continuity message and vision.
We hear a lot about the ease of cloud, the flexibility of cloud.
We hear a great deal about the consume what you want when you want it then turn it off and stop paying for it when you don't need it – the term that encapsulates that concept is "cloud bursting".
But the truth is that it's just not that easy to move in and out of cloud. If it were then companies would not have to spend time, resource and money on significant and complex cloud migration projects. In many cases once you move an application into cloud, moving it back out or onto a different cloud is no more simple than how things used to be when migrating applications between old and new hardware in your own data center.
One customer I was with described it perfectly. They have made a big investment in AWS and they love the service, but he referred to the unwritten terms of the AWS deal as his "Hotel California Contract" – You can stay but you can never leave!
So back to Zerto. We are more than replication and DR. We are enterprise workload mobility, from a product that is written into the fabric of cloud – the virtual layer.
That means we can move applications and data, in a consistent state, in a few clicks, with just a minute or so of disruption and we can do so between different hypervisors and clouds.
Zerto has the potential to become the oil that greases the cogs of the cloud. Today we support VMware, Hyper V, 100's of specialist DRaaS cloud providers and AWS – but our long term vision is simple – Any Hypervisor Any Cloud.
As we move down the journey of this vision, people are realising that it is Zerto's technology that will be the true enabler for the promise of cloud. The natural progression that Zerto is moving towards, will enable the true cloud bursting, flexibility that is spoken about but not really delivered today.
Imagine for instance monitoring billing of public cloud providers in real time and seamlessly moving your workload based on the savings you can make. We can't quite do that today, but at Zerto it's a future that we do imagine and that we believe we will be instrumental in making happen.
Don't believe me? Check with one of the twelve hundred or so people that came to listen to Josh today!
---