Private Cloud for the Enterprise Customer
July 20, 2018
---
With the growing trend of cloud computing and public cloud offerings many IT organizations are looking at what cloud service might be the best fit for them. Some organizations make the decision that they would like to move towards an "all-in" public cloud strategy, or a hybrid cloud strategy. Companies must decide to either migrate all of their infrastructure to the cloud, or begin to migrate some of their infrastructure such as their test / dev environments as they begin to build their public cloud strategy. There is another cloud use case that we see organizations researching and that involves the IT organization providing DR services to other departments within their organization. In this article we're going to focus on this use case, and discuss how Zerto can help achieve this goal. When speaking with users about this architecture we refer to it as Intra Cloud Disaster Recovery (ICDR) as highlighted in the diagram below: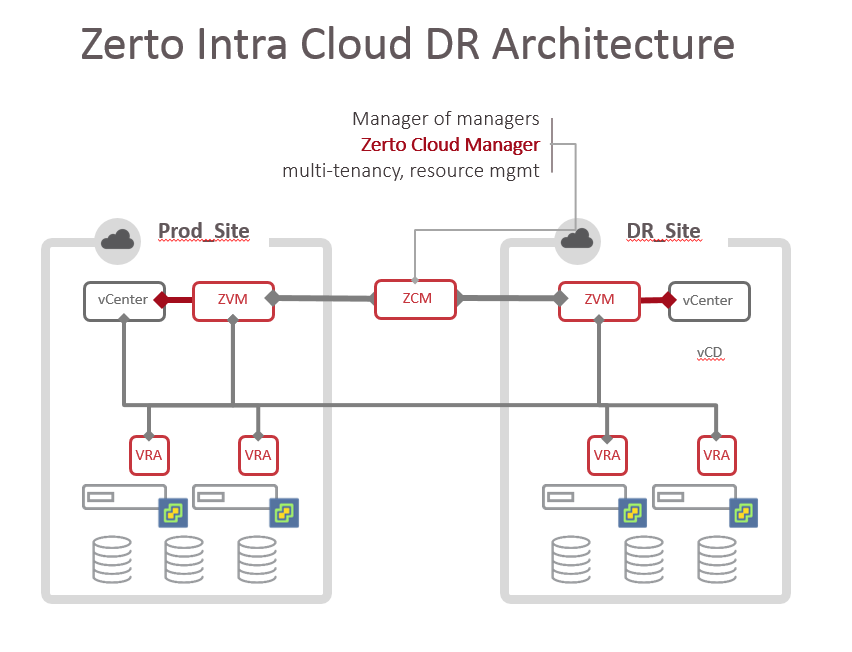 One of the questions I get from users when discussing ICDR with them is whether or not this architecture only applies to our Cloud Service Providers. I always tell them "don't let the name fool you" – while the word cloud is in it, the requirement for ICDR is just that an environment has a vCenters and ZVMs. From there you just need to deploy a Zerto Cloud Manager (ZCM). Again, same rule applies here. Don't let the name fool you – just because it says cloud doesn't mean that it doesn't benefit an enterprise environment.
One of the main benefits of a ZCM to the enterprise user is that it allows a single pane of glass for all ZVMs that are added to it. But when it comes to offering private cloud services with an organization there is an additional benefit the ZCM can provide you. That is the ability to mask vCenter based inventory into groups so that each department or business unit in your organization can only see the resources you want them to be able to see. This allows for true multi-tenancy, enabling you as the Zerto admin to provide your end-users line of sight for just the resources needed to protect their applications.
In addition, the ZCM can also present a Zerto Self Service Portal allowing you to provide a separate user interface for your end-users to log in to. With this capability you can also limit what operations they're able to perform (protect vms, perform failovers, etc.) if you wish to limit the functions you'd like your end users to perform in your DR offering.
For an in depth review of how set up an ICDR architecture for your enterprise business model please download our White Paper on Private Cloud for the Enterprise.
---