Migrating Your Workloads to Azure. As Easy As 1, 2, 3!
October 29, 2019
Est. Reading Time: 4 minutes
---
Migrating Workloads to Azure. Easy as 1, 2, 3! Right? 
Migrating your workloads and applications to a public cloud like Azure makes a lot of sense. But while adopting the cloud presents several benefits, there are some industry-wide challenges you may face when looking to migrate into Azure.  
Does testing equal disruption? 
For example, before you ever migrate, you must test and validate your recovery. Yet, testing equals disruptions to production for most environments. Therefore, organizations aren't testing as much as they'd like to. This limits their visibility into whether they're able to consistently meet SLAs and find any anomalies that may be preventing a successful migration.  
Snapshots don't make the cut 
Using snapshot-based backups, usually performed daily, can also be an impediment and source of data loss.  IT departments are subjected to migrate their workloads according to the last backup snapshot copy created, whether that was 4 hours or 24 hours ago, typically resulting in lengthy migration windows that impact business productivity and put data loss at risk. 
Also, enterprise applications usually exist across multiple virtual machines (VMs), with protection data from various points in time based on when the last snapshot copy was taken. This creates a complex chain when recovering applications and especially when migrating workloads.  
These common yet burdensome barriers waste excessive time and require additional resources and headcount requirements for migrations that should be simple and easy to perform. Proper migrations to Azure should be seamless and intuitive, with the ability to test as much as you need with the most recent version, taken no more than just a few seconds ago, of your workloads.  
Zerto can do just that. How? 
With Zerto's Continuous Data Protection (CDP) technology you can avoid the pitfalls of traditional recovery technology. Starting with hypervisor-based replication, that requires no snapshots, hardware or agents, you can rely on a continuous stream of checkpoints every 4-5 seconds instead of depending on your latest snapshot backup window.  
Within this replication technology, you can create application consistent recovery groups where you place your multi-VM applications. We call them Virtual Protection Groups (VPGs).  VPGs allow you to treat your multi-VM applications as one cohesive entity that you can recover to the same point in time or migrate with ease.  
With testing capabilities that are non-disruptive to the production environment, you can test your migrations as needed in an isolated environment, eliminating risk of production downtime.  
Three simple steps 
And here comes the best part, because of all of this, you can migrate to Azure in just 3 simple steps.  
Select your Virtual 

Protection Group(s) (VPGs).

 

Select your options and executed parameters.

 

Start Move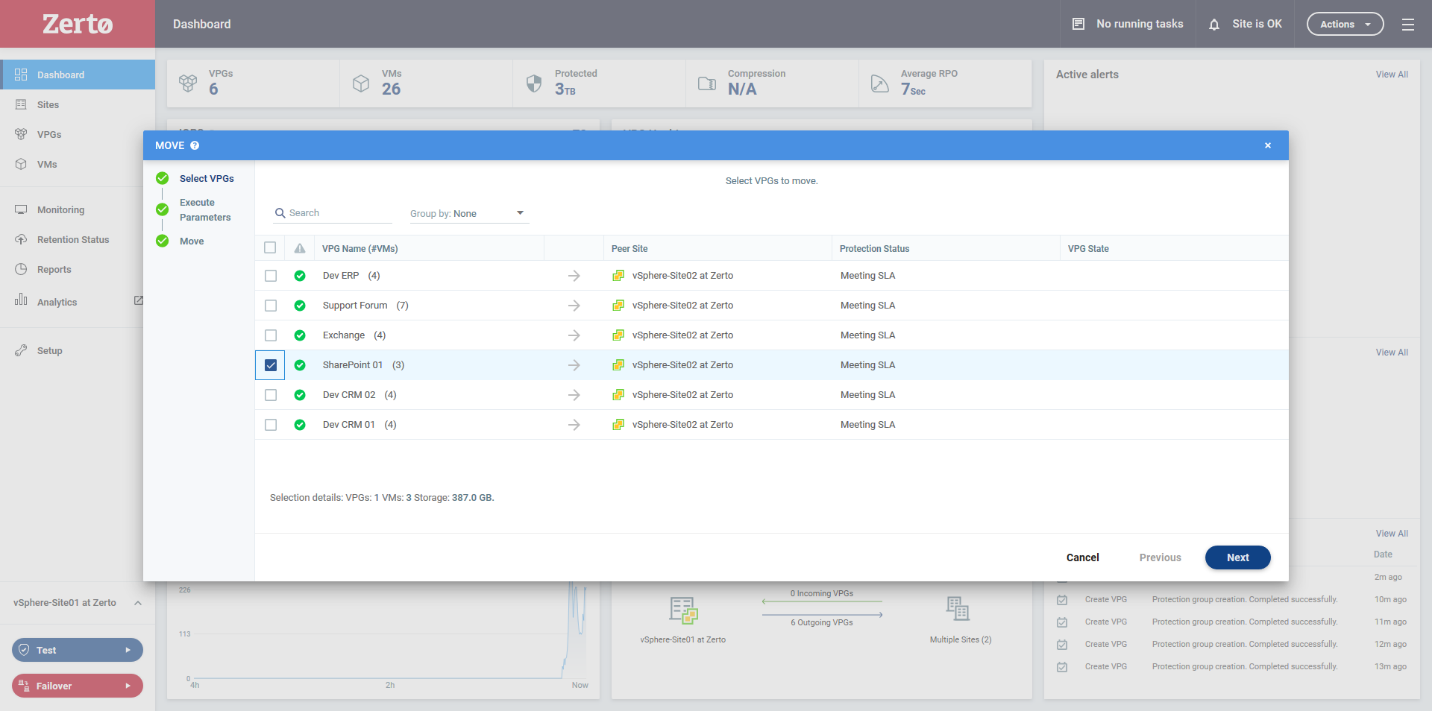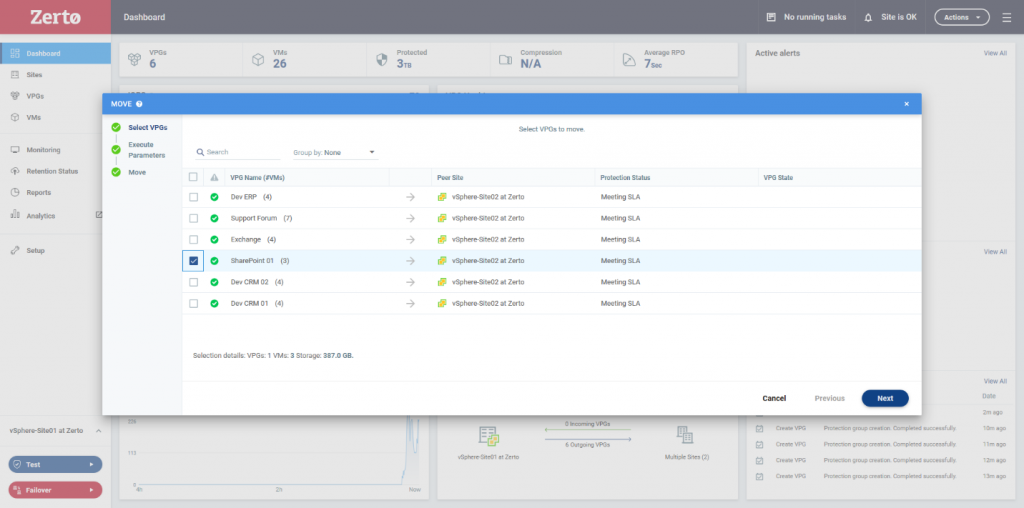 That's all it took. No downtime, no drama. Why so easy? Let's look behind the scenes.  
The initial replication begins as a background task, way before you plan to migrate. Then, replication at the hypervisor level engages Continuous Data Protection, tracking written changes to your data every 4 seconds. When you initiate the "Move VPG" process, the source-VMs are shut down and a checkpoint is inserted into the journal. The recovery is performed on the target side (Azure) to this specific checkpoint. Ensuring none of your data is lost, all within minutes.  
To summarize, with Zerto you can migrate your virtualized workloads and applications in 3 easy steps with the ability to: 
Utilize data from seconds ago via Continuous Data Protection (CDP)

 
Maintain application consistency and easily manage multi-VM application migrations with consistent recovery groups – Virtual Protection Groups (VPGs)

 
Test in an isolated environment without disruptions

 

and prove the time to migrate with our rep

orting

, before doing it for real.

 
Why don't you try it yourself? Visit Zerto at Microsoft Ignite next week or contact us to request a demo now. 
---