Cloud Disaster Recovery: Selecting the Right Cloud Platform and Solution as an I&O Leader
April 27, 2020
---
COVID-19 has accelerated the digital transformation of many organizations. Whether it was supporting a larger volume of remote workers, accelerated cloud adoption, or even driving new digital business models, we're all tasked with rethinking our approach to IT.  
A major challenge is that most organizations have to tackle these issues with a stringent budget and an accelerated timeline. Resource allocation and cost optimization are top priorities.  
Many organizations are seeing the cloud as a panacea for their cost, resource, and technical limitations. Yet, it's crucial for organizations to understand their options and set the right expectations. Some have a mature cloud practice while others are still dipping their toes. For organizations yet to migrate any operations to the cloud, it's crucial to identify areas of your business that are prime for the cloud. For example, disaster recovery. 
Organizations with on-premises secondary sites are facing the burden of capital costs of maintaining physical locations for DR.  
Secondary sites for DR drive significant costs such as: 
F

acility

: 

leases, taxes, maintenance, power, upgrades, etc. 

 

Hardware: 

e

quipment, maintenance, upgrades, etc.

 

IT Administration: 

s

torage, 

n

etwork, 

s

ystem, 

a

pplication

,

 and 

s

ecurity administration headcount and labor.

 

Software

: OS, Hypervisor, 

application, i

nfrastructure 

m

anagement, 

m

aintenance, etc. 

 
Before deciding to move to the cloud, I&O leaders need to understand WHY they want to move the cloud. After identifying the exact reasons driving the adoption of the cloud, it's crucial to build the right timeline and cost comparison model. Only after doing so, can an organization confidently decide to move operations to the cloud.  
Based on our research and feedback from customers, we've identified key characteristics and motivations of organizations where it made sense to replace secondary DR sites with the cloud. Here are some: 
High capital costs of building or maintaining a secondary DR site

 

Reduction in the total costs and labor of DR (performing operations, planning and DR testing)

 

Cloud as part of a digital transformation initiative

 
Now, there isn't just one option for DR in the cloud. In this blog, we'll discuss three specific cloud strategies: 
I

nfrastructure as a Service (IaaS) or public cloud

 

VMware on IaaS

 

D

isaster Recovery as a Service (

DRaaS

)

 
IaaS or Public Cloud 
IaaS brings a more cost-effective and scalable way to quickly migrate your workloads to the public cloud and begin protecting your mission critical data. IaaS greatly reduces your capital costs in favor of operational expenses while giving you the flexibility to manage your workloads with the third-party disaster recovery solution of your choice.  
Organizations that continue to see data growth can also benefit from the scalability of the public cloud. These are the common characteristics of organizations optimal to use the public cloud for disaster recovery: 
Cost reduction and scale are priorities

 

Moving towards 

an 

OPEX model, pay as you go 

 

Will require Ready-to-go solutions (DevOps, Big Data, etc.)

 

Technical personnel dedicated to DR

 
VMware on IaaS  
Some organizations, specifically enterprises, may have large and complex VMware workloads. Redeploying these workloads into the public cloud requires re-architecting complex VMware-based applications, policies, and configurations. A "lift and shift" approach to IaaS in these environments isn't optimal.  
Now, there's an option for these organizations to unlock the benefits of IaaS without having to re-architect their environments: VMware on Public Cloud. Cloud vendors like Microsoft, IBM, and now Google Cloud are giving organizations the ability to migrate native VMware workloads to the public clouds without the resources and technical requirements of the "lift and shift" approach.  
These are the common characteristics of organizations optimal to use the public cloud for disaster recovery: 
Complex VMware-based environments

 

Requiring dedicated server

 

Technical personnel dedicated to DR

 
Disaster Recovery as a Service (DRaaS) 
Disaster Recovery as a Service brings similar benefits of IaaS with the additional value add of service providers with the expertise to unlock the full value of the public cloud.  
Many organizations are yet to develop mature disaster recovery best practices and are evaluating starting from scratch on-premises. This presents many challenges and immediate capital costs along with extensive time and labor dedicated to maintaining and supporting new hardware along with building DR expertise.  
DRaaS is a natural fit for these organizations. By protecting critical workloads via DRaaS, organizations can leverage the expert help and guidance of service providers and remove the burden on IT teams. Service providers can customize their offerings to organizations and meet their performance, support, and security best practices.  
These are the common characteristics of organizations who use DRaaS solutions: 
Limited technical personnel

 

Seeking improved RTOs and RPOs

 

Require d

edicated 

r

esources

 & support

 
Zerto IT Resilience Platform 
DR in the cloud brings tangible benefits to organizations. Yet, they need to evaluate their needs and pick cloud platform and service model that works for them. Selecting the right cloud strategy isn't the only answer, IT organizations still need to implement the right IT Resilience Platform that can facilitate not only how they migrate to the cloud, but how they can effectively protect their workloads in the cloud.  
The Zerto IT Resilience Platform™ converges disaster recovery, backup, and workload mobility to, from, or between multiple clouds. Simultaneously replicate virtual machines (VMs) locally, to or from a remote datacenter, Azure, IBM Cloud, Amazon Web Services (AWS), or to any of the 350+ cloud service providers (CSPs) in our Zerto Alliance Partner network.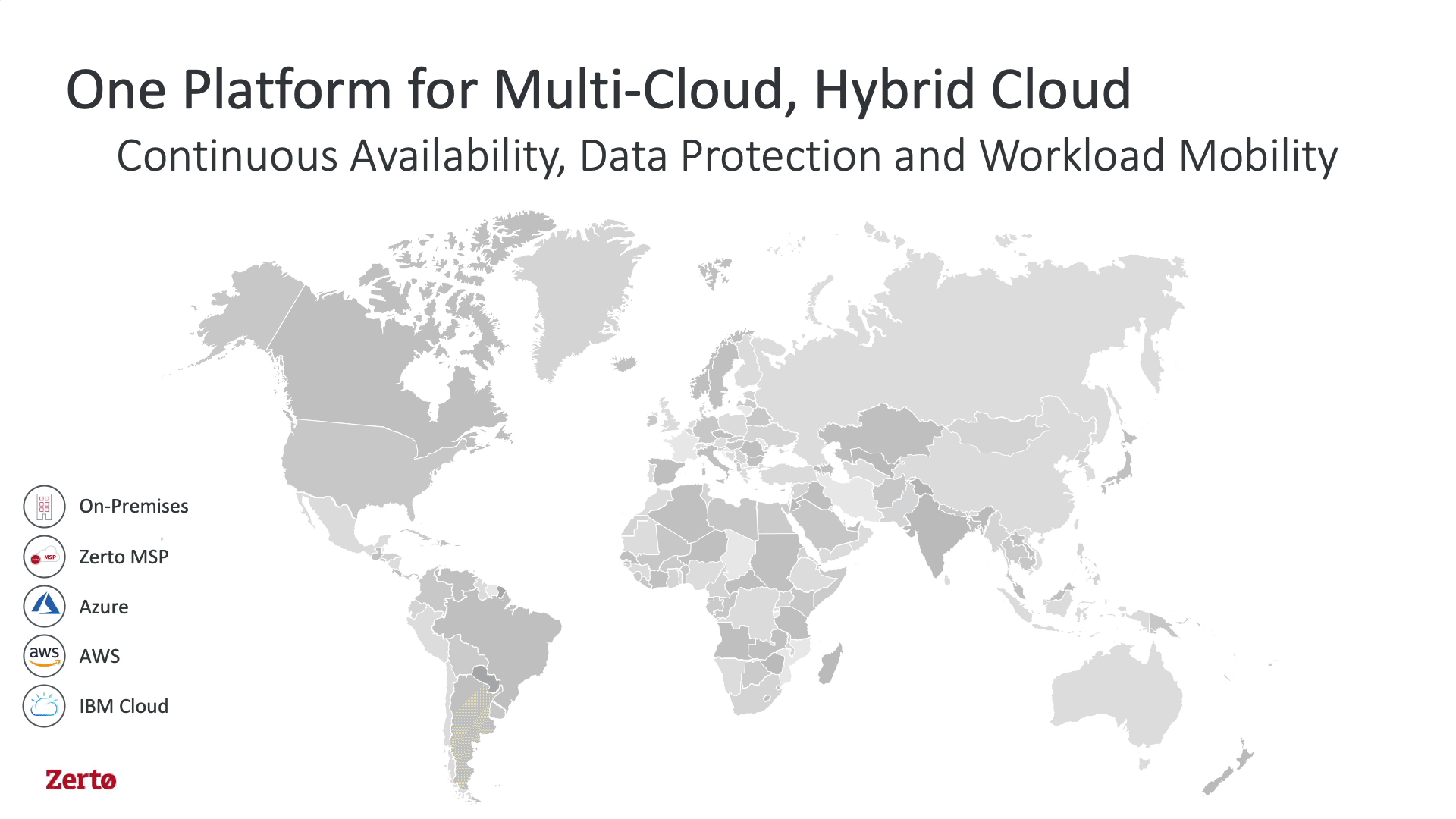 Zerto helps you realize the true potential of the cloud so you can migrate and protect application and data workloads whether on-premises or between hybrid and multi-cloud platforms.  
Want to see how a Zerto customer successfully moved their DR to the cloud? Watch this on-demand webinar: The Hitchhiker's Guide to Disaster Recovery in the Cloud. 
For more information on how Zerto enables cloud disaster recovery, read our whitepaper: Business Continuity and Disaster Recovery in the Cloud Era. 
---