IT Resilience is Key to Success with Digital Transformation – New IDC Infographic
November 8, 2018
---
Earlier this year, Zerto partnered with industry-leading research analyst firm, IDC Research, to take the pulse of the state of IT Resilience across the globe. The headline results of that study can now be seen in a new infographic, highlighting the crucial role of IT Resilience as a critical part of the digital transformation journey.
Almost every organization is going through a digital transformation journey, and 90% think that data protection is important or critical for digital and/or IT transformation projects. However, our findings indicate that the technological provisions are not in place to provide this level of data protection assurance.
Building data protection into a resilient IT infrastructure will be critical for business success and for completion of transformation, modernization and cloud projects. From my experience, there are three recommendations I would share to help businesses achieve this:
First, make sure you are fully aligned with the business on the expectations for resilience, including how regularly data needs to be backed up, and how quickly systems can be restored when something goes wrong.
Then search for the right technology – from my experience, simply buying another product to fix the issue only creates more problems and still leaves the business vulnerable to technology disruptions and malicious attacks. Instead, I advise IT teams to focus on simplifying their technology portfolio, searching out converged solution that can manage their entire IT resilience operation – cloud mobility, backup and disaster recovery – from a single viewpoint.
And, critically, you need to really test it! Do a full failover test to provide peace of mind that you can fully recover, and ensure you can move application and data workloads within seconds of an event happening.
Digital transformation is happening, and putting significant demands on IT organizations to drive it forward. Zerto can be a trusted partner in helping organizations achieve true IT resilience, seamlessly adapting to new technology and driving IT transformation, while mitigating the risk of downtime, ensuring an always-on business and the best customer experience.
–  Avi Raichel, Chief Information Officer at Zerto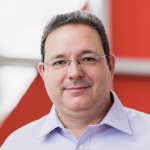 ---