Infographic: Solving for IT Resilience
June 7, 2018
---
As more and more companies begin to expand their digital presence, an increasing number of systems, workloads, and applications are becoming business-critical.  It is therefore required to ensure that these systems remain always available to customers and end-users. To keep up with this intense demand, enterprises must evolve beyond disaster recovery and embrace IT resilience, or the ability to accelerate transformation, adapt to change, and protect the business from disruptions.
But building a resilient environment isn't something that happens overnight. These plans must be carefully crafted and designed with the unique needs of each company in mind.
Today I'm going to share with you some tips on how Zerto can help you begin embracing IT resilience.
1. Acquire technology that integrates seamlessly with infrastructure platforms
There are no shortage of virtualization, storage, and cloud platforms available to you today.  But will you always be using the same underlying infrastructure for years to come?  Likely not.  In fact, it's very likely that your company will want to expand and explore other options as exciting new technology pops up.  At the end of the day, you don't want the investments you make today to be obsolete tomorrow. Zerto works with any underlying storage and over 350+ clouds, including very popular public clouds like AWS, Azure, and IBM Cloud.  The flexibility to try new clouds, evaluate new storage vendors, or cross-replicate between virtualization platforms is invaluable for enabling a future-proof IT strategy.
2. Don't neglect testing and compliance
This remains a core business function that companies cannot afford to ignore.  Testing and compliance were important before, but in a few weeks, they will be even more so with the arrival of the new General Data Protection Regulations (GDPR).  Any company that handles EU citizen data will be held accountable for GDPR and the fines could be devastating – €20M or 4% of the company's global turnover.  Zerto provides the ability to test non-disruptively any time with zero production impact.  The end result is a concise PDF that details every step of the recovery process and helps to prove your compliance with regulations such as HIPPA, SOX, GDPR, and others.
3. Combine the cloud and disaster recovery for Disaster Recovery as a Service (DRaaS)
The amount of data we process is growing exponentially and therefore, so are the costs and amount of storage needed. Delivering adequate storage performance and meeting disaster recovery requirements remains crucial, but becomes more challenging as IT evolves.  Combing the cloud with disaster recovery can help turn costly capex operations into more flexible and efficient opex models. Zerto has an incredible network of Cloud Service Providers whose unique DRaaS offerings are powered by our award-winning IT Resilience Platform™.  These companies have the expertise, personnel, and tools to deliver you the most powerful and cost-effective
Building an IT-resilient infrastructure can be daunting, but with Zerto it doesn't have to be. If you're interested to learn more about IT resilience, check out this infographic created by 451 Research below and see how Zerto can help evolve and meet the demands of today's business needs.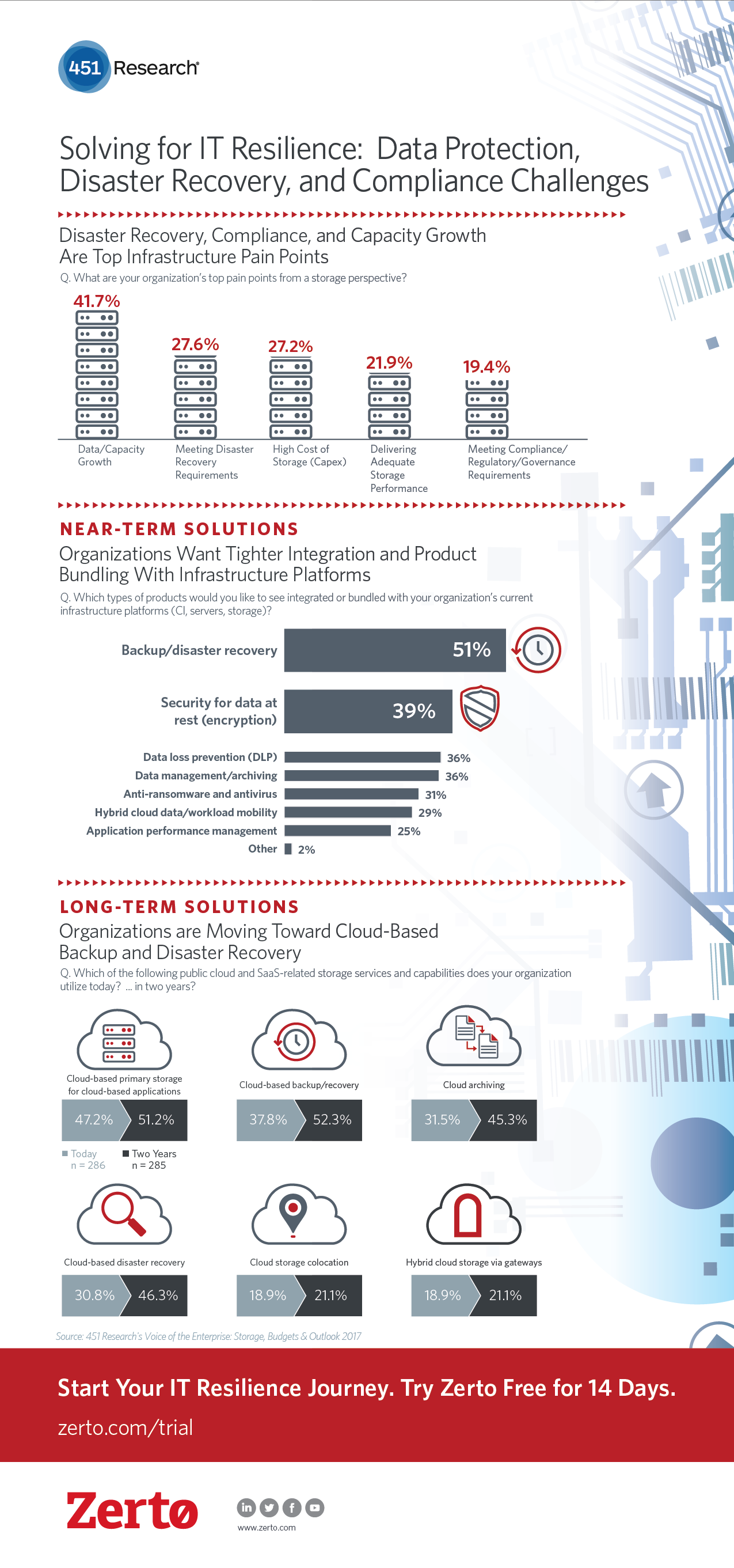 ---