The Gorilla Guide to Continuous Backup and Recovery
Your Gorilla Guide into the Future of Data Protection
Traditional backup technology hasn't kept pace with the speed of innovation. Even with cybersecurity threats and ransomware attacks increasing exponentially, many organizations are performing backups in nearly the same fashion as they have for the past three-and-a-half decades. In many cases, organizations only back up periodically using incremental snapshots. This means that businesses are unprepared for the risk of an outage or data loss, which could cost millions of dollars.
To help leaders navigate the IT technology jungle and create the business continuity organizations require, the experts at ActualTech Media created The Gorilla Guide to Continuous Backup and Recovery. This guide will help you recognize the perils of traditional backup solutions and introduce you to the future of data protection: continuous data protection (CDP) and recovery.
Read the guide to learn how you can:
Address traditional backup and recovery challenges

Explore continuous backup and recovery with Zerto

Plan your journey from A to Zerto
Download the Gorilla Guide today to help map your IT journey.
Business Leaders Are Still Unprepared for the Risk of an Outage or Data Loss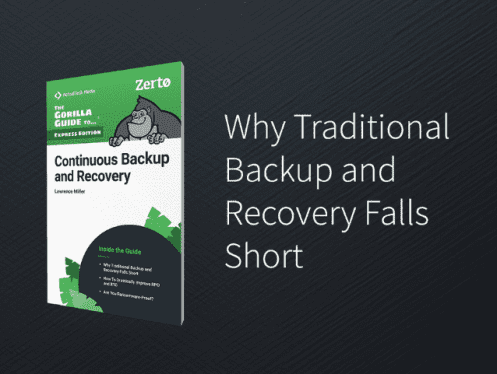 Business continuity has never been a higher priority. But traditional backup technology relies on a complex and expensive infrastructure and has long backup and recovery windows. In today's world where businesses now operate more or less continuously, any downtime due to data loss is money lost—which means traditional backup is no longer the safe option. Businesses must shift their focus to restore to backup, using data backup and recovery software.
Therefore, you need a solution with CDP and journal-based backup and recovery. CDP allows you to continuously capture and track data modifications with software-based replication, and Zerto's CDP stores all replicated data in the journal. When needed, you can restore to any point within the journal. Zerto's journaling provides recovery points just seconds apart and long-term retention enables recovery for years.
The Gorilla Guide—an easy-to-read enterprise technology eBook from experts in the field—provides you with more information about the challenges of traditional backup and explains how Zerto's CDP can meet your data protection needs. Don't risk the costs and downtime of lost data. Download the guide today.












"Zerto is an exceptional platform and offers no nonsense DR capability for the enterprise, it has been in place for our organization now for over five years and it has always performed and provided us with confidence for recovery of objects it protects."
IT Operations Manager, Healthcare Industry
"Zerto has been instrumental to our DR operations when it counts. Easy to use and manage as well. Simply put: it just works."
Senior Network Administrator, Consultant, Finance Industry
"Reduce cost and complexity of application migrations and data protection with Zerto's unique platform utilizing Continuous Data Protection"
The Casey McGee, VP of Partner Development, Microsoft
Get the Free Gorilla Guide
Read the guide today to learn more about Zerto's continuous backup and recovery capabilities.