Modernize Data Protection with HPE GreenLake
ESG Impact Validation Report
Data Protection in the Hybrid and Multi-Cloud Era
As business becomes digital, modernizing data protection is imperative to reduce business risks and the chances of revenue loss. The risk
of business disruption is ever-present —from natural disaster to cyber-attacks, such as ransomware.
Successful modernization, however, requires more than simply allocating more budget. Essential aspects of a modern data protection strategy must include:
Ensuring simplicity

as the data environment spans hybrid and multi-cloud environments

Focusing on efficiency at scale

over data mobility to reduce risk and time involved

Prioritizing security and ransomware protection

as part of your solution
Data protection with HPE GreenLake covers all these aspects: simplifying across hybrid and multi-cloud environments while optimizing for efficiency and security.
This ESG reports looks at the technical impact of data protection with HPE GreenLake and why this matters to an organization.
Download this valuable eBook now—it's free!
Simplify and Accelerate Data Protection to Scale with Digital Demands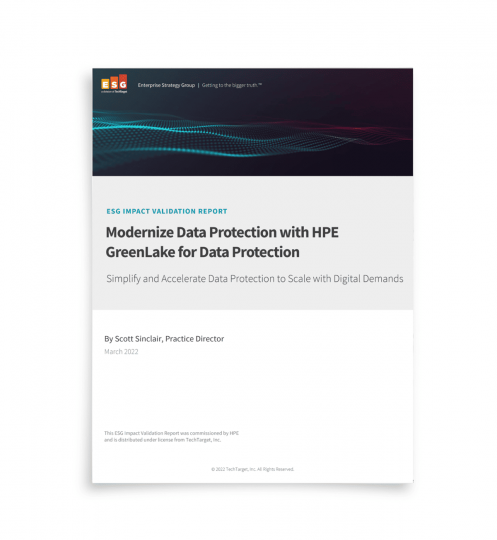 In 2021, a third-party research conducted by HPE in collaboration with ESG, showed that organizations with superior data management and protection —called data-first leaders— were ahead of their competitors in term of speed, risk mitigation and user satisfaction. In a nutshell, these businesses were able to deliver superior business results.
In this report, see how data protection with HPE GreenLake — HPE GreenLake for Disaster Recovery and HPE GreenLake for Backup and Recovery— can both help the least mature organizations climb the maturity ladder to deliver superior business results, and provide more and new options for the data-first leaders, while reducing the burden on IT teams.